Fernando Henrique Cardoso
Former president of Brazil to serve as professor-at-large at Brown
Fernando Henrique Cardoso, former president of Brazil, has been appointed to a five-year term as professor-at-large at Brown University. Cardoso's appointment, based in the University's Watson Institute for International Studies, will begin July 1, 2003, and continue through June 30, 2008.
---
PROVIDENCE, R.I. — Fernando Henrique Cardoso, former president of Brazil and one of Latin America's most distinguished social scientists, has been appointed to a five-year term as professor-at-large at Brown University, beginning July 1, 2003. The appointment was made Saturday, Feb. 22, 2003, by the Brown Corporation its regular winter meeting.
"In a remarkable career of more than four decades, President Cardoso has brought the intellectual strengths of the academy to bear upon the challenges of elective office," said Brown President Ruth J. Simmons. "I am delighted to welcome him as a faculty colleague at Brown."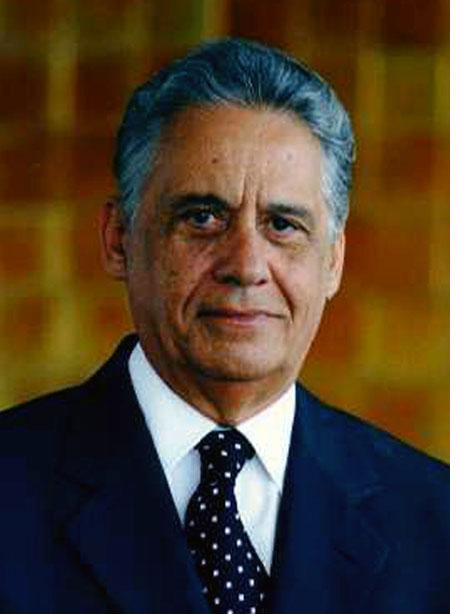 Cardoso is both an accomplished statesman and a distinguished scholar. He was first elected to national office in 1986, as a senator from the state of São Paulo, and two years later helped establish the Social Democratic Party. He served as Brazil's foreign minister (1992-93) and economy minister (1993) prior to his election as president in 1994. As economy minister and president, he oversaw the development and implementation of an economic stabilization program that controlled inflation, and his policy of reducing government involvement in the economy helped attract foreign investment. He concluded his second presidential term on Jan. 1, 2003.
As a young sociology professor, Cardoso was a vocal opponent of Brazil's military dictators; he lived in exile from 1964 to 1968. Although he was arrested on his return in 1969 and banned from teaching for a time, he became a prominent and well-respected Latin American sociologist. His scholarly writings include the classic Dependency and Development in Latin America and numerous works in journals of sociology and political economy. Cardoso has served as a visiting professor at academic centers in Europe and the United States and is professor emeritus of political science at the University of São Paulo. He is fluent in English, French, Spanish and Portuguese.
When he is in residence at the University during his five-year appointment, Cardoso will work from an office in the Thomas J. Watson Jr. Institute for International Studies. He will deliver lectures, participate in various symposia, interact with students in the classroom, and work with faculty in development studies, Latin American studies, Portuguese and Brazilian studies and other departments, institutes and centers.
"The appointment of Professor Cardoso is an extraordinary opportunity for the Watson Institute and for students and faculty in many areas of study," said Thomas Biersteker, director of the Watson Institute. "We believe Professor Cardoso will find his time with us conducive to reflection and writing, and we eagerly await his arrival."
Professors-at-large were established by former Brown President Vartan Gregorian, who invited scholars of exceptional distinction to participate in the intellectual and academic life of the University. The term of appointment may range from a few weeks to several years. Among other activities, Cardoso will deliver a Stephen A. Ogden Jr. Memorial Lecture during Commencement Weekend, May 23-26, 2003.
Other professors-at-large have included Carlos Fuentes, the acclaimed Mexican novelist, whose appointment continues in Hispanic studies, and Pulitzer Prize-winning playwright Paula Vogel, who was recently appointed the Adele Kellenberg Seaver '49 Professor of Creative Writing.
######