Brown helps Hope High establish much-needed computer laboratory
Brown University's donation of 30 new desktop computers to Hope High School has helped establish a new computer lab and bolster the high school's technology resources. Hope principal Nancy Mullen and Brown President Ruth J. Simmons celebrated the formal opening of the lab on Tuesday, March 11, at Hope High.
---
PROVIDENCE, R.I. — With the gift of 30 new Gateway desktop computers from Brown University and installation by Brown staff and students, Hope High School has established a new computer graphics laboratory. The lab will help meet the technology needs of the high school's 1,600 students.
On Tuesday, March 11, at 9:30 a.m., Hope High and the University celebrated the lab's formal opening with remarks by Hope High Principal Nancy Mullen, Brown President Ruth J. Simmons and computer graphics instructor Mary Ellen Carlu. Gov. Donald L. Carcieri, Mayor David N. Cicilline and other elected officials attended the opening.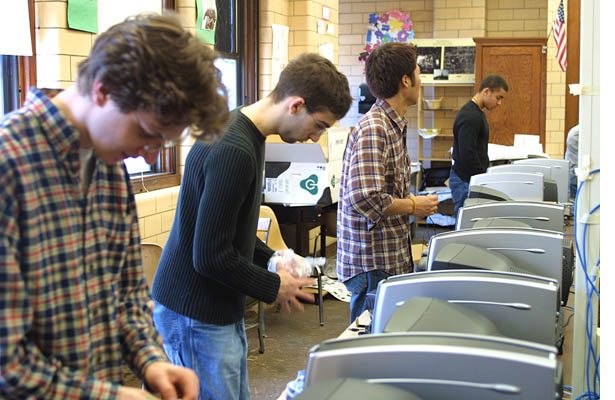 The gift of computers was the result of a fall 2002 meeting between Simmons and Mullen, during which the two discussed areas of possible collaboration, including ways that Brown might help strengthen the high school's technology resources.
"In high schools as at universities, students and their teachers are finding effective new ways to use information technology for learning inside and outside the classroom," said Simmons. "I am pleased that Brown was able to help Hope staff and students in setting up the new computer laboratory."
"All across our nation, public schools and their students are being asked to perform at a higher level," said Mullen. "Hope High has ambitious plans for educational achievement, and this new computer lab will play a significant role in turning those plans into reality. On behalf of the students, teachers, parents and staff of Hope High School, I thank Brown University for recognizing our need and taking such a creative step to help. We look forward to a continuing neighborly partnership with Brown."
The donation also includes a number of surplus machines from Brown and will allow Hope to establish a new computer graphics classroom immediately and to reinforce the school's existing network of computers. Hope will also use the new computer lab as part of a planned information technology academy, to be launched in September 2003.
Carlu, who instructs Hope students in the elements of graphic design, notes that the new computers will allow students to develop the skills and learn the technological tools used in professional design settings. As part of their curriculum, her students are meeting with the Rhode Island Department of Transportation, which will select student work to appear in some of its marketing material. By using the new computers, Carlu said, "students now see that they are capable of great work."
The long-standing productive partnership between Brown and Hope High includes the efforts of the Educational Alliance/LAB at Brown, the Annenberg Institute for School Reform, the Howard R. Swearer Center for Public Service, which coordinates student service efforts, and Health and Education Leadership for Providence (HELP), a coalition of local nonprofit hospitals, colleges and universities.
In addition, Hope is the site of an Essential School, founded in 1986 by then-chair of Brown's education department Theodore Sizer. In September 2003, Hope High School will be reconfigured along the Essential School model to comprise three independently operating small learning communities. In addition to the information technology academy, Hope will establish arts and leadership academies.
######