Broadway Junior
Brown teams with Trinity Rep and local schools for Annie Junior
Brown University and Trinity Repertory Company are collaborating to launch a pilot program that will introduce students from four local schools to the theater arts. The students and their teachers will mount productions of Annie Junior, a product of Music Theatre International's Broadway Junior program. The project is sponsored by Brown's Creative Arts Council.
---
PROVIDENCE, R.I. — Brown University and Trinity Repertory Company are collaborating on a pilot program designed to mentor teachers and introduce their students to the theater arts by involving them in the production of a Broadway musical.
Children from four local elementary schools – the Asa Messer School, the Robert L. Bailey IV School, the Charles Fortes School and the Gordon School – will each perform Annie Junior, a one-hour version of the award-winning Broadway musical Annie, on May 3, 2003, at Trinity Repertory Company. The program is being sponsored by Brown's Creative Arts Council with funding provided by Brown parents Perry and Martin Granoff. Martin Granoff is a Brown trustee.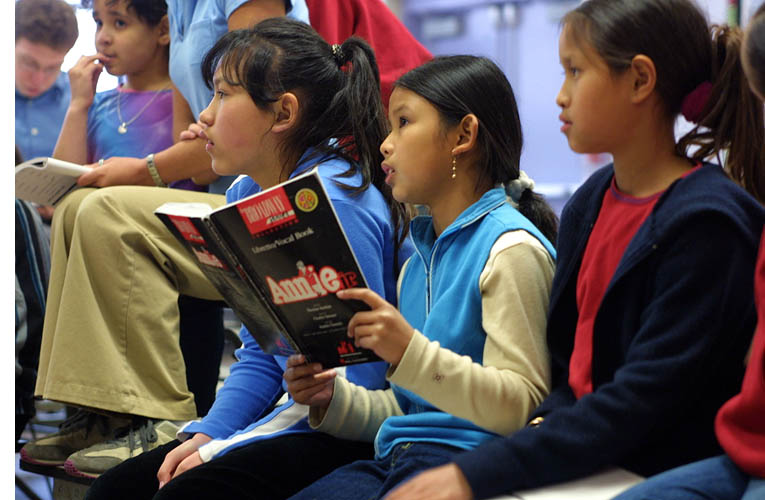 Teachers from each of the four schools are attending a semester-long workshop at Brown to learn how to work with children on musical theater. The class is being taught by Oskar Eustis, artistic director of Providence's Trinity Repertory Company, Brown professor and chair of the Trinity/Brown University consortium for professional theater training. Several musical theater professionals, including Broadway composer Jeanine Tesori (Thoroughly Modern Millie) and Children's Theatre Company artistic director Peter C. Brosius, are taking part in the Brown workshops to share their experience and discuss the process of stimulating children's creativity in a musical theater setting.
Annie Junior is a product of Music Theatre International, a New York City licensing organization that specializes in Broadway, off-Broadway and West End musicals. Through its Broadway Junior division, MTI has adapted such hits as Into the Woods, Guys and Dolls, The Music Man and Fiddler on the Roof, creating one-hour versions suitable for student performances. Freddie Gershon, chairman of MTI, began developing the Broadway Junior program in 1995, offering its school version of Annie in 1998. More than 3,500 productions of Annie Junior have been mounted in schools nationwide. Gershon will also share his experiences with the class at Brown.
The collaboration between Brown and Trinity Rep marks the first time Broadway Junior has partnered with a university or college in launching a production. This is also the first time classroom teachers have been offered training that will enable them to continue theater work in their schools.
"It is our hope that this program and the mentoring relationship between the University and the local teachers will serve as a template for future projects with other colleges and universities," said Eustis. "Working with children in theater is incredibly important. Study after study shows that involving children with theater increases their literacy, keeps them out of the criminal justice system and keeps them in school.
"There's an enormous causative impact that's three-dimensional in form: involvement in theater increases literacy, emotional literacy and collaborative problem-solving skills," Eustis added. "It's incredibly positive, especially for at-risk kids, and it's good for society."
Twenty Brown undergraduates are also taking part in Eustis' weekly workshop. They will work in four teams of five with each of the Providence teachers in their classrooms, helping the younger students with various aspects of theater production and preparing them for their performances at Trinity.
"There's an enormous number of young people at Brown who are interested in contributing to this," said Eustis. "They have a combination of artistic sensibility and social idealism, a sense of mission that's typical of Brown students. They're making a terrific contribution to this process."
Each troupe of children will present its rendition of Annie Junior on May 3, using the professional set that will be in place for Trinity Rep's own production of Annie, which runs from April 30 through June 8, 2003. The participating students will meet Annie composers Charles Strouse and Martin Charnin, who will attend the Annie Junior performances. The students also will be invited to attend one of Trinity's own performances of Annie.
The development of the Annie Junior project is being filmed as a documentary by Jina Chang, a video-digital installation artist and an adjunct lecturer in Brown's Department of Visual Art. She is being assisted by students junior Diana Fishman and sophomores Jacquelyn Mahendra and Jonathan Miller.
Further information on Broadway Junior is available online at www.BroadwayJr.com. For further information on MTI, contact Linda Dozoretz Communications at (323) 656-4499.
######