NBC's Andrea Mitchell to receive Welles Hangen Award March 30
Andrea Mitchell, chief foreign affairs correspondent for NBC News, will receive Brown's Welles Hangen Award for Superior Achievement in Journalism on Sunday, March 30, 2003, at 4 p.m. in the Salomon Center for Teaching, located on The College Green. Mitchell will also give the keynote lecture – titled "Pax Americana" – for the Brown University/Providence Journal Public Affairs Conference. The public is welcome.
---

PROVIDENCE, R.I. — Noted international political reporter Andrea Mitchell will receive Brown University's Welles Hangen Award for Superior Achievement in Journalism on Sunday, March 30, 2003, at 4 p.m. in the Salomon Center for Teaching on The College Green.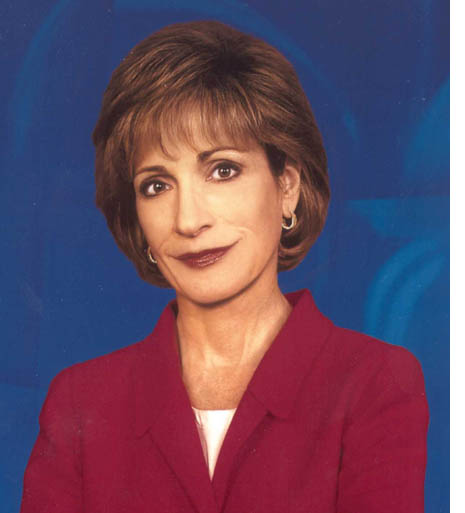 Mitchell will give the 2003 Michael P. Metcalf–Howard R. Swearer Memorial Lecture – titled "Pax Americana" – opening the 23rd annual Brown University/Providence Journal Public Affairs Conference and honoring the memory of conference founders Michael P. Metcalf, former chairman and publisher of The Providence Journal, and Howard R. Swearer, Brown's 15th president. The timely theme of this year's week-long conference is A Time of Great Consequence: America and the World. Both the award ceremony and Mitchell's address are open to the public.
Created in 1993, the award honors the memory of Welles Hangen '49, a journalist and NBC Hong Kong Bureau chief who was captured and executed by Viet Cong and Khmer Rouge guerillas while covering the invasion of Cambodia during the Vietnam War. In receiving the Welles Hangen Award, Mitchell will join the ranks of previous honorees Dan Rather, Peter Jennings, Tom Brokaw, John Chancellor, Christiane Amanpour, Morley Safer and – from 2002 – Sylvia Poggioli.
Andrea Mitchell
Andrea Mitchell has been chief foreign affairs correspondent for NBC News since 1994. She has reported on nuclear proliferation in India and Pakistan, normalization of relations with Vietnam, the war in Bosnia, the Hong Kong handover, U.S.-China relations, the Middle East peace process, civil war in Afghanistan, terrorism and the conflict with Iraq. Over the last four years, Mitchell has conducted a series of exclusive interviews with Cuban President Fidel Castro, culminating in a one-hour documentary, Castro's Cuba: At the Crossroads.
Mitchell joined NBC News in 1978 as a general correspondent and was named energy correspondent in 1979. From 1981 to 1988, she covered the Reagan White House, reporting on arms control and the Iran-Contra scandal and traveling extensively with President Reagan to summits with Mikhail Gorbachev and other world leaders. From 1988 to 1992, Mitchell served as NBC's chief congressional correspondent. Throughout the 2000 election year she hosted MSNBC's The Mitchell Report, the network's election-year broadcast of record.
A native of New York, Mitchell received a bachelor's degree from the University of Pennsylvania and serves on its board of trustees. She is married to Federal Reserve Board Chairman Alan Greenspan and resides in Washington, D.C.
Welles Hangen
Born in New York City on March 22, 1930, Putnam Welles Hangen began his college career at the University of Virginia in 1945 and transferred to Brown for the start of his sophomore year. He was a gifted student with a passion for international relations and debate; in 1948, he won the Samuel C. Lamport Prize for the best essay on international relations and two Minnie Helen Hicks Prizes for excellence in debating.
Although Hangen's student years were filled with excellence and achievement (Phi Beta Kappa, Manning Scholar, Wayland Scholar, Dean's List every semester), he left Brown at the end of his junior year and went to Paris for the 1948 session of the United Nations. His coverage of that U.N. event for the New York Herald Tribune started him on a career that would take him all over the globe – to Bonn, Athens, Berlin, New Delhi, Cairo, the Belgian Congo, Moscow, Hong Kong, Turkey, Vietnam. Along the way, Hangen found time to take courses at the University of Geneva (Switzerland) and Columbia University and transfer the credits to Brown, which awarded him his A.B. degree in June 1951, as a member of the Class of 1949.
Hangen, who spoke five languages, began his career with The New York Times in 1950 as a correspondent in the Paris bureau. In 1953, at the age of 23, he established a bureau in Ankara, becoming the Times' reporter in Turkey, then moved to Moscow. He resigned from the Times and made the move to television in 1956, taking over the Cairo bureau for NBC. The network sent him to New Delhi in 1960, to Germany in 1964, finally to Hong Kong as bureau chief.
Hangen was last seen alive on May 30, 1970, when he and his NBC crew were traveling with a crew from CBS about 25 miles south of Phnom Penh. The group was attacked just beyond a friendly checkpoint, when an antitank rocket hit the CBS jeep, killing the reporter and crew. Hangen and his NBC crew were surrounded and led away; they were executed three days later.
In the first few years after Hangen's disappearance, fellow journalists continued to investigate; his wife began writing and speaking about journalists who were missing in Cambodia and Vietnam and continued to press for a resolution. (Hangen and the former Pat Dana had met in Athens in 1953 and were married in the spring of 1958 in Cairo. They had a daughter and a son, aged 1-1/2 and 4 years when he disappeared.)
War and political upheaval in Cambodia kept searchers away until 1991, when an NBC crew returned. In 1992, a team of U.S. Army technicians found human remains, which DNA testing confirmed were those of Hangen. In January 1993, 23 years after he disappeared, Hangen was buried at Arlington National Cemetery. His papers, notes, scripts, tapes and films are now part of the permanent collection of the Museum of Broadcasting in New York City, given by NBC in 1978.
######