Carol Moseley Braun to give Krieger Memorial Lecture Sept. 10
Former U.S. senator and current presidential candidate Carol Moseley Braun will give the 2003 Noah Krieger Memorial Lecture Wednesday, Sept. 10, 2003, at 4 p.m. in the Salomon Center for Teaching. This event is free and open to the public.
---
PROVIDENCE, R.I. – Carol Moseley Braun, former U.S. senator (D-Ill.), ambassador to New Zealand, and current presidential candidate, will speak about the problems facing the nation in the 21st century when she gives the 2003 Noah Krieger Memorial Lecture on Wednesday, Sept. 10, 2003, in the Salomon Center for Teaching on The College Green. This event is free and open to the public.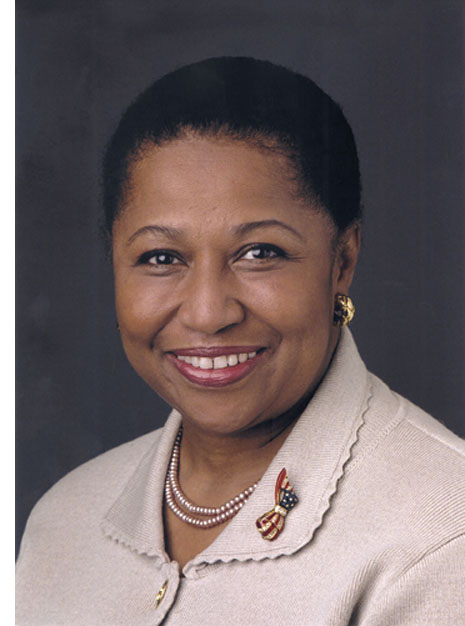 Born in Chicago in 1947, Braun has a long record of public and political service. She is best known for her six-year term in the U.S. Senate, where she was the chamber's only African American member and its first since the tenure of Sen. Edward Brooke (R-Mass.) Braun was elected to the Senate in 1992, becoming the first female senator from Illinois, the first female African American senator and the first African American Democratic senator. She holds a B.A. from the University of Illinois and a law degree from the University of Chicago.
In addition to her term in the Senate (1992-98) and her service as U.S. ambassador (1999-2001), Braun has served as county executive officer, state representative and assistant U.S. attorney. Since returning from New Zealand in 2001, she has taught law and political science at Morris Brown College and DePaul University and run a business law practice and business consultancy in Chicago.
The Krieger Lecture
Noah Krieger was an outstanding Brown student who earned membership in Phi Beta Kappa and a bachelor's degree magna cum laude. His academic interests were focused on positive social change and included economics, political science and public policy. When he died tragically soon after graduating from Brown in 1993, the Krieger family established a program at the University's Taubman Center to honor his life and celebrate his memory.
The program annually awards a prize to an outstanding member of the Center's graduating class and presents yearly lectures by prominent individuals in public service. Past lecturers have included Supreme Court Justice Ruth Bader Ginsberg, former Secretary of Labor Robert Reich, former Securities and Exchange Commission Chairman Harvey Pitt, former U.S. Sen. Paul Simon of Illinois, U.S. Sen. Charles Schumer of New York and U.S. Rep. John Lewis of Georgia.
This lecture is free and open to the public; the Salomon Center is wheelchair accessible. For more information, call (401) 863-2201.
######
---
News Service Home | Top of File | e-Subscribe | Brown Home Page