September 29, 2003
Mikhail Gorbachev to receive honorary degree and give Ogden Lecture
Former Soviet President Mikhail Gorbachev will give a Stephen A. Ogden Jr. Memorial Lecture on International Affairs, titled Democracy's Impact on Globalization, on Monday, Sept. 29, 2003, at noon in Lincoln Field on the Brown University campus. Gorbachev will also receive an honorary Doctor of Laws degree from the University.
---
PROVIDENCE, R.I. – Former President of the Soviet Union Mikhail Gorbachev will give a Stephen A. Ogden Jr. Memorial Lecture on International Affairs on Monday, Sept. 29, 2003, at noon in Lincoln Field on the Brown campus. Gorbachev will speak on Democracy's Impact on Globalization and will receive an honorary Doctor of Laws degree, conferred by University President Ruth J. Simmons.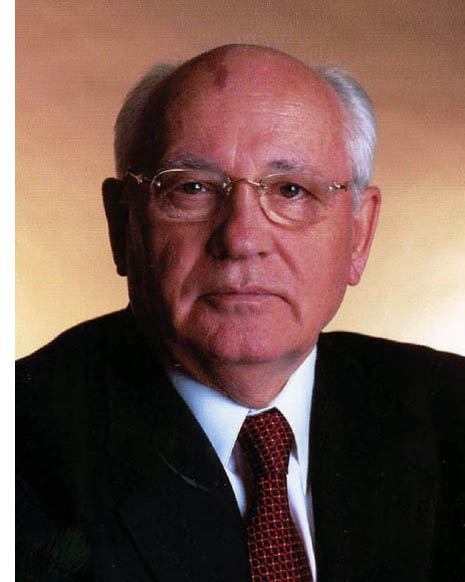 Tickets will be required for admission to this event, and seating is limited. Tickets are free and will be available on a first-come, first-served basis to Brown students, faculty and staff (one ticket per Brown ID) on Tuesday, Sept. 23, and Wednesday, Sept. 24, from 11 a.m. to 5:30 p.m. in the Student Activities Office in Faunce House.
Note: Because space in Lincoln Field will be limited, the University will provide live video simulcast of the honorary degree ceremony and President Gorbachev's Ogden Lecture in the Salomon Center for Teaching. Tickets are not required for the simulcast.
Editors: A limited number of seats will be reserved for members of the press, and audio feeds will be provided for broadcast media. Credentials – required for access to the press section – must be arranged through the Brown News Service by 5 p.m. Friday, Sept. 26 (401 863-2476; fax: 863-9595; e-mail: [email protected]).
Regarded as one of the pre-eminent international figures of the late 20th century, Gorbachev led the Soviet Union from 1985 to 1991. He is credited with implementing revolutionary political and economic reforms in his country that fostered a new policy of peace and cooperation with the United States and ultimately ended Communist rule in Eastern Europe.
Through perestroika (governmental restructuring), Gorbachev streamlined and decentralized the Communist Party's authority and helped pave the way for the breakup of the Soviet empire, leading to the fall of the Berlin Wall and independence for Eastern European nations. Through glasnost (political openness), he developed strong relationships with U.S. President Ronald Reagan and other Western leaders. Among the legacies of the Reagan-Gorbachev alliance were two broad disarmament agreements that significantly reduced the danger of nuclear warfare between the superpowers. For his efforts to reduce international tensions, Gorbachev was awarded the Nobel Peace Prize in 1990.
In 1992 Gorbachev established the Gorbachev Foundation, also known as the International Foundation for Socio-Economic and Political Studies. The nonprofit, nonpartisan educational foundation sponsors international research and debate on a range of issues, including world peace and global trade. In 1993, Gorbachev founded Green Cross International, an environmental advocacy organization.
The Ogden Lectures were established in memory of Stephen A. Ogden Jr., a member of the Brown Class of 1960, who died in 1963 from injuries he suffered in a car accident shortly after his graduation. His family established the lecture series in 1965 as a tribute to his interest in international relations. Previous Ogden lecturers have included former President of Brazil Fernando Henrique Cardoso, Queen Noor of Jordan, former Canadian Prime Minister Kim Campbell, media mogul Ted Turner and former Sen. John Glenn, among others.
President Gorbachev's visit to the Brown campus is supported in part by the Thomas J. Watson Jr. Institute for International Studies.
For more information on this event, call (401) 863-2474.
######
---
News Service Home | Top of File | e-Subscribe | Brown Home Page