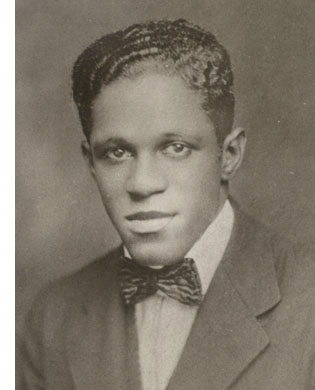 Coach of the Year
Brown University and the Black Coaches Association
establish annual Fritz Pollard Award
Brown University and the Black Coaches Association will co-sponsor an annual Fritz Pollard Award, to be presented to the college or professional coach chosen by the BCA as coach of the year. The award honors Frederick Douglass "Fritz" Pollard of Brown's Class of 1919, the first African American to play in a Rose Bowl Game (for Brown, in 1916), first to quarterback an NFL team, and first to coach in the NFL. (See also background on Fritz Pollard)
---
PROVIDENCE, R.I. — Fritz Pollard, one of the earliest and greatest running backs in American football, is beginning to receive the lasting recognition that eluded him during his lifetime. Brown University and the Black Coaches Association announced today that they will co-sponsor an annual award for the male college or professional coach of the year, to be named in Pollard's honor.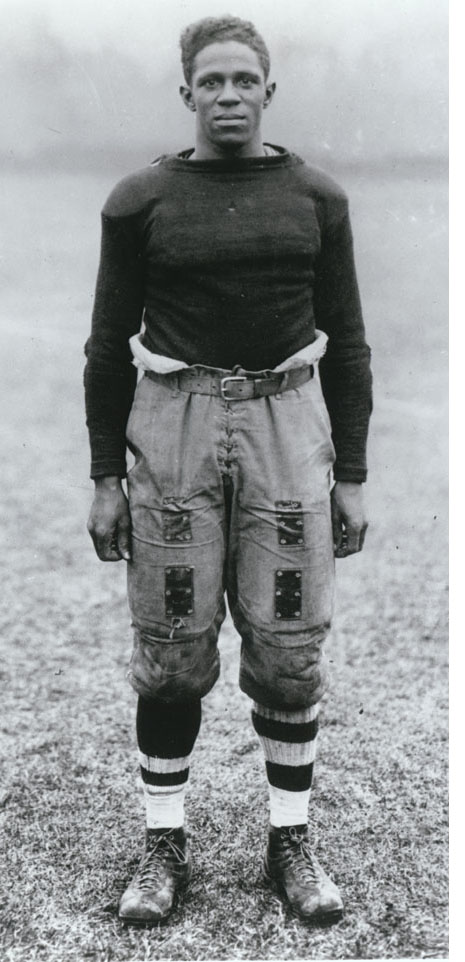 "Fritz Pollard was a pioneer, a man who excelled not only because of his magnificent athletic gifts, but also because of his wits, intelligence and ability to lead and inspire people," said Floyd A. Keith, executive director of the Black Coaches Association. "Those qualities and his persistence against very long odds capture the very essence of the BCA's annual male coach of the year award in all aspects."
The BCA will select the male coach of the year and will present the Fritz Pollard Award at its annual awards banquet. Brown University will arrange for the design and creation of a permanent trophy, to be inscribed each year with the recipient's name, and will fund an annual $10,000 prize for the Pollard Award winner. The University will also bring the Pollard Award recipient to the Brown campus for an annual presentation to the University community. The first Pollard Award will be presented June 5, 2004, in Indianapolis.
"People who know about Fritz Pollard know him largely because of his football achievements," said David Roach, Brown's athletic director, "but he was much more than an outstanding athlete. We hope the Fritz Pollard Award and the annual campus presentations by the Pollard Award winners will give the University an opportunity to draw a more detailed and comprehensive picture of this extraordinary man."
Frederick Douglass "Fritz" Pollard was a member of the Brown University Class of 1919. A standout halfback in his freshman year, he became the first African American to play in a Rose Bowl Game (1916). The following fall, he led Brown's 1916 football team, among the best in Brown's history, to a successful season and Brown's first victory against Harvard. In successive Saturday victories over Harvard and Yale, Pollard gained 531 yards of total offense and scored three touchdowns. Pollard also joined the track team in his freshman year and set a world record in the low hurdles.
After Brown, Pollard went on to achieve a number of firsts: a member of the first team to win a professional national football championship (the Akron Pros), first African American coach in the NFL (with Akron again), the first African American quarterback (with the Hammond, Ind., Pros in 1923), the first NFL head coach (with Hammond), and founder of one of the nation's first black-owned securities firms, F.D. Pollard and Co.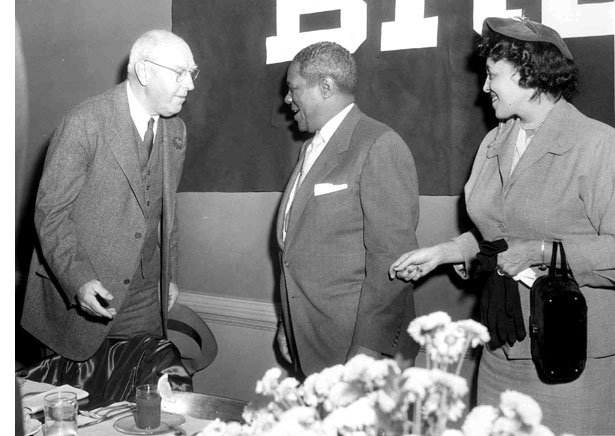 Pollard had finished his playing and coaching career before a 1933 "gentlemen's agreement" among team owners effectively barred black athletes from the NFL. He returned to professional competition in 1935, however, as coach and owner of the Brown Bombers, a professional team that played in Harlem for three highly successful seasons – funded by a loan from John D. Rockefeller Jr., a friend from Pollard's days at Brown. The Bombers' roster was a Who's Who of black athletes at the time, including players from basketball and baseball leagues as well as former NFL stars.
The Depression and the war ended the Brown Bombers' run in 1938, and Pollard went on to other ventures, including a talent agency, tax consulting and film and music production. He stayed in touch with Brown, returning in 1954 to be honored by President Henry Wriston upon his election as the first African American in the National (College) Football Hall of Fame. His son and grandson attended Brown (his son, also a gifted athlete, won a bronze medal in the 1936 Munich Olympic Games). In 1969 he served as class marshal for the 50th reunion of the Class of 1919, and in 1981 Brown University conferred an honorary Doctor of Laws (LL.D.) degree on Pollard, recognizing his achievements as athlete and leader.
More about Fritz Pollard:
Daniel Coyle, "Invisible Men." Sports Illustrated, December 15, 2003
John M. Carroll, Fritz Pollard: Pioneer in Racial Advancement. (University of Illinois Press; 1992)
######
---
News Service Home | Top of File | Background | Brown Home Page