NASA's Deep Impact Team Releases First Snapshot of Comet Tempel 1
Comet Tempel 1, source of NASA's July 4 fireworks, is coated in a powdery layer of dust and bears evidence of other celestial collisions, according to first results from the Deep Impact mission published in Science and presented at the Division for Planetary Sciences meeting. Peter Schultz, professor of geological sciences at Brown University, was a co-investigator on the mission team.
---
PROVIDENCE, R.I. — The surface of comet Tempel 1, hit by a NASA space probe during a spectacular July 4 experiment, bears evidence of impact craters, suggesting that the comet has collided with asteroids or other space travelers in its journeys around the Sun.
Several dozen circular features that appear to be impact craters, ranging from 40 to 400 meters across, were spotted on Tempel 1 during the Deep Impact mission, according to first results from the mission team published by Science and released at the annual meeting of the Division of Planetary Sciences of the American Astronomical Society held at the University of Cambridge.
Tempel 1 is the first comet to show evidence for impact craters. In fact, differences in the comet's topography and shape compared with Borrelly and Wild 2 – the two other comets studied in detail by scientists – "raises the question of whether any comet is typical when looked at closely," the team writes.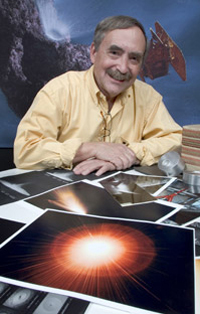 ---
---
"This comet is a geologic wonder," said Peter Schultz, a professor of geological sciences at Brown University and a co-investigator on the mission team. "There are smooth surfaces, filled-in craters, ridges, cliffs. Tempel 1 also features an area marked by innumerable bumps and valleys. This all suggests a long history of evolution."
Deep Impact, managed by NASA's Jet Propulsion Laboratory and the University of Maryland, aims to better understand how comets are built and what they're made of. Some scientists believe that comets, which contain water ice and organic matter, may have carried ingredients necessary for life to Earth during a long-ago collision.
On Tempel 1, both ice and organic dust were initially seen in the plume that rapidly left the comet within the first few seconds after a copper-wrapped impactor hit. The team found that the comet's surface consists of a powdery layer tens of meters deep.
"The most significant finding is the nature of the surface of the comet," Schultz said. "We now know that it isn't covered in a hard crust. It's a fine-grained, loosely glued layer of organic powder and ice. You couldn't make a snowball on Tempel 1."
Two graduate students in the Department of Geological Sciences at Brown – Clara Eberhardy and Carolyn Ernst – were at the Jet Propulsion Laboratory in July to analyze data. Eberhardy assisted in spectral analysis; Ernst examined the flash after the space probe hit. Both are co-authors on the Science paper.
Schultz said the science team still has years of work ahead to determine fully the structure and composition of the comet. For example, scientists were unable to identify all the organic compounds that make up Tempel 1, information that could shed new light on formation of the solar system or how life came to Earth.
"Deep Impact lived up to its name and more," Schultz said. "But there are undoubtedly more surprises to be pulled out of the treasure trove of data."
NASA funded the work.
######
---
News Service Home | Top of File | e-Subscribe | Brown Home Page