The David Winton Bell Gallery
Bell to Show Labyrinths of Mancuska, McGill, Shotz through Dec. 22
Labyrinths, a group exhibition that explores the search for direction, for self, for discovery and for meaning, features work of Jan Mancuska, Domenic McGill, and Alyson Shotz. The exhibition opens Saturday, Nov. 12, 2005, and runs through Dec. 22. The exhibit and an opening reception (5:30 p.m. Friday, Nov. 11,) are open to the public without charge.
---
PROVIDENCE, R.I. — The David Winton Bell Gallery at Brown University continues its fall exhibition schedule with Labyrinths, featuring the works of three artists: Jan Mancuska, Domenic McGill, and Alyson Shotz. The exhibition will run from Saturday, Nov 12, through Thursday, Dec. 22, 2005, with an opening reception at 5:30 p.m. Friday, Nov. 11. The exhibit and reception are free and open to the public.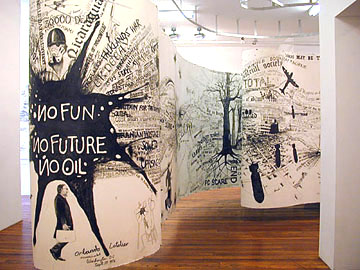 ---
---
Since ancient times, the labyrinth has represented an intricate maze or a place of confinement, as for the Minotaur, a monster with the body of a man and the head of a bull. Across the centuries, the labyrinth has represented a difficult path to God or a path to understanding the self. Today, the term can even describe life on the net – a search for meaning or understanding through endless linkages of text, image and sound.
In Labyrinths, three artists engage the manifold aspects of the labyrinth in their own ways. McGill's work, Project for a American Century, is a 65-foot long graphite drawing hung from the ceiling in a way that curls into a labyrinthine form. Viewers see a composite of smaller drawings and written words or phrases that describe historical and political events from 20th-century America, from the Hiroshima bombing to the present.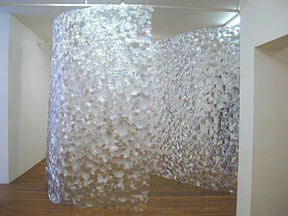 ---
---
Unlike Project for a American Century, Alyson Shotz's piece, The Shape of Space, is narrative-free. It is made of plastic Fresnel lenses stapled together to create a transparent circular enclosure, at once absorbent and reflective of the surrounding light and space. The piece disorients as a labyrinth might, offering a dazzling play of perceptual shifts and optical distortions.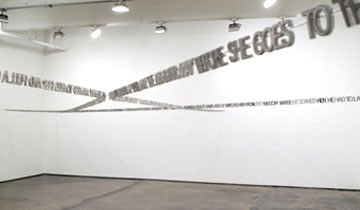 ---
---
In contrast to McGill's and Shotz's works, which take on the physical characteristics of a labyrinth, Mancuska's installation, True Story, draws on the conceptual or metaphorical aspects of a labyrinth as a linguistic maze and intellectual puzzle. It comprises three intersecting lines of words, each representing a full sentence and describing a specific action in time and space. These are cut from aluminum and displayed at eye level across the gallery space. True Story establishes an ambiguous space, both physically and psychologically, according to Vesela Sretenovic, the show's curator, reminding us that there is never one side to a story or truth, and that both language and meaning are ever-changing.
The David Winton Bell Gallery, located on the first floor of List Art Center, 64 College St., is open from 11 a.m. to 4 p.m. Monday through Friday and 1 to 4 p.m. Saturday and Sunday. For more information, call (401) 863-2932.
About the Artists
Dominic McGill was born and educated in England. He received his B.A. from Middlesex Polytechnic and his M.F.A. from Chelsea School of Art, both in London. Since 1991 he has been living and working in Brooklyn. McGill has exhibited widely throughout the United States and Europe, including at the Yerba Buena Center for the Arts in San Francisco; Aeroplastics Contemporary in Brussels; Derek Eller Gallery, Debs & Co., and White Box in New York; PS1 in Queens, N.Y.; The Renaissance Society in Chicago; Fusebox in Washington, D.C.; and ARCO '03 in Madrid. He is a recipient of the Franklin Furnace Award for Performance in 1998 and 1999, and a Gunk Foundation Award in 1998.
Alyson Shotz lives and works in Brooklyn. She holds a B.A. from the Rhode Island School of Design in Providence, R.I., and an M.F.A. from the University of Washington–Seattle. Her solo shows were held at the Aldrich Contemporary Art Museum, Ridgefield, Conn.; the Lock Gallery in Philadelphia; the Rice University Art Gallery, Houston; the Tang Teaching Museum and Art Gallery in Saratoga Springs, N.Y.; and Derek Eller Gallery in New York. Additionally, her work has been featured in numerous group exhibitions, including at the Armory Center for the Arts in Pasadena, Calif.; Socrates Sculpture Park in Queens, N.Y.; MASS MoCA in North Adams, Mass.; and PS1 in Queens, N.Y. Shotz is also the recipient of a Pollock-Krasner Grant and most recently of a Bob and Happy Doran Artist-in Residence Grant at the Yale University Art Gallery in New Haven, Conn. Her work is in the collection of the Guggenheim Museum in New York; the LA County Museum of Art in Los Angeles; and the Museum of Modern Art in New York.
Jan Mancuska was born in Bratislava, Slovakia, and grew up on Prague, Czech Republic, where he received his degree from the Academy of Fine Arts. He now lives and works between Prague and Berlin. His work has been featured at numerous international exhibitions including the Bonner Kunstverein in Bonn, Germany; the Stedelijk Museum in Amsterdam, Holland; Andrew Kreps Gallery in New York, NY; Palais des Arts in Dresden, Germany; Manifesta 4 in Frankfurt, Germany; d.u.m.b.o. art center in Brooklyn; the Arcadia University Art Gallery in Glenside, Pa.; and the Center for Contemporary Art, Prague, Czech Republic. Most recently his installation, A Cu, was presented in the Czech-Slovakian Pavillion at the Venice Biennale '05.
######
---
News Service Home | Top of File | e-Subscribe | Brown Home Page