Boldly Brown – The Campaign for Academic Enrichment
Brown University Starts Public Phase of Campaign To Raise $1.4 Billion
Brown University has begun the public phase of "Boldly Brown," a new comprehensive campaign. Boldly Brown, launched publicly this evening by President Ruth J. Simmons, will raise at least $1.4 billion for the University by December 2010. Simmons also announced that the University's closest benefactors have already contributed $575 million during the campaign's silent phase, moving Boldly Brown 41 percent of the way toward its goal.
---
PROVIDENCE, R.I. — Addressing an audience of alumni, parents, members of the Brown Corporation, and other friends of the University, President Ruth J. Simmons today launched the largest comprehensive campaign in the University's history, an undertaking that will raise $1.4 billion by December 2010.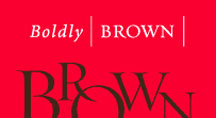 "Boldly Brown," officially launched during an evening gala celebration in the Olney-Margolies Athletic Center, has a goal more than three times larger than any previous Brown campaign goal. It will help secure the University's Plan for Academic Enrichment, a far-reaching strategic vision that calls for an expanded faculty, new multidisciplinary research centers, improved scholarships and financial aid for students, significant new investments in the Graduate School and Medical School, an enhanced capacity for research, and the construction of additional laboratories and other campus facilities.
"The campaign we announce tonight has many goals but a single purpose," Simmons said during the Saturday evening celebration, "and that purpose is to secure Brown's place among the world's finest universities by supporting and enriching academic life, which has at its heart the vital, creative connection between scholars and students."
Simmons, joined by campaign co-chairs Elizabeth Chace, Matthew Mallow, and Jerome Vascellaro, also announced that a nucleus fund raised by the University's closest benefactors had brought the Boldly Brown campaign more than 41 percent of the way toward its goal. As of Saturday evening, Boldly Brown had raised $575 million in gifts and pledges.
"This is a very exciting moment, for tonight we step up as active partners in a fundraising venture that will ensure Brown's strength and prominence for decades to come," said Brown Chancellor Stephen Robert. "This is the moment to look ahead to the great things we will achieve together over the next five years, as we engage the entire Brown community, nationwide and worldwide, in an historic campaign, a campaign of groundbreaking magnitude."
The gala celebration, together with a simultaneous student gathering, "Live on Lincoln," capped a day of special research presentations by faculty and a University convocation at which eight members of the Brown community received Presidential Citations from Simmons for their particular contributions to the Plan for Academic Enrichment.
The Corporation of Brown University endorsed proposals of the Plan for Academic Enrichment and authorized necessary budget increases in February 2002 and gave its unanimous formal approval for the full plan in February 2004. Work began on many of the measures described in the plan in anticipation of the Boldly Brown campaign. Much has already been accomplished, including:
Expanded faculty. The plan called for an initial increase of 100 new faculty positions. More than 50 of those positions have already been created and filled, and another 23 have been allocated to academic departments for recruitment and hiring.
Need-blind admission. The Class of 2010, which enters in the fall of 2006, will be the fourth undergraduate class admitted under Brown's need-blind admission policy.
Improved support for graduate students. Brown has increased funding for graduate student stipends, graduate student health insurance, and summer support for graduate students in selected programs.
New multidisciplinary initiatives. Brown has established new multidisciplinary research centers and programs, including the Cogut Humanities Center, the Institute for Archeology and the Ancient World, the Environmental Change Initiative, and the Center for Computational Molecular Biology.
New facilities. The Laboratories for Molecular Medicine opened in August 2004. The Life Sciences Building will be ready for the 2006-07 academic year. Other facilities projects are being planned for humanities, ancient studies, cognitive and linguistic sciences, student life and the creative arts.
"We're not trying to redefine Brown – we know exactly what it stands for – but we are taking everything to a new level," said Rajiv Vohra, dean of the faculty. "The fact that it's happening now, and creating lots of optimism on campus, is testament to our confidence."
Specific Goals of the Campaign
The Boldly Brown Web site offers campaign news, stories and charts.
$660 million for the University's endowment
$300 million for undergraduate financial aid
$50 million for graduate fellowships
$15 million for medical scholarships
$250 million for professorships
$20 million for libraries and information technology
$25 million for departments, centers, institutes and other programs
$200 million for construction and renovation of facilities
$50 million for the Life Sciences Building
$35 million for Sidney E. Frank Hall (Cognitive and Linguistic Sciences)
$30 million for the Jonathan Nelson Fitness Center
$4 million for the Friedman Study Center (Sciences Library study center)
$10 million for the Cogut Humanities Center and Pembroke Center (Pembroke Hall renovations)
$10 million for the Institute for Archaeology and the Ancient World (Rhode Island Hall)
$30 million for a creative arts building
$21 million for a campus walk
$10 million for study centers in the Rockefeller Library and the John Hay Library
$540 million for immediate programmatic support
$185 million for the Brown Annual Fund
$20 million for the Brown University Sports Foundation
$20 million for current-use undergraduate scholarships
$40 million for Medical School and the Program in Public Health
$275 million for departments, centers, institutes and programs
Campaign Leadership
President Ruth J. Simmons
Chancellor Stephen Robert


Elizabeth Z. Chace, Class of 1959, co-chair
Matthew J. Mallow Class of 1964, co-chair
Jerome C. Vascellaro Class of 1974, co-chair


H. Anthony Ittleson Class of 1960, honorary co-chair
Artemis A.W. Joukowsky Class of 1955, honorary co-chair
Regional Kickoffs
President Simmons and other University officials will bring the Boldly Brown campaign to alumni, parents and friends of the University in eight U.S. cities in coming months:
November 7, 2005 at the Disney Center in Los Angeles
November 9, 2005, at City Hall in San Francisco
January 11, 2006, at the Port Royal Club in Naples, Fla.
January 13, 2006, at the Norton Museum in Palm Beach, Fla.
March 2, 2006, at the State Room in Boston
March 9, 2006, at the Museum of Modern Art in New York
April 5, 2006, at the Cultural Center in Chicago
April 24, 2006, in Washington, D.C.
######
---
News Service Home | Top of File | e-Subscribe | Brown Home Page