AAAS Names Blumstein Fellow for Brain Science Achievement
The American Association for the Advancement of Science has elected Sheila Blumstein, a professor of cognitive and linguistic sciences at Brown University, a Fellow for her pioneering exploration of the neural basis of language.
---
PROVIDENCE, R.I. — Sheila Blumstein, the Albert D. Mead Professor of Cognitive and Linguistic Sciences, has been awarded the distinction of Fellow from the American Association for the Advancement of Science (AAAS).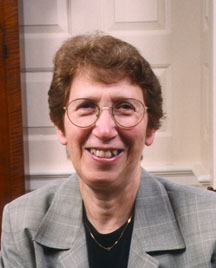 Fellows are elected each year by their peers in AAAS, the world's largest general scientific society and the publishers of the journal Science. Blumstein was one of 376 members awarded the honor this year for distinguished efforts to advance science or its applications.
According to AAAS, Blumstein was selected for her "contributions to the fields of psycholinguistics and neurolinguistics," particularly for fundamental studies of how speech is understood by healthy people and people with aphasia, an impairment that hampers the ability to speak or comprehend language due to brain injury.
For 35 years, Blumstein has conducted experiments that shed light on how the brain perceives sound and maps this sound structure to words and, ultimately, to meaning. In the last few years, Blumstein has used functional magnetic resonance imaging – fMRI – to better understand the brain systems at work during this process.
By studying people who have suffered strokes, Blumstein has uncovered which brain regions are activated during speech and word processing and how those regions work together. "Before you can develop rehabilitation strategies for stroke patients, you first need to understand the basics of language perception and cognition," Blumstein said.
After earning her doctorate in linguistics from Harvard University, Blumstein came to Brown in 1970. She has gone on to teach 15 courses, win 20 National Institutes of Health research awards, direct 23 doctoral dissertations and publish more than 100 peer-reviewed journal articles and book chapters.
Blumstein also served as dean of the College, interim provost and interim president. In 2001, after she had led Brown for 17 months before President Ruth J. Simmons began her duties, the faculty presented Blumstein with the Susan Colver Rosenberger Medal, the highest honor the faculty can bestow. Her portrait hangs in Sayles Hall.
The AAAS award is one of nine honorary fellowships Blumstein has earned through the course of her career. Announced in the October 28 issue of Science, AAAS Fellows will accept their awards at the society's annual meeting in February.
######
---
News Service Home | Top of File | e-Subscribe | Brown Home Page