Todd Andrews named Vice President for Alumni Relations
Todd G. Andrews, currently director of corporate communications for the CVS Corporation, has been named vice president for alumni relations at Brown University. Andrews, a 1983 graduate of Brown, will begin his duties Nov. 22, 2005.
---
PROVIDENCE, R.I. — Brown University announced today the appointment of Todd G. Andrews, a 1983 Brown graduate, as vice president for alumni relations. Andrews, currently director of corporate communications for CVS Corporation, will begin his new duties at Brown on Nov. 22, 2005. He will report to Ronald D. Vanden Dorpel, senior vice president for University advancement.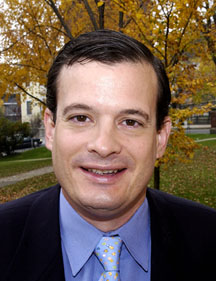 "The selection of Todd Andrews was the culmination of an international search involving the review of more than 85 excellent alumni candidates," Vanden Dorpel said. "Todd's skill set and experience will help us to better communicate Brown's Plan for Academic Enrichment to our alumni. His proven experience in driving engagement of constituencies in both the public and private sectors will serve Brown well."
The vice president of alumni relations manages a staff of 28 and an operating budget of $2.1 million. The Office of Alumni Relations works closely with the 76,000-member Brown Alumni Association to continue the Brown experience beyond graduation, engaging alumni with the University and the worldwide alumni community. Alumni programs and services include opportunities to continue learning, to maintain contacts with fellow alumni at reunions and through 37 Brown Clubs and affinity groups, and to remain involved at Brown in volunteer roles.
At CVS, Andrews was responsible for all internal and external communications for a 5,400-pharmacy chain with more than $37 billion in sales. Prior to CVS, he served as deputy chief of staff and communications director for Sen. Jack Reed and as a senior aide to Sen. Claiborne Pell.
While at CVS, Andrews served as chief spokesperson for the company and directed all media-related communications. Andrews also directed all employee communications and engagement activities for 145,000 employees across 37 states and the District of Columbia. Andrews is credited with creating and launching several successful and award-winning internal employee communications strategies and tactics designed to drive improved customer service and employee focus on business goals.
"We are delighted to have Todd Andrews join us at Brown," said Brown President Ruth J. Simmons. "His depth of experience in both the government and the corporate world will help us to communicate broadly and effectively to our diverse alumni body."
"As a manager and communicator, this is an incredible opportunity and I am honored to be joining the University at this pivotal time for Brown," Andrews said. "President Simmons has raised the bar for our reputation as a major university with a clear program for academic enrichment and the launch of a $1.4-billion campaign. I look forward to communicating the University's agenda and aspirations to my fellow alumni. I am also fortunate to be joining an outstanding alumni relations team that has been working under the fine stewardship of Interim Executive Director of Alumni Relations Dorcey Baker."
As a student at Brown, Andrews concentrated in English. He earned an M.A. in journalism and public affairs at American University in 1995. He is a native of Providence, R.I., where he lives with his wife and two children. He serves on the Board of Directors of the Providence Children's Museum, the Providence Summerbridge Middle School Outreach Program, and the Rhode Island Public Expenditures Council (RIPEC).
---
News Service Home | Top of File | e-Subscribe | Brown Home Page