$753 Million in Statewide Economic Output
Brown University Releases Economic and Cultural Impact Report
A new independent report released today by Brown University, concludes that Brown directly or indirectly accounted for more than 7,500 Rhode Island jobs and $753 million in statewide economic output in 2005. The report, prepared by Appleseed Inc. of New York City, cites new opportunities for partnerships in building a knowledge-based economy for Rhode Island. (Available in pdf format)
---
PROVIDENCE, R.I. — Brown University today released a new report that provides a comprehensive overview of the University's economic and cultural impact on the State of Rhode Island and the opportunities for new partnerships with private, public and nonprofit institutions in the state that can lead to more economic growth.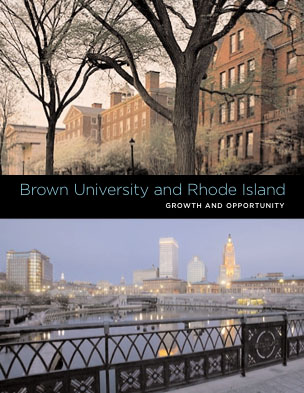 Titled Brown University and Rhode Island: Growth and Opportunity, the report demonstrates how Brown, as the leading research university in the state, accounted directly and indirectly for more than 7,500 jobs and $753 million in statewide economic output in Rhode Island in 2005. The report concludes that as Brown continues to expand its investments in new research and educational activities, it will become an even stronger force for economic growth in the state.
The report was prepared by Appleseed Inc., a New York City-based consulting firm that works with nonprofit organizations and institutions, corporations and governments to promote economic growth and opportunity. The report can be read on Brown's Web site at www.brown.edu and printed copies will be available from the Office of Public Affairs and University Relations in early December.
Brown University President Ruth J. Simmons, who announced the report in a speech before the Greater Providence Chamber of Commerce Monday evening, said the report provides strong evidence that the investments Brown is making in a larger faculty, new research facilities, and better financial support for students are good news for both Brown and the State of Rhode Island.
Cities and regions across the country are finding that research institutions are effective engines of economic progress, particularly in the knowledge economy, Simmons told the Chamber of Commerce. "I find it tremendously exciting to contemplate that Rhode Island businesses and city and state governments, in partnership with Brown, the University of Rhode Island, and other local research institutions, hold the potential to create a similar success right here."
Among key findings in the Appleseed report:
Brown is the seventh-largest private employer in Rhode Island, employing 3,753 people in the spring of 2005.
Brown bought more than $64 million on purchases of goods and services from Rhode Island firms in 2005, directly supporting 660 full-time-equivalent jobs at these companies.
Brown spent more than $52 million on construction in 2005, directly generating 470 full-time-equivalent jobs in construction and related industries.
Factoring in direct University jobs, employment by Browns suppliers and contractors, spending by students and visitors and the "multiplier effect," Brown directly or indirectly accounted for more than 7,500 Rhode Island jobs in 2005, and $753 million in statewide economic output.
Brown paid $12.8 million to state and local governments in 2005 for income tax withholding, property taxes, payments in lieu of taxes and fees.
Brown spent $144.6 million on research in fiscal year 2005 – an increase of 72 percent since 1999 – making the University Rhode Island's leading center of scientific research and development. Almost all of Brown's research is funded by federal agencies or other out-of-state sources.
Research spending by Brown and its partners is a major reason why Rhode Island ranked seventh among the 50 states in terms of the research-intensiveness of its economy – and why the Ocean State is well-positioned to take advantage of the opportunities that a knowledge-based economy will provide.
Between 2000 and 2005, more than 22 start-up companies were created based on research conducted at Brown.
During the next five years, Brown is planning to invest $336 million in new or renovated facilities for research, teaching and student activities. These investments will help build not only Brown's future, but that of the city and the state.
######
---
News Service Home | Top of File | e-Subscribe | Brown Home Page