Art on the Move
Noguchi Sculpture To Be Removed From The College Green
Internationally acclaimed artist Isamu Noguchi's 10-foot sculpture To Tallness will be removed from The College Green on Thursday, Jan. 12, 2006. The work has been on loan from the Isamu Noguchi Foundation for the last three years as part of the Art on Campus Program, established by Brown University's Public Art Committee.
---
PROVIDENCE, R.I. — Artist Isamu Noguchi's sculpture To Tallness will be removed from The College Green at Brown University on Thursday, Jan. 12, 2006. It has been on public display outside Wilson Hall since Jan. 23, 2003, on loan from the Isamu Noguchi Foundation. The exhibition was part of the Art on Campus Program, established by the Public Art Committee of Brown University.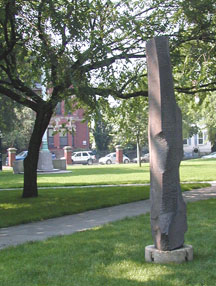 ---
---
Composed of Manazuru stone from the Odawara-area in Japan, To Tallness (1981) stands 129 ¼ inches tall and weighs more than 3,000 pounds. The obelisk will be lifted from its mounting by a crane Thursday morning, then encased in a moving crate and driven back to the Isamu Noguchi Garden Museum in Long Island City, N.Y., where more than 240 of the artist's works are on display.
"To Tallness was one of the first works brought to campus by the Public Art Committee," said committee member Jo-Ann Conklin, director of the David Winton Bell Gallery. "It heralded a renewed commitment to the arts under the (then-new) administration of President Ruth Simmons, who embraced the arts as an important part of campus life."
Inaugurated by the Public Art Committee in fall 2002, the Art on Campus Program facilitates long-term loans of significant works for installation in public sites around Brown campus. To Tallness was the first piece for which the committee negotiated a loan. In addition to Conklin, committee members include President Simmons; Artemis Joukowsky, chancellor emeritus; Robert Emlen, University curator; Dietrich Neumann, professor of the history of art and architecture; and Richard Fishman, professor of visual art, who is also director of the Creative Arts Council.
Current installations arranged by the committee are Roy Lichtenstein's Brushstrokes (1996), lent by the Estate of Roy Lichtenstein, and Tripes (1974) by Alexander Calder, on loan from the Calder Foundation. Past exhibitions include Box Cross (2002) by David Nash and Metallic Brushstroke Head (1994) by Lichtenstein, both displayed at Brown from October 2002 through August 2004. Untitled (donkey) (2003) by Italian artist Paola Pivi graced the façade of the Science Library from April to August 2004.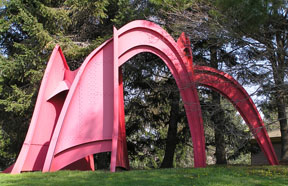 ---
---
The next sculpture being brought to campus by the Program will be Calder's Jerusalem Stabile, courtesy of the Calder Foundation. Its large size (12' x 24' x 12') and intensely bright red color are partly why Conklin calls the sheet metal sculpture "immediately impressive." Jerusalem Stabile is expected to be installed in March 2006.
American artist Isamu Noguchi (1904-1988) is known internationally for his diverse sculptural work, spanning 60 years. He was born in Los Angeles to a Japanese father and American mother and lived in Japan from the age of 2 to 14, before returning to the United States. After training in New York and Paris, Noguchi traveled to China and Japan in the 1930s, learning about Zen meditation, calligraphy, ceramic, and garden design. Combining the philosophy and aesthetics of the traditional Japanese house and garden with early twentieth century avant-garde styles, Noguchi created public monuments, abstract work, fountains, gardens, plazas, playgrounds, and dance and theater sets. Some of his best known public sculptures are: Japanese Garden for UNESCO in Paris (1956); Billy Rose Garden for the Israel Museum in Jerusalem (1960-65); Red Cube in New York (1968); Black Sun in Seattle (1969); Fountains for Expo '70 in Osaka (1970); Hart Plaza in Detroit (1975); and Lillie and Roy Cullen Sculpture Garden for the Museum of Fine Arts in Houston (1978-86).
######
---
Media Relations Home | Top of File | e-Subscribe | Brown Home Page