Coming of Age With King
President of United Negro College Fund To Give 10th MLK Jr. Lecture
Michael L. Lomax, president and CEO of the United Negro College Fund, will deliver Brown University's 10th annual Martin Luther King Jr. Lecture on Monday, Feb. 6, 2006, at 5:30 p.m. in the Salomon Center for Teaching. The lecture, titled "Coming of Age With King," is free and open to the public.
---
PROVIDENCE, R.I. — Michael L. Lomax, the leader of the country's most successful African American higher education assistance organization, will deliver the 10th annual Martin Luther King Jr. Lecture at Brown University. Lomax has served as president and CEO of the United Negro College Fund (UNCF) since 2004. His lecture, "Coming of Age With King," will be held in the Salomon Center for Teaching, located on The College Green, Monday, Feb. 6, 2006, at 5:30 p.m.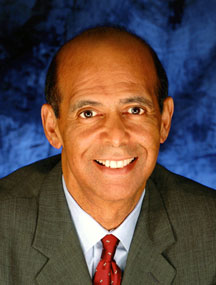 Lomax leads UNCF in its mission to enhance the quality of education for minorities by providing financial assistance to deserving students, raising operating funds for member colleges and universities, and increasing access to technology for students and faculty at historically black colleges and universities. To help achieve those objectives, Lomax set a personal goal to grow the UNCF endowment to more than $1 billion.
"To work at improving access to higher education is to advance the work that Dr. King and many others undertook decades ago," said Brown University President Ruth J. Simmons. "As a scholar, administrator, national education leader, community activist and cultural critic, Dr. Lomax has a broad and unique perspective on American society. I look forward to his lecture and to his visit to the Brown campus."
Prior to his role at UNCF, Lomax had a distinguished career in higher education and politics. He was president of Dillard University in New Orleans from 1997-2004. During his tenure, Lomax increased enrollment by nearly 70 percent, completed $54 million in acquisitions and renovations, and nearly tripled the university's fund-raising revenue. Lomax also taught literature at Morehouse and Spelman Colleges, Emory University, the Georgia Institute of Technology, and the University of Georgia. Additionally, he served for 12 years as chairman of the Board of Commissioners of Fulton County in Atlanta.
Lomax was appointed by President George W. Bush to the President's Board of Advisors on Historically Black Colleges and Universities and named to the National Museum of African American History and Culture Plan for Action Presidential Commission by Speaker of the House J. Dennis Hastert. He chairs the board for UNCF's Special Programs Corporation and the organization's Advisory Board for the Frederick D. Patterson Institute, a research organization focusing on the educational status of African Americans. He has served on the United Way of America Board of Governors and on the boards of the Studio Museum in Harlem, Teach for America, Emory University, The Carter Center, and the National Black Arts Festival.
The Martin Luther King Jr. Lecture was established at Brown University in 1996, with former New York Mayor David Dinkins as the inaugural speaker. Past lecturers have included Hugh B. Price, president and CEO of the National Urban League; Lee Mun Wah, community therapist, poet, and the maker of the film The Color of Fear; Elizabeth Martinez, Chicana activist and author of Des Colores Means All of Us: Latina Views for a Multi-Colored Century; William Julias Wilson, sociologist and author of The Bridge over the Racial Divide: Rising Inequality and Coalition Politics; Jane E. Smith, president and CEO of the National Council of Negro Women Inc.; Johnnetta B. Cole, professor emerita of Emory University and president emerita of Spelman College; and Randall Kennedy, professor of law at Harvard Law School.
This lecture is free and open to the public. Technical assistance is available for the hearing impaired. For more information, please contact the Office of University Events at (401) 863-2474.
######
---
Media Relations Home | Top of File | e-Subscribe | Brown Home Page