Brown's ArtsLiteracy Project Receives White House Award
The ArtsLiteracy Project, based in the Education Department at Brown University, was nationally recognized at the White House Jan. 25, 2006. The program received the 2005 Coming Up Taller Award, which recognizes outstanding community arts and humanities programs that celebrate the creativity of America's youth.
---
PROVIDENCE, R.I. — The ArtsLiteracy Project at Brown University was one of 17 youth arts and humanities programs to receive the 2005 Coming Up Taller Award. The program, which aims to explore and create innovative approaches to arts and literacy education, was awarded $10,000 for its achievements during a White House ceremony Jan. 25, 2006, at 2:30 p.m. Eileen Landay, project founder and clinical professor of English education, accepted the award, presented by First Lady Laura Bush.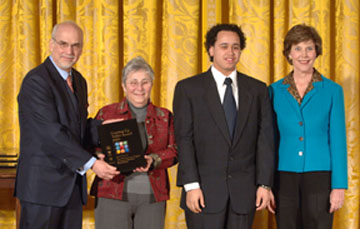 ---
---
"It is a great honor and pleasure for the ArtsLiteracy Project to be recognized on a national level," said Landay. "This contributes substantially to the project's goal of reaching more students and teachers nationally and internationally and documenting and disseminating our work."
Based in the Education Department at Brown University, the ArtsLiteracy Project has provided opportunities for collaboration among teachers, artists and students since 1998. The program focuses on professional and curriculum development for teachers and artists and on enhancing students' literacy development through performance and analytical work around challenging texts. ArtsLiteracy work is guided by the Performance Cycle, a pedagogical model developed by Landay and Kurt Wootton, director of the ArtsLiteracy Project. Brown undergraduate and graduate students have the opportunity to be involved in the ArtsLiteracy Project through University coursework and classroom experiences in local schools.
The summer component to the program is facilitated through Brown Summer High School. Each summer, 150 diverse students from Rhode Island and Massachusetts spend four weeks participating in ArtsLiteracy courses on the Brown University campus. The program focuses on improving students' literacy skills and also aims to help young people define themselves, their peers and their society through the exploration of challenging literary texts. The summer program culminates in the public presentation of unique student performances.
More than 250 nominations were received for the 2005 Coming Up Taller Awards, which recognize and support exemplary arts and humanities programs that provide America's young people with learning opportunities and chances to contribute to their communities. The awards also highlight the contributions that historians, scholars, librarians, and visual and performing artists make to families and communities by mentoring children.
Launched in 1998, Coming Up Taller is an initiative of the President's Committee on the Arts and the Humanities. The President's Committee partners with the Institute of Museum and Library Services, the National Endowment for the Arts, and the National Endowment for the Humanities to administer the program.
For more information, please visit the following Web sites:
The ArtsLiteracy Project: http://www.artslit.org/
Coming Up Taller: http://www.cominguptaller.org/
President's Committee on the Arts and the Humanities: http://www.pcah.gov
######
---
Media Relations Home | Top of File | e-Subscribe | Brown Home Page