Brown University Library Collections Annex To Open Officially
The Library Collections Annex at Brown University will officially open on Feb. 3, 2006, with a ribbon-cutting ceremony by President Ruth Simmons. Planning for the high-density storage facility has been in the works for more than a decade and is one outcome of Brown's billion-dollar Plan for Academic Enrichment.
---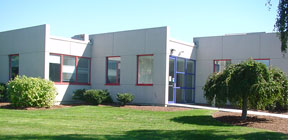 PROVIDENCE, R.I. — The Library Collections Annex, the newest part of Brown University's library system, will officially open with a ribbon cutting ceremony by President Ruth J. Simmons on Friday, Feb. 3, 2006, at 3 p.m. The high-density storage facility, located at 10 Park Lane in Providence, has the capacity to house and safely preserve 1.7 million volumes. Its opening marks the end of a decade-long planning process, three years of development and nearly a year of renovation.
"The Annex not only allows us to shelve valuable materials in a preservation-quality environment, it also allows the on-campus libraries to reclaim and reshape space for our users and staff," said Harriette Hemmasi, Joukowsky Family University Librarian. One example, Hemmasi explained, is the new 24-hour Friedman Study Center that will open on the first three floors of the Sciences Library in spring 2007. "Without the Annex, the SciLi would not have had the space to accommodate this much-needed study area."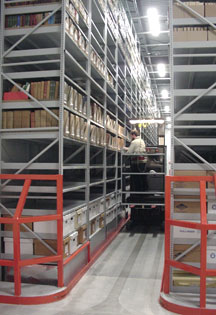 ---
---
More than 400,000 of the University's less frequently used library materials are already housed in the Annex's 25,000-square-foot storage space, which is projected to accommodate approximately 10 years of library storage needs. Materials being transferred to the Annex include full-text journals that are now available on-line. To maximize space and efficiency, each item is stored according to size and bar-coded with its location information, instead of being ordered in a traditional call number system. The stacks measure 21 feet high, requiring a cherry picker for retrieval. The archival storage room is kept at a constant 60 degrees with 35 percent humidity to help preserve the materials. Four full-time staff members are employed at the Annex.
In addition, the Annex houses a 900-square-foot art storage facility, with space for hundreds of paintings and objects overseen by the University curator. There is also a public reading room on site, with a workstation, photocopier and microform readers. In the future, the Annex plans to install a scanning station, to enable requested articles and chapters to be sent electronically.
The Collections Annex is an outcome of the Plan for Academic Enrichment, approved by the Brown Corporation in 2004, outlining more than a decade of investments in Brown's faculty, academic and research programs, improved scholarships and financial aid for students, and the physical campus.
The Annex is open during University business hours, Monday through Friday from 8:30 a.m. to 5 p.m.
######
---
Media Relations Home | Top of File | e-Subscribe | Brown Home Page