Aging Cells, Aging Body: Fresh Evidence for a Connection
When cells age and stop dividing, how much do they contribute to whole-body aging? Brown University research strengthens the case for a strong connection by providing evidence that non-dividing or "replicatively senescent" cells can be found in large numbers in old animals. The research, led by John Sedivy, is the first to quantify the presence of these cells in any species. Results are published by Science.
---
PROVIDENCE, R.I. — Brown University biologists have uncovered intriguing evidence to support the theory that old cells help make old bodies. In a study of baboons, scientists showed that as these animals age, the number of aging cells in their skin significantly increases.
Over time, cells lose their ability to divide, a state known as replicative senescence. The new research, published in an advanced online edition of Science, is the first to quantify the presence of replicatively senescent cells in any species.
"For 40 years, we've known about replicative senescence," said John Sedivy, a Brown professor of medical science and the senior scientist on the project. "Whether it promotes the aging of our bodies, however, is highly controversial. While it may make intuitive sense, skeptics say 'Show us the evidence.' The first solid evidence is in this study. These initial findings won't settle the debate, but they make a strong case."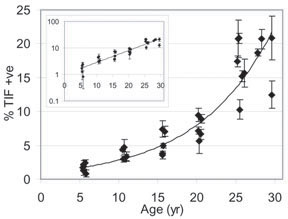 ---
---
Human cells replicate anywhere from 60 to 90 times before senescence sets in, a phenomenon scientists believe is a safeguard against disease. While senescent cells still function, they don't behave the way young cells do – and are associated with skin wrinkles, delayed wound healing, weakened immune system response and age-related diseases such as cancer.
"There is good evidence that senescent cells are not benign," Sedivy said. "But until now, no one has been able to confirm that they exist in appreciable numbers in old animals."
So the Brown team began to study aging animals – baboons living on a research preserve that ranged in age from 5 to 30. In human years, that age range is roughly 15 to 90.
Veterinarians took small skin samples from the monkeys' forearms. Scientists in the Sedivy lab tested the connective tissue for the presence of six biomarkers, or biological "red flags," that signal cellular aging. For replicative senescence, the most important biomarker is telomere dysfunction-induced foci, or TIFs. Presence of these structures signals that the protective chromosome caps called telomeres have dwindled enough to halt cell division.
Scientists painstakingly counted the cells with aging biomarkers. What they found: The number of senescent cells increased exponentially with age. TIF-positive cells made up about 4 percent of the connective tissue cell population in 5-year-olds. In 30-year-olds, that number rose as high as 20 percent.
Director of the Center for Genomics and Proteomics at Brown, Sedivy now plans to track the presence of TIFs in muscle and blood vessels.
"This research confirms that telomeres are important in aging," he said. "But we've only scratched the surface. Now that we've come up with the tools and methods for further TIF research, I am eager to see if the same patterns play out in other tissue."
Brown post-doctoral research fellow Utz Herbig is the lead author of the article. Brown undergraduate Mark Ferreira rounds out the Brown research team. Laura Condel and Dee Carey from the Southwest Foundation for Biomedical Research also contributed.
The National Institute on Aging funded the work.
######
---
Media Relations Home | Top of File | e-Subscribe | Brown Home Page