Brown University's First Muslim Chaplain Begins Campus Duties
Rumee Ahmed arrived at Brown University this semester to take up his duties supporting spiritual life of the Muslim student community. He is the University's first Muslim chaplain and one of a handful beginning to populate university and college campuses across the country.
---
PROVIDENCE, R.I. — Brown University's Office of the Chaplains and Religious Life has realized a long-time commitment to appoint a Muslim chaplain to its staff. Rumee Ahmed, an associate University chaplain, arrived at Brown in January to take up his duties supporting the spiritual life of the Muslim student community. He is one among a handful of Muslim chaplains beginning to populate university and college campuses across the country. Among New England Muslim chaplaincies, his position is one of only a few that is a university appointment.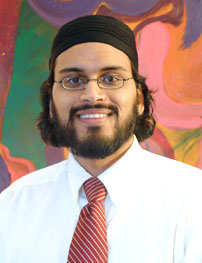 The Rev. Janet Cooper Nelson, chaplain of the University, stressed the importance of Ahmed's appointment, as Brown recognizes and supports its multicultural qualities. "The commitment to create the position for and to hire a Muslim chaplain truly brings greater wholeness not only to the chaplaincy itself, but also to Brown's religious life," she said. "We are very fortunate to have someone of Rumee's experience with Muslim student communities, his excellence in scholarship, and his infectious enthusiasm for Brown."
Ahmed brings to his new position extensive experience working with Muslim and interfaith campus groups and an investment in teaching Islamic studies. In addition, he is leading an initiative to network all the Muslim chaplains in New England institutions of higher education. His spouse, Ayesha, is the incoming Muslim chaplain at Connecticut College.
Ahmed completed his undergraduate studies in philosophy at the University of Maryland–College Park and is currently a doctoral candidate at the University of Virginia in scripture, interpretation and practice. He has studied in traditional Islamic learning institutions in the United States and abroad, delving into Arabic language studies, Urdu literature and Islamic jurisprudence. During his undergraduate and graduate studies, he was a leader in the Muslim campus and youth organizations, including serving as an executive board member of the Muslim Youth of North America and a founder and leader of Saleheen, an organization dedicated to teaching Muslim youth Qur'anic exegesis and developing leadership skills. In addition, he was a lecturer and trainer for the Islamic Organization of North America.
The nationwide search for a new chaplain began more than a year ago, but the idea of having a Muslim chaplain at Brown dates to 1998, according to search committee member Fatima Quraishi '06. The committee included eight or nine students, representing each undergraduate class, along with Professor of Anthropology William Beeman, Professor of History Engin Akarli, and the University chaplain.
######
---
Media Relations Home | Top of File | e-Subscribe | Brown Home Page