Brown Hosts Conference on Closing School Readiness Gaps
Early childhood leaders will meet at Brown University on March 8 to discuss how to best prepare minority children for success at school. The conference, co-sponsored by Brown's Center for Human Development and Rhode Island KIDS COUNT, will feature remarks by Columbia University professor Jeanne Brooks-Gunn and Providence Schools Superintendent Donnie Evans.
---
PROVIDENCE, R.I. — Brown University will host a conference to share findings of a national report titled School Readiness: Closing Racial and Ethnic Gaps. More than 100 early childhood and K-12 policy-makers and practitioners from Rhode Island, Connecticut and Massachusetts will gather to discuss the report and act on its findings.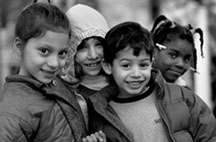 The conference will be held Wednesday, March 8, 2006, from 8:30 a.m. to 4 p.m. at the Brown Faculty Club, located at One Magee Street.
The readiness report was featured in The Future of Children, a publication of The Woodrow Wilson School of Public and International Affairs at Princeton University and The Brookings Institution. The journal promotes effective policies and programs for children by providing objective, original research and analysis. Last year, the journal devoted a 195-page issue to children's lives before they get to kindergarten in an effort to understand how to best close the racial and ethnic gaps in school achievement.
Jeanne Brooks-Gunn, a contributing author of the report, will highlight the journal findings in a keynote address. The report's eight chapters address the size of the gap, examine possible explanation for differences in school readiness, and identify policies that hold promise for closing the gap and improving outcomes for children. The Virginia and Leonard Marx Professor of Child Development and Education at Teachers College, Columbia University, Brooks-Gunn will discuss approaches that directly address all factors – such as health, early learning and parenting – that contribute to school readiness.
"To have the greatest impact, high-quality early childhood programs must aim to change multiple aspects of the child's environment," Brooks-Gunn said. "We know that children are more likely to enter school ready to succeed when communities provide access to high-quality early education programs, when health risks are minimized, and when parents have the support they need to engage in the early learning and nurturing of their young children. We must work more intentionally to apply that knowledge so that we reduce the achievement gaps that currently exist between minority children and white children and between lower income children and higher income children."
Cynthia Garcia Coll, the Robinson and Barstow Professor of Education, Psychology and Pediatrics at Brown, will discuss action steps at the conference along with Rosa Smith, president of the Schott Foundation for Public Education. Providence Schools Superintendent Donnie Evans will provide closing remarks.
"We have plenty of research to show what is necessary to insure that all children are ready to learn," said Garcie Coll. "The question is: Do we have the will as a society to create the supports necessary to guarantee what is needed for all children and families? This will necessitate more integrated practices and policies that take into consideration the racial and ethnic inequities in our society and the need to eradicate them. These include, amongst others, segregation into poverty-stricken areas, housing and employment discrimination, and the lack of good quality preschool programs."
"The vision that all children enter school with the confidence, curiosity and skills to succeed is within our reach," said Elizabeth Burke Bryant, executive director of Rhode Island KIDS COUNT. "We must start at birth and shift our investments from programs that do not work to programs with proven outcomes for young children, especially minority and low-income children. There is no more important task to undertake than to ensure that all of our young children, in all of our communities, have safe and nurturing learning environments in the early years."
The Future of Children at the Woodrow Wilson School and Education Research Section at Princeton University, the Center for Human Development at Brown University, the Annie E. Casey Foundation, the Ewing Marion Kauffman Foundation, Rhode Island KIDS COUNT, and Grantmakers for Children, Youth and Families are sponsoring the conference.
######
---
Media Relations Home | Top of File | e-Subscribe | Brown Home Page