President Ruth J. Simmons
Provost Robert J. Zimmer To Become University of Chicago President
The Board of Trustees of the University of Chicago has received a recommendation from its Presidential Search Committee that Robert J. Zimmer, currently provost of Brown University, be elected the University of Chicago's next president. Chicago's Board will act on the recommendation at a special meeting Friday, March 10, 2006. President Simmons' message to Brown's faculty, staff and students, sent Thursday morning, March 9, follows here.
---
Dear Members of the Brown Community,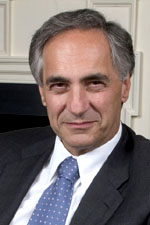 Today, the Presidential Search Committee of the University of Chicago is recommending to its Board of Trustees that Brown's Provost, Robert J. Zimmer, be elected the 13th President of the University of Chicago, effective July 1, 2006. The Board will act on the recommendation at a special meeting on Friday, March 10. I am certain all members of the community will join me in congratulating Bob on his new position.
Bob, an accomplished scholar and administrator, came to Brown from the University of Chicago in July 2002 to serve as the University's ninth provost. Since his arrival, he has been integral to the development and implementation of the Plan for Academic Enrichment and has made important contributions to the academic life of the University. Under his leadership and guidance, we have expanded the faculty and strengthened our multidisciplinary programs through initiatives like the Environmental Change Initiative, the Initiative in Spatial Structures in the Social Sciences, the Center for Computational Molecular Biology, and the Cogut Center for the Humanities. Bob championed partnerships with institutions like the Marine Biological Laboratory (MBL) at Woods Hole and oversaw the development of new agreements between the Medical School and our affiliated teaching hospitals. Undergraduate, graduate, and medical students will benefit greatly from the improvement of facilities undertaken during his term as provost. His leadership and commitment to Brown faculty, students and staff will be missed.
Anticipating an expedited process to identify Bob's successor, I will be speaking to members of the faculty and others about the search over the next several weeks. We will make every effort to ensure that there is no delay in filling open administrative positions such as the dean of the college, the vice president for research and the director of the Watson Institute for International Studies.
Later in the spring we will have an opportunity to gather and thank Bob for his many contributions to Brown and his efforts to strengthen the foundation of research and teaching at the University. In the meantime, on behalf of the University community, I want to express my gratitude to Bob for his contributions to Brown, congratulate him on his appointment as president of the University of Chicago, and wish him and his family great success and happiness in the years ahead.
Sincerely,
Ruth J. Simmons
######
---
Media Relations Home | Top of File | e-Subscribe | Brown Home Page