April 12 through May 10
Bell Gallery Presents 7 Documentarians Photography Exhibition
Images by seven American photographers will be shown in the Bell Gallery's latest exhibition, 7 Documentarians, from April 12 through May 10, 2006. The exhibition takes visitors through a history of 20th-century documentary photography, with subjects ranging from the Depression-era rural south to New York City street life to baseball stadiums of the 1980s.
---
PROVIDENCE, R.I. — The David Winton Bell Gallery will present 7 Documentarians, an exhibition of 20th-century American photography, from Wednesday, April 12, to Wednesday, May 10, 2006. A reception will be held at 5:30 p.m. on Friday, April 21. Both the reception and exhibition are free and open to the public.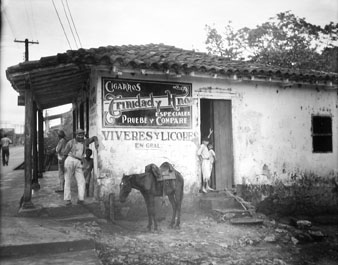 ---
---
Drawn from the gallery's permanent collection, the exhibition includes both seminal works in the history of documentary photography and important but lesser-known series. Artists included in the exhibition are Berenice Abbott, Walker Evans, Garry Winogrand, Larry Clark, Danny Lyon, Jim Dow, and Jay Wolke. Subjects range from New York and the rural South in the 1930s, to the drug culture of the 1960s, life in Texas prisons and North American baseball stadiums.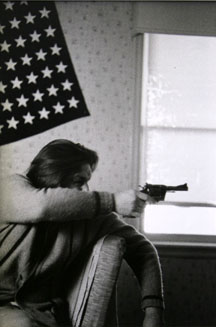 ---
---
Displayed chronologically, the exhibition begins with works by Abbott and Evans from the 1930s. Struck by the city's changes as a result of the second great skyscraper boom, Abbott photographed tall buildings, elevated trains, street peddlers, and storefronts with a goal of creating a "documentary interpretation of New York City." The seminal work of Walker Evans is explored in images of Cuba (1932–33) created to accompany The Crime of Cuba and of the rural south done for the Farm Security Administration (1935–38), as well as candid portraits of subway passengers in New York City (1938–41) and commercial work for Fortune magazine (1941–63).
The work of Winogrand, Clark, and Lyon epitomizes documentary photographs at mid-century, during which use of small-format cameras (35mm SLRs) allowed photographers far greater flexibility in responding to their subjects. Winogrand, the quintessential street photographer, chronicled contemporary American life as it was manifest in public, usually in New York. Included are images from Women Are Beautiful, taken in the 1960s and early 1970s.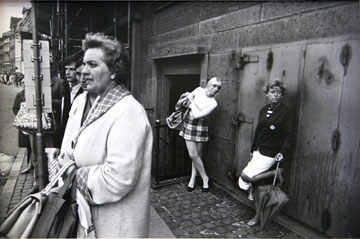 ---
---
Photographs on display by Lyon and Clark explore American subcultures from the 1960s and early 1970s. Lyon is represented by selections from Conversations with the Dead, photographed inside six Texas penitentiaries. Allowed access to all prison areas, Lyon photographed men in their cells, working in the fields, eating and passing the time. He included many of the prisoners' personal testimonies and official documents within his project. Clark's landmark series Tulsa portrays the aimless drug use, violence and sexual activities of Clark's circle of friends in his hometown. The deeply personal series signaled a new style of subjective documentation.
---
---
The exhibition concludes with two series of images from the 1980s: Dow's American and National League Stadiums and Wolke's Along the Divide: Photographs of the Dan Ryan Expressway. Both artists work in color, using large-format cameras. Since 1980, Dow has photographed more than 200 major and minor league stadiums in the United States and Canada. Each of his panoramic images consists of three 8 x 10 contact prints, providing views of exacting detail and clarity. Wolke documented life on and around the Dan Ryan – one of the nation's busiest and notoriously dangerous expressways – that cuts a swath through Chicago's South Side neighborhoods. In Wolke's words, his photographs demonstrate "the extent of the expressway's influence over its surroundings, as well as the proliferation of adaptations to its unremitting presence."
The David Winton Bell Gallery is located in the List Art Center, 64 College St., Providence. The gallery is open from 11 a.m. to 4 p.m. Monday through Friday, and 1 p.m. to 4 p.m. Saturday and Sunday.
######
---
Media Relations Home | Top of File | e-Subscribe | Brown Home Page