Casey Shearer Memorial Lecture
Children's Defense Fund Founder Marian Wright Edelman to Speak
Award-winning author and children's advocate Marian Wright Edelman will address the Brown community in the sixth annual Casey Shearer Memorial Lecture on Tuesday, April 11, 2006. Her speech, "Stand Up for Children Now, " will be held at 6:30 p.m. in the Salomon Center for Teaching. The event is free and open to the public.
---
PROVIDENCE, R.I. — Marian Wright Edelman, founder and president of the Children's Defense Fund, will deliver the sixth annual Casey Shearer Memorial Lecture on Tuesday, April 11, 2006, at 6:30 p.m. in the Salomon Center for Teaching, located on The College Green. The presentation, titled "Stand Up for Children Now," is free and open to the public.
The lectureship, sponsored by Brown University and the Goldway/Shearer family, was established in memory of Casey Shearer, a promising young writer and aspiring sportscaster who died in May 2000, days before he was to graduate from Brown. Previous speakers have been Pulitzer Prize-winning biographer A. Scott Berg, ESPN anchor Chris Berman '77, New York Times columnist Thomas Friedman, ABC analyst Cokie Roberts, and Washington Post sports columnist Thomas Boswell.
Prior to Edelman's address, the winners of the annual Casey Shearer Memorial Award for Excellence in Creative Nonfiction will be announced, including a first prize of $1,000, a second prize of $500, and two honorable mentions. Edelman will sign copies of her books before the lecture, from 6 until 6:30 p.m. in the lobby of the Salomon Center.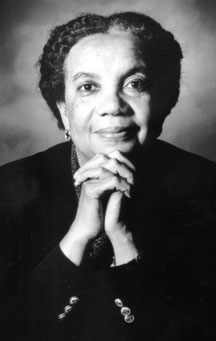 Marian Wright Edelman
Since establishing the Children's Defense Fund (CDF) in 1973, Marian Wright Edelman has made the organization the leading advocacy group for disadvantaged children in the United States. The CDF works to support Head Start, foster care reform, prenatal care, childhood immunizations, anti-gun legislation and family economic security programs. Under Edelman's leadership, the organization's research, public education campaigns, and policy advocacy have contributed to the welfare of millions of underprivileged children and families.
A graduate of Spelman College and Yale Law School, Edelman began her career directing the NAACP Legal Defense and Educational Fund. In 1965, she became the first African American woman admitted to the Mississippi Bar. Edelman helped Dr. Martin Luther King Jr. organize the Poor People's Campaign in 1968 and later founded the Washington Research Project, a public interest law firm that became the CDF. For two years she served as the director of the Center for Law and Education at Harvard University.
Edelman is the recipient of more than 100 honorary degrees and awards, including the Albert Schweitzer Humanitarian Prize, a MacArthur Foundation Prize Fellowship, and the Heinz Award. In 2000, Edelman received the nation's highest civilian honor, the Presidential Medal of Freedom and the Robert F. Kennedy Lifetime Achievement Award for her writings, which include eight books.
Casey Shearer
Casey Shearer '00 was a vibrant and talented member of the Brown community. An economics concentrator, he also studied Spanish, political science and literature, and helped revive Brown Student Radio (WBSR). He was best known on campus as the station's play-by-play sports announcer and as the author of the weekly sports column "On the Case," published in the College Hill Independent.
Shearer was born and raised in Santa Monica, Calif., where his mother, Ruth Goldway, once served as mayor. He graduated from high school in Finland, where his father, Derek Shearer, an Occidental College professor, served as U.S. ambassador. A top student at Brown, Shearer was a member of the economics honor society and received his magna cum laude pin the Friday before he was to graduate. That same day, during a regular pick-up game of basketball, Shearer's heart stopped and he collapsed. Four days later, he died of an undetected heart virus, two months before his 22nd birthday.
For more information on this event, contact the Office of University Events at (401) 863-2474.
######
---
Media Relations Home | Top of File | e-Subscribe | Brown Home Page