Marine Ecology
"Dead Zone" Summer Killed Billions of Ocean State Mussels
A "dead zone" that formed in 2001 in Narragansett Bay left a lethal legacy, Brown University research shows. In a study of nine mussel reefs, published in Ecology, researchers report that oxygen-depleted water killed one reef and nearly wiped out the rest. A year later, only one of the nine reefs was recovering. The result was a sharp reduction in the reefs' ability to filter phytoplankton, a process that helps control "dead zone" formation.
---
PROVIDENCE, R.I. — Fish kills, foul odors and closed beaches hit Rhode Island's Narragansett Bay during the summer of 2001. The culprit was hypoxia, or oxygen depletion, which literally suffocates sea life. While some evidence of this "dead zone" could be seen on the bay's surface, Brown University ecologists went underwater and discovered a massive mussel die-off.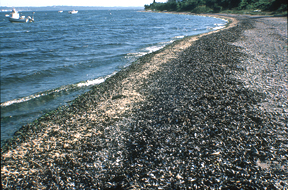 ---
---
In a survey of nine mussel reefs located in the central bay, researchers found one reef completely wiped out. Of the remaining eight, seven were severely depleted. The ecologists estimate that the number of mussels that died was roughly 4.5 billion, or about 80 percent of the reefs' population.
Just one month before hypoxia hit, researchers surveyed the same reefs and saw acres of healthy, densely packed mussels blanketing the estuary floor.
"What we saw was a local extinction," said Andrew Altieri, a new Ph.D. graduate from Brown University's Department of Ecology and Evolutionary Biology. "The mussel population was devastated. If the magnitude of this die-off was visible from the surface, there would've been public alarm."
Altieri conducted the surveys with Jon Witman, a marine ecologist and an associate professor in the Department of Ecology and Evolutionary Biology. In a report on their research, published in Ecology, Altieri and Witman show that mussel die-off had a lasting effect.
In fall 2002, one year after the die-off, the pair found that only one of the nine reefs was recovering. Altieri and Witman wondered how the loss of so many mussels, which filter minute algae called phytoplankton from the water, might affect the bay's ecosystem.
So Altieri calculated the filtering capacity of mussels in the reefs, before and after the hypoxic event. They found that the healthy mussels could filter the equivalent of the entire volume of Narragansett Bay in just 20 days. But within weeks of the die-off, that filtering capacity dropped by 75 percent.
Altieri said this is an important, and troubling, finding for water quality and sea life in the bay.
Hypoxia can start when fertilizer or sewage spills into coastal waters, carrying nitrogen, phosphorus and other nutrients. Often fueled by warm temperatures and a lack of circulation, this nutrient rush can cause algae blooms. When the algae dies, it sinks to the bottom, where it is consumed by bacteria – along with dissolved oxygen. This is what happened in Narragansett Bay in the summer of 2001 and again in the summer of 2003.
Mussels, however, can help control nutrient overload and hypoxia by consuming phytoplankton, which reduces bottom-dwelling bacteria. "When we lose mussels, we may be losing the ability to prevent future dead zones from forming," Altieri said. "So these sorts of extinctions may trigger a downward spiral, with coastal zones less able to handle environmental degradation."
According to a 2004 United Nations Environment Program report, the number of areas hit by hypoxia worldwide has doubled since 1990. "Dead zones" can be found along the east coast of the United States, in the seas of Europe, as well off Australia, Brazil, and Japan. One of the biggest "dead zones" is in the Gulf of Mexico, where it has grown to an area as big as New Jersey.
Altieri and Witman said lessons from Narragansett Bay could be applied to other "dead zones."
"When you lose a foundation species such as mussels – which filter water and provide food and habitat for other organisms – you see a large and lasting effect on the ecosystem," Witman said. Added Altieri: "We've already seen this in Chesapeake Bay and other coastal estuaries, where loss of filter-feeding oysters has led to runaway effects of pollution and hypoxia and prevented restoration of these shellfish."
The National Oceanic and Atmospheric Administration, the Andrew Mellon Foundation, and Rhode Island Sea Grant funded the work.
The Ecology paper is available online.
######
---
Media Relations Home | Top of File | e-Subscribe | Brown Home Page