Legacy of Lead Poisoning Detailed at Annual Barnes Lecture
Herbert Needleman, M.D., one of the foremost experts on childhood lead poisoning, will deliver the Dr. and Mrs. Frederick W. Barnes Jr. Lecture in Public Health on Wednesday, April 26, 2006. The free lecture begins at 4 p.m. in Andrews Hall and is open to the public.
---
PROVIDENCE, R.I. — Herbert Needleman, M.D., a leading expert on the effects of lead poisoning on children, will deliver the seventh annual Dr. and Mrs. Frederick W. Barnes Jr. Lecture in Public Health on Wednesday, April 26, 2006. The lecture, titled "Silent Toxicity: The Legacy of Childhood Lead Poisoning," begins at 4 p.m. in Andrews Hall on the Pembroke Campus at Brown. The lecture is free and open to the public.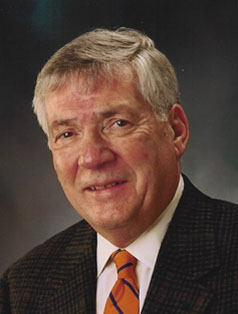 Needleman, a pediatrician and child psychiatrist at the University of Pittsburgh Medical Center, is known for groundbreaking studies on the developmental implications of lead exposure. In the 1970s, measuring lead levels in children's teeth, Needleman provided the first evidence that even low levels of lead lower IQ, shorten attention spans and delay language skills. Needleman conducted follow-up studies on these children and showed that their deficits persisted, resulting in learning disabilities and school failure.
Needleman designed the first forward study of lead exposure in the uterus and showed it was associated with cognitive deficits later in life. His recent research shows that boys with high levels of lead in their bones have greater odds of developing aggressive or delinquent behavior, such as bullying, vandalism and shoplifting.
Needleman's research and advocacy was instrumental in federal regulations banning lead from gasoline and paint as well as the removal of lead from government housing. The federal Centers for Disease Control and Prevention also issued guidelines for pediatric lead poisoning diagnosis and treatment due, in part, to his research.
Needleman is the founder of the Alliance to End Childhood Lead Poisoning, now called the Alliance for Healthy Homes, a national nonprofit working to prevent and eliminate home hazards such as lead, mold, radon and pesticides.
The Dana Foundation and the Heinz Family Fund have honored Needleman for his work. He is an elected member of the Institute of Medicine.
Brown alumnus James S. Zisson '74 and his wife established and endowed the Barnes Lectureship in Public Health in memory of Norma and Miles Zisson '38. The lectureship honors the late Frederick Barnes, M.D., a founding faculty member of Brown Medical School, and his late wife, Catherine.
######
---
Media Relations Home | Top of File | e-Subscribe | Brown Home Page