Digital Media Project Wins Grant and Greenlight from mtvU and Cisco
Four Brown seniors are being awarded the first Digital Incubator award from mtvU, MTV's 24-hour college network, and Cisco Systems. As part of the initiative, 10 student groups across the country will be funded with a total of $250,000 in grant money and offered a national platform to pioneer the broadband content of tomorrow.
---
PROVIDENCE, R.I. — Four Brown University seniors have received a $25,000 grant from mtvU, MTV's 24-hour college network, and Cisco Systems for their creation of an innovative virtual rock band called "Tower 8" and a corresponding Web site. They are among the winners of the first Digital Incubator contest that taps student talent and funds projects aimed at developing content for broadband users.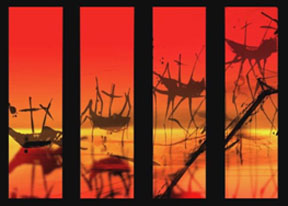 ---
---
Michael Ashton, Gavin Brown, Sadie Barchini, and Daniel Cannizzaro make up one of 10 student groups nationwide receiving the Digital Incubator Award for projects that combine elements of short-form programming, gaming, blogging, instant and text messaging, podcasting and mobile phone-based interactivity. Together, the 10 groups form mtvU's first student-run digital development team, helping to shape the network's broadband and multiplatform programming.
"The student groups on our first Digital Incubator development team are pushing the boundaries of digital media and we're proud to hand over our network as a laboratory for their creative passion," said Stephen Friedman, general manager of mtvU, in a statement.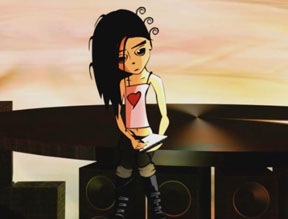 ---
---
The Brown University team's project, Tower 8, is described as a "comic book rock opera set in a post-apocalyptic world where music is a supernatural force." The Tower 8 Web site, which employs fully animated music videos, flash animation, character blogs and photos, is a "window into this 'webisodic' alternate reality." It is scheduled to launch next month. Brown is the producer and music composer, Ashton is an animator and visual effects developer, Cannizzaro is art director and animator, and Barchini is the voice behind Tower 8's music.
"The grant will buy us fast new computers, traditional art supplies, and music recording gear," said Brown. "We'll also use it to support ourselves over the summer as we work full time to realize and continue this project."
The team was one of several winning groups that were surprised on campuses nationwide with the news they'd received the award. To see their reactions, as well as trailers of some of the projects, visit www.mtvu.com/on_mtvu/digital_incubator. The first Digital Incubator projects will premiere in May and be an integral part of mtvU's on-air, online, on-campus and wireless programming for the next six months.
Cisco Systems
Cisco Systems, Inc. is the worldwide leader in networking for the Internet. Information about Cisco can be found at www.cisco.com.
mtvU
Broadcasting to over 730 colleges across the country, with a combined enrollment of over 6.8 million, mtvU is the largest, most comprehensive television network just for college students. Its parent organization, MTV Networks, a unit of Viacom, is one of the world's leading creators of programming and content across all media platforms, with more than 100 channels worldwide. Information about mtvU is available at www.mtvu.com.
######
---
Media Relations Home | Top of File | e-Subscribe | Brown Home Page