The 238th Commencement
Provost Robert Zimmer To Speak at Graduate School Ceremony
Outgoing Provost Robert J. Zimmer will deliver an address at Brown University's Graduate School Commencement Ceremony on Sunday, May 28, 2006, on Lincoln Field. Shankar K. Prasad, a doctoral candidate in political science, will present the student address, titled "A Diverse Community of One: Lessons Learned and Experiences Shared."
---
PROVIDENCE, R.I. — Provost Robert J. Zimmer will deliver an address at Brown University's Graduate School Commencement Ceremony on Sunday, May 28, 2006. Dean of the Graduate School Sheila Bonde will preside over the ceremony, which begins at 11:10 a.m. on Lincoln Field.
The Graduate School, which has set new records for applications and selectivity this year, will confer approximately 550 graduate degrees during the 2006 Commencement Ceremony – approximately 200 doctorates and 350 master's degrees. This year, six students will receive Master of Public Affairs degrees, the first ever to be awarded by the University.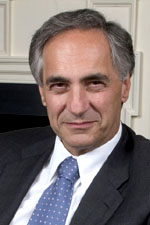 Zimmer has served as the University's ninth provost and Ford Foundation Professor of Mathematics since coming to Brown in July 2002. Under his leadership, Brown has expanded the faculty, improved facilities, established and strengthened multidisciplinary programs through new ventures like the Environmental Change Initiative, the Initiative in Spatial Structures in the Social Sciences, the Center for Computational Molecular Biology, and the Cogut Center for the Humanities. Prior to his tenure at Brown, Zimmer held multiple posts at the University of Chicago, including the Max Mason Distinguished Service Professor of Mathematics, chairman of the mathematics department, deputy provost, and vice president for research and for Argonne National Laboratory, one of the nation's premier research facilities. He is president-elect of the University of Chicago and will assume those duties on July 1, 2006.
Shankar K. Prasad, a doctoral candidate in political science, will deliver the student address, titled "A Diverse Community of One: Lessons Learned and Experiences Shared." Prasad graduated Phi Beta Kappa from Rutgers College/Rutgers University in 2002, where he majored in political science, finance and French. He was awarded an A.M. from Brown University in 2003. For his doctoral dissertation, Prasad studied Asian Indian American political behavior.
During the Ceremony, staff member Erma Wallace will be presented with the Wilson-Deblois Award, which is given annually by the Graduate Student Council to honor outstanding contributions to the Graduate School and its students. The award is named for the recipients of Brown's first two doctorates in 1889. Wallace, who is retiring this June, is being honored for her 16 years of service as the Graduate School's coordinator of administrative affairs.
For more Commencement information, visit www.brown.edu/web/commencement/2006.
Editors: To request Commencement Weekend credentials or other information, e-mail or call the Office of Media Relations at [email protected] (401) 863-9725.
######
---
Media Relations Home | Top of File | e-Subscribe | Brown Home Page