Clyde L. Briant Appointed as Vice President for Research
Clyde L. Briant, dean of engineering and the Otis E. Randall University Professor at Brown, has been appointed vice president for research, effective July 1, 2006. Briant succeeds Andries van Dam, the inaugural vice president.
---
PROVIDENCE, R.I. — In an e-mail message to the Brown University community today, President Ruth J. Simmons announced the appointment of Clyde L. Briant, dean of engineering, as the University's new vice president for research, effective July 1, 2006. Briant, the Otis E. Randall University Professor at Brown, succeeds Professor Andries van Dam.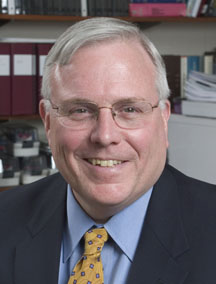 "Clyde's success and experience in industry and academia, particularly his service to Brown during a period of change and growth, make him exceptionally well qualified for this important position," Simmons said.
The vice president for research has senior responsibility for all aspects of research at Brown. Briant will work closely with faculty and the academic administration to foster internal and external academic centers, groupings and relationships which will enhance and extend the University's research efforts. He will oversee the University's intellectual property policies, its efforts to identify transferable intellectual property, and its Office of Sponsored Projects. The vice president for research is also a strong advocate for the University's research community on and off campus.
Prior to joining the Brown faculty in 1994, Briant worked at the GE Research and Development Center (1976-1994). He received his Doctor of Engineering Science degree in materials science from Columbia University in 1974 and was a post-doctoral researcher at the University of Pennsylvania from 1974 to 1976. His primary research interest has been in the area of structural materials. At the start of his career he worked extensively with steel and nickel alloys, but more recently he has been involved in research on light weight alloys.
Professor Briant emerged as the final candidate following an internal search conducted by a seven-member committee:
Roy Aaron, professor of orthopaedics (chair);
Wayne Bowen, professor of biology;
Melissa Clarke, associate professor of community health;
David Lindstrom, associate professor of sociology;
Humphrey Maris, professor of physics;
Tayhas Palmore, associate professor of engineering; and
Michael Steinberg, professor of music and history and director, Cogut Humanities Center
Deputy Provost Vincent Tompkins served as staff for the committee.
######
---
Media Relations Home | Top of File | e-Subscribe | Brown Home Page