Pomp and Thermodynamics: Brown Graduates First Teacher-Engineer
The Brown University Class of 2006 will include its first teacher-engineer, who graduates this month with a bachelor's degree in engineering – and a certificate to teach physics in grades seven to 12. This one-of-a-kind teacher preparation program aims to train students to teach physics in an engaging, hands-on style. The program will also address a national shortage of physics teachers.
---
PROVIDENCE, R.I. — Brown University's new engineering teacher preparation program this month graduates its first student. Diana Chien, a 21-year-old from Long Island, will earn her bachelor's degree in engineering along with a certificate to teach physics in grades seven to 12.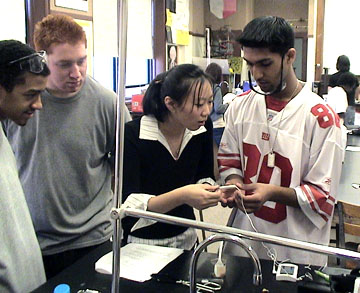 ---
---
The program is the first in the nation designed specifically to certify engineering students to teach physics in just four years. To be eligible for teacher certification, students often must take an additional year of courses and earn a Master of Arts in Teaching degree.
Under Brown's new teacher preparation program, a joint effort of the Division of Engineering and the Department of Education, undergraduates must meet all requirements for their engineering concentration, which includes courses in math, statistics, chemistry and physics as well as eight engineering courses that cover everything from materials science and fluid mechanics to thermodynamics and electricity and magnetism. Students must also successfully complete at least five education courses, including a semester of student teaching at a local school.
If these requirements are met, students receive an engineering degree as well as certification to teach physics in grades seven to 12. While the Rhode Island Department of Education provides the certificate, an interstate agreement allows graduates to teach in 44 states, from Alaska to Florida.
The teacher preparation program will help address a chronic nationwide shortage of physics teachers. According to annual surveys conducted by the American Association for Employment in Education, physics teachers have for 20 years ranked among the education fields in greatest demand, falling only behind special education and math teachers.
The program also aims to improve public school science education, a goal of President George W. Bush's American Competitiveness Initiative announced in his State of the Union address in January. In Rhode Island, Gov. Donald L. Carcieri has also pushed to improve the way students learn and teachers teach in science and math.
Janet Blume, an associate professor of engineering who spearheaded the program, said teachers with an engineering background are well suited to make the often abstract concepts of physics – electric fields and matter waves, kinetic energy and quarks – come alive through hands-on demonstrations and student projects.
"As engineers, we design things – cars, computers, bridges, bicycle helmets," Blume said. "That ability to analyze and problem-solve can be put to powerful use in a classroom. We can take the fundamentals of physics and show kids how they apply to the real world."
Lawrence Wakeford, a senior lecturer in education who designed the program with Blume, said it is similar to Brown's undergraduate teacher preparation programs in biology, history and English.
"These programs provide a direct pipeline from the university to the public schools – where teachers are needed most," Wakeford said. "And in the case of physics, the teacher shortage is particularly acute."
The program also addresses demand from another arena – Brown students. Like many engineering concentrators before her, Diana Chien wanted to teach without going on to earn another degree. Chien taught physics to juniors and seniors at Hope High School in Providence this year, using eggs, racket balls, and a run up a flight of steps to teach concepts such as momentum. Chien plans to apply for high school physics positions in California after graduation.
"The job is so tough, but I love it," she said. "You can see the moment that students understand a concept – that light bulb moment – just by looking at their faces. It's a hard-won reward."
For additional information about the program: http://www.engin.brown.edu/teacher_preparation_course.htm
http://www.brown.edu/Departments/Education/te_utep.php
######
---
Media Relations Home | Top of File | e-Subscribe | Brown Home Page