Brown Medical School
Brown and Affiliated Hospitals Name Emergency Medicine Chief
Brian J. Zink, M.D., is chair of the Department of Emergency Medicine at Brown Medical School and emergency medicine physician-in-chief at Rhode Island Hospital and The Miriam Hospital.
---
PROVIDENCE, R.I. — Brian J. Zink, M.D., has been appointed the inaugural chair of the Department of Emergency Medicine at Brown Medical School, effective July 1, 2006. Zink will also hold the titles of emergency medicine physician-in-chief at Rhode Island Hospital and The Miriam Hospital and president of the University Emergency Medicine Foundation.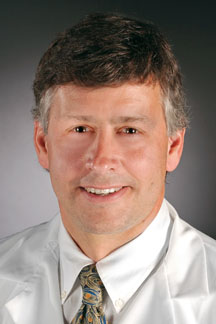 In his new role, Zink will oversee a department that is home to a faculty of 74 physicians and academic research funding of approximately $3.4 million. Zink will oversee the Medical Simulation Center and the Injury Prevention Center at Rhode Island Hospital, applied biomedical engineering, and disaster and biodefense crisis planning. Zink will also supervise the operations of Rhode Island Hospital's new state-of-the-art emergency department, which is the busiest in New England and one of the busiest in the nation, as well as the emergency departments at Hasbro Children's Hospital and The Miriam Hospital. Staff at these three facilities will provide care to more than 170,000 patients this year.
Zink succeeds Robert H. Woolard, M.D., who presided over the Department of Emergency Medicine on an interim basis since its establishment in 2004. Prior to 2004, emergency medicine was a section within the Department of Medicine. It was elevated to departmental status in recognition of the discipline's increased growth and the success of its clinical and academic programs.
Zink received his medical degree from the University of Rochester School of Medicine and completed his residency training in emergency medicine at the University of Cincinnati Medical Center. He also served on the faculty at Albany Medical College and at the University of Michigan as assistant dean for medical student career development.
Zink is also a researcher, with current studies supported by the Emergency Medicine Foundation, the National Institute for Neurological Diseases and Stroke, the National Institute of Alcohol Abuse and Alcoholism, and the National Heart, Lung and Blood Institute. In addition to being the recipient of numerous awards recognizing his contributions to teaching medical students and residents, Zink is a past president of the Society for Academic Emergency Medicine as well as a member of the Neurotrauma Society, the Research Society on Alcoholism, and the American Association for the History of Medicine. He is also the author of Anyone, Anything, Anytime – A History of Emergency Medicine, published in 2005.
Brown Medical School
Brown Medical School (http://bms.brown.edu) is Rhode Island's only school of medicine and the hub of the state's academic medical enterprise. As part of an Ivy League university, the medical school attracts leaders in teaching and clinical care and, with its seven affiliated hospitals, brings in more than $160 million in external research funding each year. Brown Medical School's Department of Community Health, ranked sixth in the nation by US News and World Report, offers comprehensive graduate programs in epidemiology, biostatistics as well as a Master of Public Health degree.
Rhode Island Hospital
Founded in 1863, Rhode Island Hospital (www.rhodeislandhospital.org) is a private, not-for-profit hospital and is the largest teaching hospital of Brown Medical School. A major trauma center for southeastern New England, the hospital is dedicated to being on the cutting edge of medicine and research. Rhode Island Hospital ranks 13th among independent hospitals that receive funding from the National Institutes of Health, with annual research awards of more than $27 million. Many of its physicians are recognized as leaders in their respective fields of cancer, cardiology, diabetes, orthopedics and minimally invasive surgery. The hospital's pediatrics division, Hasbro Children's Hospital, has pioneered numerous procedures and is at the forefront of fetal surgery, orthopedics and pediatric neurosurgery. Rhode Island Hospital is a founding member of the Lifespan health system.
The Miriam Hospital
The Miriam Hospital (www.miriamhospital.org) is a not-for-profit hospital affiliated with Brown Medical School and a founding member of the Lifespan health system. Founded in 1926 by the Miriam Hospital Women's Association, The Miriam offers particular expertise in cardiology; oncology; and HIV/AIDS treatment, research and prevention. Nationally recognized as a top hospital in cardiovascular care, The Miriam is home to the only Women's Cardiac Center in the region and performs the highest volume of coronary bypass surgeries in the state. The Miriam Hospital has been awarded Magnet Recognition for Excellence in Nursing Services three times and is committed to excellence in patient care, research and medical education.
######
---
Media Relations Home | Top of File | e-Subscribe | Brown Home Page