Brown University Home
Media Relations Home
2006-07 Release Index
e-Subscribe

PROVIDENCE, R.I. — The Public Art Committee at Brown University has commissioned world-renowned artist Patrick Dougherty to create a work on the Front Campus during the month of October. Dougherty is a North Carolina-based artist who has gained an international reputation for his temporary sapling sculptures.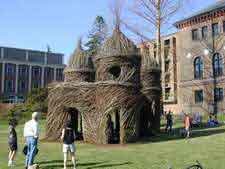 ---
---
Dougherty's work at Brown will begin on Monday, Oct. 2, 2006, and will be completed in approximately three weeks. A public lecture is planned for Thursday, Oct. 19, 2006, at 5:30 p.m. in List Art Center Auditorium, followed by a reception on the Front Campus. His sculpture will remain on display for approximately one year.
Dougherty has created nearly 200 monumental, site-specific sculptures around the world. His work is constructed from saplings – pussy willow, maple, aspen, poplar, birch, witch hazel and ash – that he gathers from local sources and shapes into gargantuan nests, cocoons and other woodland architecture. His installations are usually 20 to 40 feet high, abstract in shape, and are united by a swirling, cyclone-like motion, the product of wrapping the saplings around a branch substructure.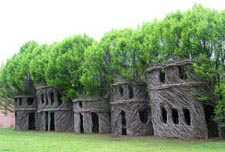 ---
---
"My affinity for trees as a material seems to come from a childhood spent wandering the forest around Southern Pines, North Carolina – a place with thick underbrush and many intersecting lines evident in the bare winter branches of trees," Dougherty has said. "When I turned to sculpture as an adult, I was drawn to sticks as a plentiful and renewable resource. I realized that saplings have an inherent method of joining – that is, sticks entangle easily. This snagging property is the key to working material into a variety of large forms."
Beginning Monday, Oct. 2, 2006, Dougherty will harvest up to six tons of saplings from properties around East Providence, all of which are slated for clearing and development within the next year. He will truck the materials back to campus and begin construction on Thursday, Oct. 5. The following organizations have allowed access to their properties: Tockwotten Home, Providence, R.I.; National Grid; Providence and Worcester Railroad; Chevron Land and Development Co.; Picerne Homes, Warwick, R.I.; and the State of Rhode Island Department of Transportation.
Volunteers interested in assisting with the process can call (401) 863-2932 or stop by the site on the Front Campus, between Slater Hall and the Prospect Street fence.

---
The Artist
During a career that has spanned 20 years, Dougherty has created nearly 200 site-specific sculptures in the United States, Canada, Mexico, Europe and Asia. He makes up to 10 works per year, spending approximately three weeks at each site. Among the locations where his sculptures have been displayed are the National Museum of Natural History, Washington, D.C.; The Phillips Collection, Washington, D.C.; Spoleto Festival, Charleston, S.C.; Grounds for Sculpture, Hamilton, N.J.; Museum of Glass, Tacoma, Wash.; American Crafts Museum, New York City; and Copenhagen Botanical Gardens, Copenhagen, Denmark.
Dougherty is the recipient of numerous honors and awards, including the Pollack-Krasner Foundation Grant, Henry Moore Foundation Fellowship, and several grants from the National Endowment for the Arts. His work has been the subject of more than 100 articles and reviews in publications including The New York Times, Washington Post, American Craft and Smithsonian.
For more information about the artist, visit www.stickwork.net.
The Public Art Committee
The Public Art Committee is a sub-committee of the Committee on Facilities and Design. Members include Chancellor Emeritus Artemis Joukowsky; President Ruth J. Simmons; Robert Emlen, University curator; Richard Fishman, professor of visual art; Dietrich Neumann, professor of the history of art and archaeology; and Jo-Ann Conklin, director of the David Winton Bell Gallery.
######