PROVIDENCE, R.I. — Susan Hockfield, president of the Massachusetts Institute of Technology, delivered the keynote address at Brown University's dedication of the Sidney E. Frank Hall for Life Sciences. Brown President Ruth J. Simmons conferred an honorary degree on Hockfield, a noted neuroscientist and the first life scientist to lead M.I.T. The dedication ceremony began at 5:30 p.m. on Howard Terrace on the Pembroke Campus.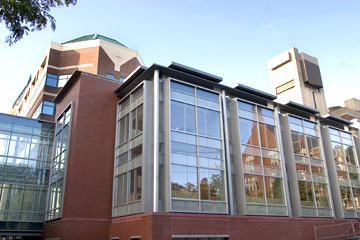 The Sidney E. Frank Hall for Life Sciences is a five-story, 169,000-square-foot glass and brick structure devoted to the study of human biology. It is named for the late New York businessman Sidney E. Frank, a member of the Brown Class of 1942. Frank was the University's largest donor; the $95 million building is the University's single largest capital project to date.
"The Sidney E. Frank Hall for Life Sciences is a superlative achievement and a fitting legacy for an exceptional entrepreneur and strong supporter of the University's mission," Simmons said. "The ground-breaking work that our faculty and students will undertake here will demand great vision and perseverance. In name, scale and purpose, the Sidney E. Frank Hall for Life Sciences is a fitting memorial to Mr. Frank's energy and creativity and a welcome addition to our campus."
Matthew Frank and Cathy and Peter Halstead spoke on behalf of the Frank family at the dedication. "My father believed in bold strokes and in Brown, so this building is a wonderful legacy," Matthew Frank said.
Located at 185 Meeting St., Frank Hall was designed by Ballinger, the Philadelphia architectural and design firm, and built by Gilbane Building Company of Providence. It features 62 offices, 30 laboratories, 10 conference rooms and a 98-seat seminar room. The building houses the University's main biomedical imaging facility as well as a new 3-Tesla magnetic resonance imaging machine, which allows scientists to peer into the bone and soft tissue of living humans. Plans are in place to outfit the machine with a special set of magnets next spring, making Brown only the fourth institution in the world to have a machine with such enhanced imaging capability.
The building provides access to the BioMedical Center, creating a hub of life science research and further promoting the cross-disciplinary collaboration that is a hallmark of research at the University.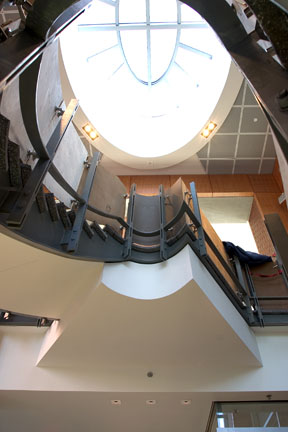 With its soaring atrium, spiral staircase and art glass bridge, the new center is a prominent example of Brown's commitment to improving and expanding teaching and research in the life and health sciences.
Since 2002, the University has hired 19 new tenure-track professors in the biological sciences, public health and medicine and has a goal of hiring at least 20 more. In the last three years, Brown has opened the Laboratories for Molecular Medicine at 70 Ship St., purchased 121 South Main Street as the new home for the Program in Public Health, forged a research and educational affiliation with the Marine Biological Laboratory in Woods Hole, Mass., and launched several major research programs, including the Center for Restorative and Regenerative Medicine, the Environmental Change Initiative and the Center for Computational and Molecular Biology.
"In the last century of natural science, we witnessed the revolution of the atom and the progressive elucidation of the genetic code and the sequencing of the human genome," said Eli Y. Adashi, dean of medicine and biological sciences at Brown. "In this new century, we are certain to witness a further understanding of the genome and its function as well as ongoing refinement of the DNA to RNA to protein dogma."
The Sidney E. Frank Hall for Life Sciences will be home to 39 faculty members from the Department of Neuroscience and the Department of Molecular Biology, Cell Biology and Biochemistry. Their work is wide-ranging, touching on development and disease, behavior and genes. Some scientists study the inner workings of cells, others networks of neurons, others the contents of entire genomes. Their work is bound by a common thread: The exploration of how life works.
Why humans age, how they see, and how they develop from a single cell are some of the critical questions explored by faculty and students working in the new center. Science conducted in the building will also improve human health, with researchers exploring the causes of, or treatments for, a variety of diseases and conditions, including pain and paralysis, infertility and infection, birth defects and mental retardation.
Susan Hockfield, Doctor of Science
(Text of Citation)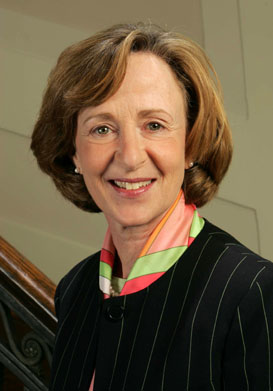 Susan Hockfield has served as the 16th president of M.I.T. since December 2004. A noted neuroscientist whose research has focused on the development of the brain, Hockfield is the first life scientist to lead M.I.T. She also holds a faculty appointment as professor of neuroscience in the Department of Brain and Cognitive Sciences. She seeks to encourage collaborative work among M.I.T.'s schools, departments and interdisciplinary laboratories and centers to keep M.I.T. at the forefront of innovation. Under her leadership, M.I.T. has launched a major initiative in energy research and education and continues to expand its activities at the intersection of the life sciences and engineering.
Before assuming the presidency of M.I.T., Hockfield was the William Edward Gilbert Professor of Neurobiology and provost at Yale University. She joined the Yale faculty in 1985 and was named full professor in 1994. While at Yale, she played a central role in the university's leadership, first as dean of its Graduate School of Arts and Sciences (1998-2002), with oversight of more than 70 graduate programs, and then as provost, the university's chief academic and administrative officer.
Hockfield holds honorary degrees from Tsinghua University (Beijing) and the Watson School of Biological Sciences at the Cold Spring Harbor Laboratory and is a member of the American Academy of Arts and Sciences. She is a member of the Board of Overseers of the Boston Symphony Orchestra and a trustee of the Woods Hole Oceanographic Institution. Hockfield lives in Cambridge, Mass., with her husband, Thomas N. Byrne, M.D., and their daughter, Elizabeth.
Sidney Frank
A native of Norwich, Conn., Frank began his studies at Brown University as a member of the Class of 1942. He left for a war-time assignment in Asia, where he represented Pratt & Whitney Motors during World War II.
Upon his return to the United States in 1945, Frank found work with Schenley Distillers, beginning a long and remarkable career in the importation and marketing of distilled spirits. In 1972, he founded Sidney Frank Importing Co. Inc., of which he continued as chairman until his death earlier this year. His reputation and skill as a brand builder led to the American marketing success of Jägermeister Liqueur, Grey Goose Vodka and Gekkeikan Saké.
In May 2004, Frank presented Brown with the largest single gift for an academic building in the University's history – $20 million. Three months later, Frank stunned the Brown community with a gift of $100 million in support of undergraduate financial aid. In the fall of 2005, following Hurricane Katrina, Frank provided $5 million for the University to use in its efforts to assist colleges and universities that had been devastated by that natural disaster.
"I know from my own experience what a difference Brown can make in a young person's life," Frank said at the time of his gift for undergraduate financial aid. "I've wanted to help more students find what I found – especially students who figured Brown was out of reach financially. Creating this scholarship fund seemed the best way to do that. It's something I've wanted to do for a long time."
######