PROVIDENCE, R.I. — Students at Brown University are conducting an archaeological dig on the property surrounding the First Baptist Church in Providence, at the invitation of the congregation. In addition to providing undergraduate students an opportunity to participate in hands-on archaeological research and excavation training without leaving campus, the project may document an important part of city history.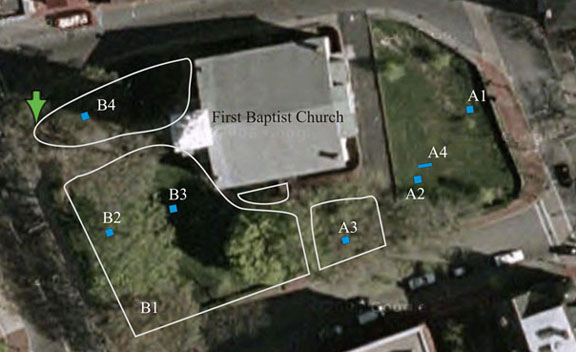 ---
---
The excavations are part of Anthropology 160, sponsored by Brown University's Anthropology Department and the Artemis A.W. and Martha Sharp Joukowsky Institute for Archaeology and the Ancient World. The field directors are Zachary Nelson, a postdoctoral research associate in anthropology, and Katherine Marino, a doctoral candidate at the Joukowsky Institute.
"Archaeological practice can not be wholly described with words," Nelson said. "There is a necessary experiential element to archaeological work that can only be achieved through actual practice."
The class of 18 students is excavating seven test pits on the property and surveying the land, including sidewalks, building outlines and other natural and man-made features. The students have also mapped the site using a combination of GPS and laser-survey techniques.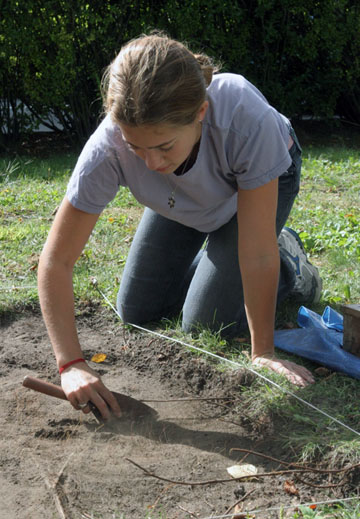 ---
---
So far, the class has unearthed ceramics, coins, a glass marble, and buttons – some dating to the mid 1800s. The artifacts are currently stored off-site and will be carefully studied as part of the class experience. After being analyzed and documented, the artifacts will be returned to the First Baptist Church congregation.
"At First Baptist Church, we've always had the desire to contribute to undergraduate education at Brown," said the Rev. Michael Burch, minister of religious education at First Baptist Church. "In addition, this dig is an opportunity to increase our knowledge of local culture and history of Providence."
Organizers hope that the class will explore other local sites in years to come.
"College Hill has been a center of Providence for several hundred years and can rightfully be studied as an early center of urban growth in the Americas," the organizers said. "Numerous other places on or near campus could be fruitfully explored in the future, providing Brown students with a unique educational experience and the general public with an opportunity to see local archaeology in action."
Excavation work takes place at the Church, located at 75 North Main St., every Monday from 3 to 5 p.m. throughout October. Church members have been invited to participate on Saturday, Oct. 28, 2006.
For updated photographs, video and information about the site, visit the class Web site, at http://proteus.brown.edu/archaeologyofcollegehill/Home.
######