PROVIDENCE, R.I. — Brown University senior Keriann Backus is among the 32 American college and university students selected this year as a Rhodes Scholar. The prestigious award supports two or three years of study at the University of Oxford in England. She is the fourth Brown student to be named a Rhodes Scholar in five years.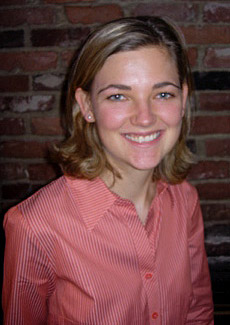 A Seattle native, Backus is concentrating in chemistry and Latin American studies at Brown. At Oxford, she plans to pursue a doctorate in chemical biology and establish herself at the cutting edge of scientific research of global health problems.
"Keri is a rare individual exhibiting both the strong intellectual independence of a lifelong scholar and the compassion and drive of a devoted advocate for the disadvantaged," says Linda Dunleavy, associate dean of the College. "Keri is determined to unite her twin passions, chemistry and health policy in the developing world, to combat infectious disease in both the scientific and social arenas."
Backus has been repeatedly recognized for her special aptitude in organic chemistry. She received the Merck Prize for the highest scoring student in organic chemistry and was awarded Brown University's Pfizer Fellowship in Organic Chemistry as a sophomore. Backus spent seven years of her childhood sailing around the world, later raised guide dogs for the blind, and rode her bicycle across the United States to raise money for Habitat for Humanity. Keri is a bassoonist in the Brown University Orchestra, a distance runner, and currently teaches science to underserved populations in the Providence public school system.
The Rhodes Scholarships were created in 1902 by the Will of Cecil Rhodes, British philanthropist and African colonial pioneer. This year's 32 recipients were selected from 896 applicants endorsed by 340 colleges and universities.
######