PROVIDENCE, R.I. [Brown University] — U.S. Sen. Lincoln Chafee has accepted an appointment as a distinguished visiting fellow at Brown University's Thomas J. Watson Jr. Institute for International Studies. The appointment, initially for the spring semester, begins in January 2007.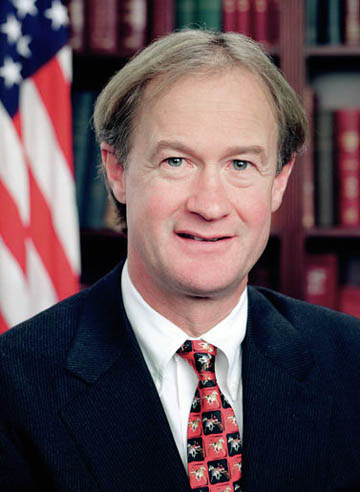 "In his seven years of service as Rhode Island's junior U.S. senator, Lincoln Chafee has been an important national political figure and public policy-maker at an especially demanding time in U.S. history," said Brown University President Ruth J. Simmons. "Having served the public with independence of mind and great courage, he is a wonderful model for Brown students. I am pleased to welcome Senator Chafee back to his alma mater and I look forward to the contributions he will make to the intellectual life of the campus."
"I am absolutely thrilled to be joining the impressive group of people dedicated to analyzing the important international issues of our times," Chafee said. "I hope to contribute my experience in the political side of government to the Watson Institute's continuing role as a leader in international studies."
As a distinguished visiting fellow, Chafee will lead an undergraduate student study group on U.S. foreign policy and will convene groups of students, faculty and policy-makers to discuss issues in international relations. He will also undertake a variety of writing projects.
"Scholars at the Watson Institute increasingly collaborate with policy-makers in ways that can influence the course of international affairs," said Barbara Stallings, director of the Watson Institute. "We are gratified to work with Senator Chafee to enhance and expand our efforts in this direction."
In the Senate, Chafee served on the Senate Committee for Foreign Relations, the Committee on Homeland Security and Governmental Affairs, and the Committee on Environment and Public Works – all areas that are key to the Watson Institute's research. He has sponsored or co-sponsored legislation on international human rights, global hunger relief, terrorism and greenhouse gasses.
Chafee entered public life as a delegate to the Rhode Island Constitutional Convention in 1985. In 1986 he was elected to the Warwick City Council, where he served until his election as Warwick's mayor in 1992. Chafee had announced his candidacy to succeed his father, Sen. John Chafee, after the elder Chafee announced his retirement from the Senate. John Chafee died in office in October 1999, however, and Rhode Island Gov. Lincoln Almond appointed the younger Chafee to fill his father's remaining term. Lincoln Chafee was reelected in 2000.
Chafee is a member of the Brown University Class of 1975, graduating with a concentration in classics. He was captain of the University's wrestling team and received the Francis M. Driscoll Award for leadership, scholarship and athletics.
The Watson Institute for International Studies at Brown University is a leading center for research and teaching on international affairs, focusing on global development, environment, security and related issues of culture and identity.
Editors: Brown University has a fiber link television studio available for domestic and international live and taped interviews and maintains an ISDN line for radio interviews. For more information, call the Office of Media Relations at (401) 863-2476.
######