December 22, 2006
Contact: Deborah Baum
(401) 863-2476
China Tour 2006
Brown University Orchestra to Perform Concert Series in China
Seventy-one student musicians, eight concerts, six cities, 14 days – those numbers sum up the Brown University Orchestra's China Tour 2006. The Brown ensemble will be the second American college orchestra to present a concert series in China. Its journey begins Sunday, Dec. 24, 2006.
---
Brown University Home
Media Relations Home
2006-07 Release Index
e-Subscribe

PROVIDENCE, R.I. — The Brown University Orchestra, an ensemble of 71 undergraduate musicians, will spend two weeks during winter break presenting a series of eight concerts in the People's Republic of China. The group is slated to perform in some of China's premier venues, including the Shanghai Oriental Art Center and the Beijing Poly Theater, under the direction of conductor Paul Phillips.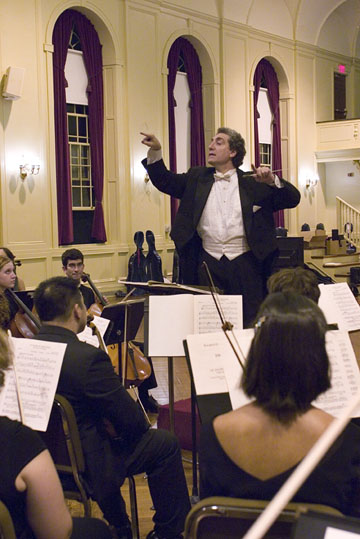 ---
---
The group departs for Shanghai on Sunday, Dec. 24, and returns on Saturday, Jan. 6, 2007. Their tour begins with a concert in Dalian, followed by performances in Shanghai, Ningbo, Suzhou, Changzhou, and Beijing. The program, which consists mainly of Viennese, American and Chinese compositions, includes works by Johann Strauss, Franz Lehar, Antonin Dvorak, Giacomo Puccini, Leonard Bernstein and John Williams.
Funded by the Dalian Yilong Performance Company, a Chinese group that brings foreign performing groups to China, the Brown University Orchestra is only the second American college orchestra to tour the country. The trip comes at a time when Brown University is focusing new attention on strengthening its international programs and connections with institutions overseas.
"This concert tour is such an extraordinary educational and cultural opportunity for these Brown students," said Phillips. "They will be traveling halfway around the world to a nation of rapidly increasing global importance, performing great music for thousands of people and visiting extraordinary sights like the Great Wall and the Forbidden City.
"Through this tour, the students are becoming finer musicians, better linguists – Professor Hu has already taught the group a few phrases in Mandarin – and more informed citizens who are about to gain valuable first-hand knowledge of the People's Republic of China, which very few have visited previously. Serendipitously, the trip ties in beautifully with the University's current focus on internationalization. "
In recent years, China has begun paying a great deal of attention to Western classical music, building spectacular new concert facilities like the Shanghai Oriental Art Center, which opened in 2005, and producing an increased number of tours by foreign orchestras and classical performers. Invited as the guest of a Chinese tour company, Phillips visited the People's Republic of China in April 2006 to explore the possibility of bringing the Brown Orchestra there several years down the line. However, shortly after returning from the trip, he received the invitation from the Dalian Yilong Performance Company for a tour this winter. With the help of several key students, including Lisa Arias president of the orchestra, and Jonathan Schwartz, tour manager, Phillips immediately began planning the trip.
Accompanying the Brown student musicians are Paul Phillips, director of orchestras and chamber music; Kathryne Jennings, soprano soloist and teaching associate in voice; James Baker, Department of Music chair; Lung-Hua Hu, lecturer in East Asian studies, who will serve as translator; Ben Hires, production manager; James Moses, technical director; and Dr. Richard Muchnick, the tour's physician.
Orchestra members plan to keep a travelblog about their travel and musical experiences. To read their updates, visit http://blogs.brown.edu/project/orchestra/.
Editors: Brown University has a fiber link television studio available for domestic and international live and taped interviews, and maintains an ISDN line for radio interviews. For more information, call (401) 863-2476.
######