PROVIDENCE, R.I. — Former U.S. Sen. Lincoln Chafee will deliver the Stephen A. Ogden Jr. '60 Memorial Lecture on International Affairs during a Spring Forum on Monday, Feb. 12, 2007, sponsored by the Undergraduate Council of Students. His address, titled "Mideast Roadmaps: An Unkept Promise," will begin at 5:30 p.m. in Sayles Hall, located on The College Green. This is the 76th event in the Stephen A. Ogden Jr. '60 Memorial Lecture Series.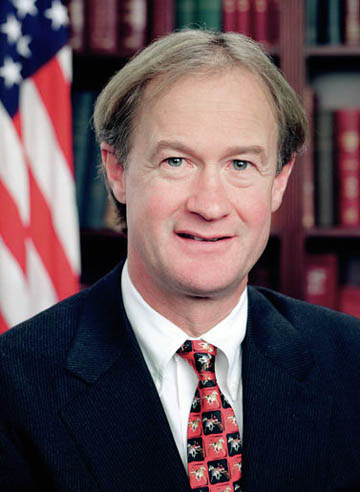 "It is an honor to take part in this lecture series, which has brought so many distinguished public figures to Brown over the years to share their world views," Chafee said. "It is doubly rewarding, given the passion for global issues that Brown students have expressed to me since I joined the University community."
A member of the Brown University Class of 1975, Chafee spent more than 20 years in Rhode Island politics before completing his term in the U.S. Senate in January 2007. He is currently a distinguished visiting fellow at the Watson Institute for International Studies. This is his first major speech since the 2006 midterm elections.
"Senator Chafee is an inspirational example of an alumnus who has successfully applied values he was taught here at Brown, including continual curiosity and an ongoing desire to learn and work hard for one's beliefs," said John Gillis, president of the University Council of Students. "We are fortunate to have him back on College Hill and students are looking forward to his Ogden Lecture."
Brown President Ruth J. Simmons will make opening remarks and introduce Chafee. The audience will have an opportunity to ask questions following the lecture. This event is free and open to the public. For more information, contact the Office of University Events at (401) 863-2474.
Lincoln Chafee
Lincoln Davenport Chafee was born and raised in Rhode Island. He earned a degree in classics from Brown University in 1975. While there, he was captain of the wrestling team and received the Francis M. Driscoll Award for leadership, scholarship and athletics.
After graduation, Chafee attended horseshoeing school in Bozeman, Mont. For the next seven years, he worked as a blacksmith at harness racetracks in the United States and Canada. One of the horses he shod, Overburden, set the track record at Northlands Park in Edmonton, Alberta.
Upon returning to Rhode Island, Chafee served two terms on the Warwick City Council and was elected mayor of the city four times. As mayor, Chafee had a strong record of fiscal management, environmental protection, open space acquisition, intergovernmental cooperation, economic development, labor relations, and significant increases in funding for schools.
In November 1999, Chafee was appointed by the governor to fill the unexpired term of his father, Sen. John H. Chafee. On Nov. 7, 2000, Chafee was elected to a six-year term in the Senate. During his time in office, he was a member of the Committee on Foreign Relations, the Committee on Environment and Public Works, the Committee on Banking, Housing and Urban Affairs, and the Committee on Homeland Security and Government Affairs.
In 2006, Chafee prevailed in the September primary but lost the November election in a nationally watched race.
Stephen A. Ogden Jr. '60 Memorial Lecture
Since 1965, the Ogden Lectureship has presented the University and its neighboring communities with 75 authoritative and timely addresses about international affairs. The lectureship was established in memory of Stephen A. Ogden Jr., a member of the Brown Class of 1960, who died in 1963 from injuries he suffered in a car accident during his junior year. His family created the series as a tribute to Ogden's interest in the advancement of international peace and understanding.
Dozens of heads of state, diplomats, and observers of the international scene have participated in the series, including Queen Noor of Jordan, former President of the Soviet Union Mikhail Gorbachev, President of Brazil Fernando Henrique Cardoso, former Canadian Prime Minister Kim Campbell, media mogul Ted Turner, astronaut Sen. John Glenn, and economist Paul Volcker.
Editors: Brown University has a fiber link television studio available for domestic and international live and taped interviews, and maintains an ISDN line for radio interviews. For more information, call (401) 863-2476.
######