PROVIDENCE, R.I. [Brown University] — Up to 10 percent of women newly diagnosed with cancer in one breast develop cancer in the opposite breast. Results of a major clinical trial show that magnetic resonance imaging (MRI) scans are highly effective tools for quickly identifying these opposite breast cancers, detecting diseased tissue that other screening methods missed.
In the new trial, conducted by the American College of Radiology Imaging Network (ACRIN) and funded by the National Cancer Institute, researchers wanted to determine whether MRI could improve doctors' ability to identify these opposite breast cancers right at the initial diagnosis – boosting the chances for swift and successful treatment.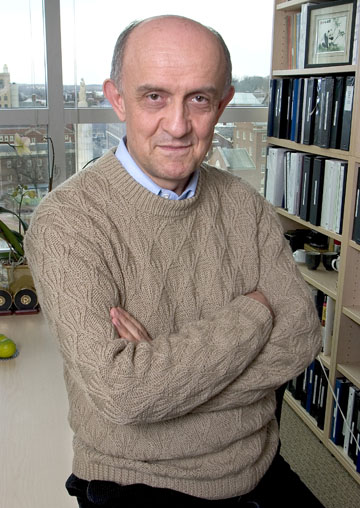 ---
---
The results, published in the New England Journal of Medicine, show that for women already diagnosed with cancer in one breast, MRI scans detected more than 90 percent of cancers in the opposite, or contralateral, breast.
"The study establishes MRI as a key component of the diagnostic workup for women with breast cancer," said Constantine Gatsonis, lead statistician for the trial and director of the Center for Statistical Sciences at Brown University. "If my wife were diagnosed with breast cancer, I'd be sure that she got an MRI of the opposite breast."
Gatsonis, a Brown professor of biostatistics, oversaw design of the MRI trial and led analysis of its results. He offered a caveat: The study showed that MRI is an effective addition to – but not a replacement for – clinical breast exams and mammography.
"This study wasn't designed to determine whether mammography or MRI is a better screening test for breast cancer in women at average risk," Gatsonis said. "It was designed only to see if MRI improved detection of cancers in the other breasts of women already diagnosed with unilateral breast cancer."
In the trial, 1,007 women were recruited from 25 clinical sites in the United States, Canada and Germany. A total of 969 women completed the study. All were recently diagnosed with cancer in one breast and had been cleared of cancer in the opposite breast; mammogram and clinical breast exam results came back negative.
Within 90 days of those tests, the trial participants then had an MRI. In 30 women, the scans turned up cancers missed by other methods.
"MRI is a powerful tool," Gatsonis said. "But it isn't perfect. Scans did show areas of suspicious breast tissue that turned out to be benign. But this study showed fewer false positives than smaller MRI studies – strongly supporting MRI as a complement to mammography."
Gatsonis heads the Biostatistics Center for ACRIN, a National Cancer Institute-funded cooperative group conducting clinical trials of diagnostic imaging and image-guided therapeutic technologies in 100 academic and community sites around the world. The network's goal is to generate information that lengthens and improves the quality of the lives of cancer patients.
Through ACRIN, Gatsonis oversees the Digital Mammography Imaging Screening Trial, a national study comparing digital and film mammography, and ACRIN's arm of the National Lung Cancer Screening Trial, which is comparing spiral computed tomography (CT) and standard chest X-rays for detecting lung cancer. The National Cancer Institute supports both studies.
For more information, visit http://www.acrin.org/ and http://www.cancer.gov/
Editors: Brown University has a fiber link television studio available for domestic and international live and taped interviews and maintains an ISDN line for radio interviews. For more information, call the Office of Media Relations at (401) 863-2476.
######