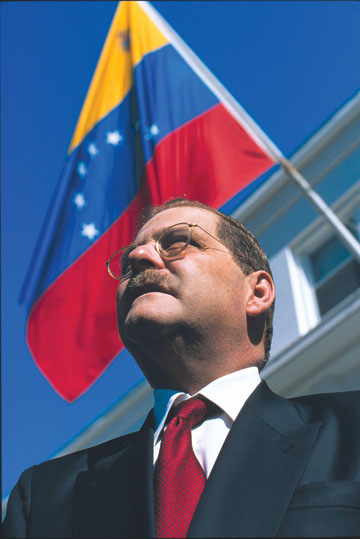 PROVIDENCE, R.I. [Brown University] — Bernardo Alvarez Herrera, Venezuela's ambassador to the United States, will deliver a lecture at Brown University titled "Venezuela and the United States" on Wednesday, April 4, 2007, at 7 p.m., in MacMillan Hall, Room 117. His address is the inaugural lecture in the Diplomatic Dialogue series established by Brown's Center for Latin American Studies and will take place during the University's Latino History Month. It is free and open to the public.
In addition to meeting Brown University faculty, Alvarez is scheduled to meet with elected officials at Providence City Hall and visit community organizations, including the Venezuelan Association of New England, during his visit to Rhode Island.
Alvarez has served as Venezuela's representative in the United States since 2003. He previously served as the vice minister of hydrocarbons at the Ministry of Energy and Mines (2000-2003) and the director general of hydrocarbons in the same ministry. From 1994 through 1999, Alvarez was a deputy to the National Congress of Venezuela, representing the state of Miranda. He has also worked as a professor at the School of Political and Administrative Studies at the Central University of Venezuela since 1982.
His other political and academic accomplishments include having served as the executive secretary and Venezuelan representative in the Forum on Debt and Development (FONDAD) from 1988-1991 and the chief of research and development at the Venezuelan Institute of Foreign Trade from 1986-1987. Prior to that he was the executive secretary of the Working Group on Political Reforms of the Presidential Commission for the Reform of the State.
Currently Alvarez is the Venezuelan representative to the Energy Council of the United States of America, a position he has held since 1999. He holds a degree in political science from the School of Political Studies at the Central University of Venezuela and an M.A. in development studies from the University of Sussex in England.
The Center for Latin American Studies at Brown is an interdisciplinary center for research and teaching on Latin America and the Caribbean. Housed at the Watson Institute for International Studies, the center seeks to expand teaching and research on Latin America by offering a wide variety of courses and opportunities to study abroad, strengthening links with Latin American scholars and broadening the public's knowledge of the area regionally and nationally. In 2006, the U.S. Department of Education selected Brown as one of 18 National Resource Centers for Latin American Studies, underscoring the center's strengths in Brazilian, Caribbean, and Mexican and Central American studies.
A live webcast of the ambassador's address will be available on the Watson Institute's Web site at www.watsoninstitute.org/stream/?event_id=906.
Editors: Brown University has a fiber link television studio available for domestic and international live and taped interviews and maintains an ISDN line for radio interviews. For more information, call the Office of Media Relations at (401) 863-2476.
######