PROVIDENCE, R.I. [Brown University] — Troy Duster, an influential sociologist who tackles the combustible subject of genetics and race, will deliver the eighth annual Dr. and Mrs. Frederick W. Barnes Jr. Lecture in Public Health on Wednesday, April 11, 2007. The lecture – "Drug Arrests, DNA, Research, and Race: What's the Connection?" – begins at 4 p.m. in Andrews Hall on the Pembroke Campus at Brown.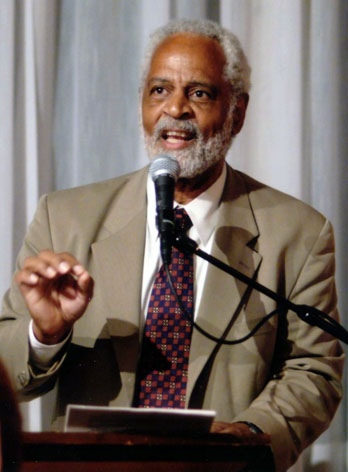 The Barnes lecture is free and open to the public. The event is sponsored by the Program in Public Health of The Warren Alpert Medical School of Brown University, the Committee on Science and Technology Studies, and the Center for Race and Ethnicity.
Duster, director of the Institute for the History of the Production of Knowledge at New York University, is known for his work exploring the intersection of race and biomedical research. While the Human Genome Project has shown that only minor genetic variation exists between people of different races, Duster notes that race remains a social reality – one that exerts a strong influence on society. Race defines social bonds, shapes economic fortunes and affects human health, Duster argues, so scientists should not ignore it.
"You cannot just get rid of the concept [of race] without doing tremendous damage to the epidemiological research done so far," Duster told Scientific American in a 2003 profile. "Blacks are redlined by banks, followed by department store security, pulled over by police. This can produce hypertension. It can give you a heart attack."
Duster also argues that scientists must avoid a reinscription of race into the biological sciences and refrain from using DNA sequencing and other tools of molecular biology to create concrete racial categories that fail to take into account geography, history and politics.
Duster is a professor of sociology at New York University and holds an appointment as Chancellor's Professor at the University of California–Berkeley, where he has worked since 1967. He served as past president of the American Sociological Association and as chair of the Working Group on Ethical, Legal and Social Issues in the Human Genome Project for the National Institutes of Health and the Department of Energy. He is author of a dozen books and monographs, including Back Door to Eugenics and Whitewashing Race: The Myth of a Colorblind Society.
Brown alumnus James S. Zisson '74 established and endowed the Barnes Lectureship in Public Health in memory of Norma and Miles Zisson '38. The lectureship honors the late Frederick Barnes, M.D., a founding faculty member of Brown's medical school, and his late wife, Catherine.
Editors: Brown University has a fiber link television studio available for domestic and international live and taped interviews and maintains an ISDN line for radio interviews. For more information, call the Office of Media Relations at (401) 863-2476.
######