Brown University Home
Media Relations Home
2006-07 Release Index
e-Subscribe

PROVIDENCE, R.I. [Brown University] — The David Winton Bell Gallery at Brown University presents the group exhibition Urban Landscapes... emancipation and nostalgia... from Wednesday, April 18 through Sunday, May 27, 2007, featuring works by Catherine Yass, Sze Tsung Leong, and Sabine Hornig. An opening reception will be held on Thursday, April 19, from 5 to 7 p.m., followed by Leong's lecture in the List Art Center auditorium. All events are free and open to the public.
"The exhibition dwells on a transformative character of urban landscapes – destruction and building – and the feelings of emancipation and nostalgia that inevitably come along," said Vesela Sretenovic, curator at the Bell Gallery.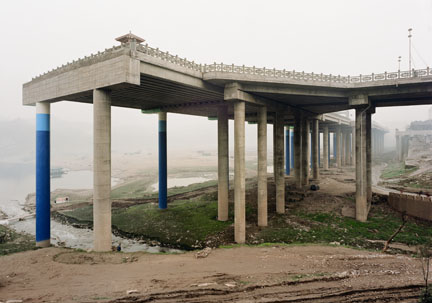 ---
---
The featured works include Yass' film installation Lock, shot at the Three Gorges Dam in China; color photographs by Leong from his History Images and Horizon series, which capture dramatic changes in urban places of China; and Hornig's pieces that merge photography and sculpture and portray waste and beauty in Berlin's landfills.
"Conceptually, the works by Yass, Leong, and Hornig all touch on the present situation of urban settings, referencing industrial growth and physical decay of our environment, well-being and displacement of people," Sretenovic said. "In that sense their visual depiction of urban changes serves as a metaphor for much broader changes: social, cultural, ecological and geo-political. Additionally, the artists' works share an aesthetic – a sense of luminosity, timelessness, and anonymity – which gives a way to the imaginative aspects of experience that bypass what is immediately given in their representations – a historical moment of global urbanization."
---
---
Lock consists of two simultaneous film projections on the opposite sides of the gallery, playing the scenes of Three Gorges Dam in China, the largest hydroelectric power station in the world and the symbol of Chinese industrial growth. Although meant to provide much needed electricity for the country's booming economy and help control flooding on the Yangtze River, the dam has caused a myriad of problems, including the demolition of numerous villages, displacement of nearly 2 million people, and a loss of significant archaeological sites. Shot from an 800-foot crane atop a barge, using cameras pointed both forward and backward, the film shows a gradual passing through the vast water from the perspectives of entering and exiting the dam, the opening and closing of its locks. The accompanying sounds of bells, whistles, grating metal, and loudspeakers are meant to "intensify a sensation of an ethereal space in which the boundaries between the physical and psychological, the spatial and temporal, and the utopia and dystopia have collapsed."
Since 2002, Leong has been documenting drastic upheavals of urban development in China, ranging from demolition of traditional neighborhoods and historical ruins to construction of new steel-and-glass architecture. Photographing the cities of Beijing, Shangai, Xiamen, and Chongquing, among others, with a large format camera, and often from an elevated perspective or from a distance, Tsung's c-prints are large vistas in which the old and the new China converge. His imagery captures the layers of accumulated history, dating from the imperial era to the socialist period, being "gradually yet systematically erased, while also witnessing the rebuilding of that history through a rapid growth of pristine business centers, high-rise offices, and residential towers." Juxtaposing the torn down historical buildings with the new raising architecture, the debris with unfinished skeletal structures, these images portray "the urban reality of the present in preparation for the future."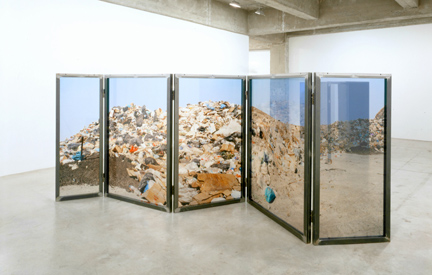 ---
---
Hornig's Tin Hut (Blechhute), Landscape, and Window with No Back Wall examine the city architecture of her native Berlin, focusing on abandoned, inhabited spaces, construction yards, and hidden corners with piles of rubbish. Incorporating the media of photography and sculpture, and the existing architecture, she creates works that explore crumbling of urban sites, but also a sense of spatial disorientation and dislocation. The work Landscape is a large five-panel screen unfolding in the space. Made of Plexiglas sheets with photographic transparency, and steel armature, it represents panoramic images of urban waste. Adjacent to it is another piece called Tin Hut, a rectangular Plexiglas-steel construction, consisting of a narrow steel box, which looks like a shelter, and a large glass panel with a vertical strip of a photographic image also depicting waste, hence referring the urban debris of Landscape. The photograph Window with No Back Wall functions like a storefront window, showing a construction site but with no rear wall, thus extending into an infinite space, physical and psychological.
"Hornig's works bare a rough quality, but also a poetic sensibility that brings together beauty and nostalgia," Sretenovic said. "Often unsettling and even chilling, they are meditations on time passing, architectural disintegration, people migrations, and the feelings of emptiness and loneliness that urban life often involves."
Catherine Yass
Catherine Yass was born in London, graduated from the Slade School of Art and completed an MA at Goldsmiths College in 1990. She has exhibited widely in numerous museums and galleries worldwide, including Tate Britain and Tate Modern in London; Irish Museum of Modern Art in Dublin; Museum of Contemporary Art in Sydney; and Tel Aviv Museum of Art. In 2001, she represented Britain at the 10th Indian Triennale, where she was awarded for her portraits of Bollywood stars and Mumbai cinema houses. She was short-listed in 2002 for the Turner Prize, organized by Tate London. In 2003, the Brooklyn Academy of Music premiered Split Sides, a collaboration between Yass, choreographer Merce Cunningham, and musicians Radiohead and Sigur Rós. In spring 2007, the Jewish Museum in New York is presenting Yass' film Wall, shot on the Israelie/Palestine border, as part of the group exhibition Dateline Israel: New Photography and Video Art.
Sze Tsung Leong
Sze Tsung Leong was born in Mexico City in 1970, and currently lives and works in New York. He holds degrees from the University of California at Berkeley and Harvard University. Leong's work has been exhibited at institutions including the International Center of Photography and Artists Space in New York; the Cisneros Fontanals Art Foundation in Miami; the High Museum of Art in Atlanta; and the Taipei Fine Arts Museum, Korea. His work is included in the collections of the San Francisco Museum of Modern Art, the High Museum of Art, and the Santa Barbara Museum of Art. Leong is the recipient of fellowships from the John Simon Guggenheim Memorial Foundation and the New York State Council on the Arts. His book, History Images, was published in 2006 by Steidl.
Sabine Hornig
Sabine Hornig lives and works in Berlin. She holds a BFA and an MFA from HdK Berlin. Her work has been shown nationally and internationally, most recently at the Bass Art Museum in Miami, as a part of a group show Constructing New Berlin. Other recent exhibitions include the Centro Cultural de Belem in Lisbon; the Ella Fontanals- Cisneros Collection in Miami; the Museo de Arte Contemporánea de Vigo in Spain: and the Museum of Modern Art, New York.
The David Winton Bell Gallery, located on the first floor of List Art Center, 64 College St., is open from 11 a.m. to 4 p.m. Monday through Friday and 1 to 4 p.m. Saturday and Sunday. For more information, call (401) 863-2932.
Editors: Brown University has a fiber link television studio available for domestic and international live and taped interviews, and maintains an ISDN line for radio interviews. For more information, call (401) 863-2476.
######