Brown University Home
Media Relations Home
2006-07 Release Index
e-Subscribe

PROVIDENCE, R.I. [Brown University] — Michael P. Pickett, currently deputy chief information officer at Duke University, has been named vice president for computing and information services and chief information officer at Brown University. Pickett will begin his duties on July 1, 2007, reporting directly to Provost David Kertzer.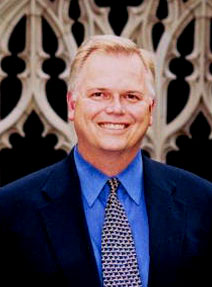 "For more than two decades, Michael Pickett has been closely involved in the growth and evolution of information technology on the college campus," Kertzer said, in announcing Pickett's appointment. "His depth of experience in both university and academic medical settings, coupled with the strategic policy and planning work he has done as a senior information officer at Duke, afford him an excellent background to provide leadership in Brown's complex information systems environment."
As vice president for CIS, Pickett will create and implement a plan for renewing and expanding the University's key computing systems and infrastructure and ensuring that they remain current and informed by the best practices in industry and higher education. As the University's senior advocate for information technology, he will work with the faculty and the libraries to define and build a case for the next generation of instructional and research support services.
He will also oversee the 152-member professional staff of Computing and Information Services (CIS). As the University's central resource for information technology, CIS supports programs of education and training, network operations, academic and administrative computing, IT security, service and repair, and a number of telecommunications areas, including voice mail, cell phone and Blackberry services. CIS supports nearly 18,000 users, maintains more than 40,000 network ports in more than 160 buildings, and operates an e-mail system with nearly 16,000 mailboxes.
"The size and complexity of day-to-day operations at CIS are remarkable," Kertzer said. "I am grateful to Terri-Lynn Thayer for her outstanding work in sustaining and enhancing the University's computing environment for this academic year." Thayer, assistant vice president for administrative information systems, has been serving as interim vice president since the departure last fall of the former vice president for CIS, Ellen Waite-Franzen.
Pickett's selection came after a nationwide search conducted by an eight-member selection committee chaired by Elizabeth Huidekoper, executive vice president for finance and administration. Committee members, in addition to Huidekoper, included Ian Dell'Antonio, associate professor of physics; Nancy Dunbar, associate provost; Mary Fennell, professor of sociology; Constantine Gatsonis, professor of community health; David Laidlaw, associate professor of computer science (co-chair); Daniel Leventhal, a member of the class of 2007; and Evelyn Lincoln, associate professor of the history of art and architecture. Roberta Gordon, assistant vice president for human resources, served as staff for the committee.
Michael P. Pickett
A 1974 graduate of the University of North Carolina–Chapel Hill (B.A., psychology), Pickett remained at Chapel Hill to earn a Master of Arts in education and to teach until 1980. He then took a research appointment at the University of Oregon studying factors related to success in deinstitutionalization.
He began a 24-year association with Duke University in 1983, a time when distributed processing had begun to supplant the mainframe computing model. As systems coordinator in the Duke Medical Center, he founded the Distributed Processing Group and led a team that created and supported the medical center's first local area network (LAN).
He continued his involvement with workstation and network development, creating distributed client server applications in a variety of administrative and clinical areas. In 1992 he was appointed associate chief information officer, becoming part of a senior leadership team that created the campus-wide Office of Information Technology. He began his current appointment as deputy chief information officer in 2002.
Pickett serves or has served on a number of national and regional organizations, including the United Way, EDUCAUSE, the Ivy-plus administrative computing group and the North Carolina School of Mathematics and Science board of trustees.
######