PROVIDENCE, R.I. [Brown University] — Three Brown University students have received a grant of up to $30,000 from mtvU, MTV's 24-hour college network, and Cisco Systems for their creation of a first-of-its-kind MP3 visualizer. They are among the winners of the second annual Digital Incubator contest that taps student talent and funds projects aimed at developing the next generation of digital applications and content.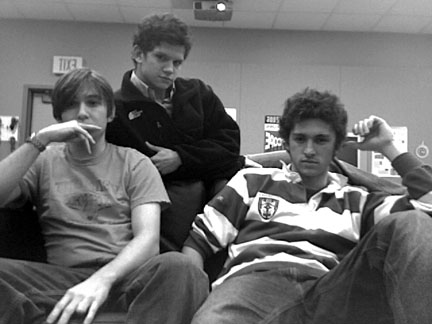 ---
---
Sebastian Gallese, Schuyler Maclay, and Zachary McCune, all members of the Class of 2010, developed the MP3 visualizer named Osiris, which uses song lyrics to automatically generate music videos using images pulled from Flickr, an online photo management and sharing application, and photos on the user's hard drive. The team's advisor is Mark Tribe, associate professor of modern culture and media.
"We're excited about this project because it gives us a major platform to distribute new media art and to contribute to the culture of user-based Web applications," said McCune. "We hope that Osiris can help re-inform the way that people interact with their music in the digital age."
The students explained that Osiris currently works with only with Flickr. The mtvU/Cisco grant will be used to hire programmers, develop a Web site and server to host Osiris, and to purchase computer hardware. Eventually, they want Osiris to interact with YouTube, Wikipedia, The New York Times, Google Maps, and even documents, images, and videos on the user's own computer to create "the most mesmerizing graphics of any music."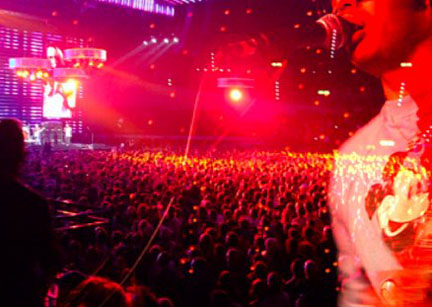 ---
---
"College students are the pioneers of tomorrow's digital landscape and this program was designed to both galvanize and tap their creative spirit," said Stephen Friedman, general manager of mtvU. "For the second year in a row, we're completely blown away by the groundbreaking digital ideas germinating on college campuses – which will be at the core of our multiplatform programming for the next year – and we're proud to offer these student teams the visibility and resources to launch their careers."
Other winning teams hail from New York University, Massachusetts Institute of Technology, and University of California–Los Angeles. The projects combine elements of social networking, mobile or "big" games, online interactivity, affinity-based Web sites and short-form broadband programming. Together, the five groups will form mtvU's student-run digital development team, helping to shape the network's broadband and multiplatform programming. Additionally, this year's grant recipients will have the opportunity to submit a detailed business plan and pitch MTV and Cisco executives for a supplemental grant of up to $100,000.
"Innovation in media is coming from the next generation of leaders in colleges today," said Dan Scheinman, senior vice president and general manager of Cisco Media Solutions Group. "We are honored to be associated with the Digital Incubator program and these student teams developing new media platforms and new venues for storytelling. We believe opportunities like these help all of us find new markets and reveal how community will be the catalyst in shaping the new media experience."
The Brown team was one of several winning groups that were surprised on camera with news that they'd won. The footage will air in a special episode on mtvU and mtvU.com. To see the special on-demand, learn more about each program, or check out the first season Digital Incubators, visit www.mtvu.com/on_mtvu/digital_incubator.
The Digital Incubator initiative was developed jointly by mtvU and Cisco. The Digital Incubator 2.0 programs represent the best and most innovative ideas received in response to a call for submissions issued last year – an effort to find new media games, applications, programming or any kind of original content that would thrive in the digital world. The second season Digital Incubator projects will begin premiering in the fall and will be an integral part of mtvU's on-air, online, on-campus and wireless programming for the full 2007-2008 academic year.
Editors: Brown University has a fiber link television studio available for domestic and international live and taped interviews, and maintains an ISDN line for radio interviews. For more information, call (401) 863-2476.
######