PROVIDENCE, R.I. [Brown University] — A generation after helping to found the medical school at Brown University, Stanley M. Aronson, M.D., will address its 33rd graduating class as it gathers for 2007 Commencement Ceremony at 11:30 a.m. Sunday, May 27, 2007, in the First Unitarian Church.
Aronson is one of the original architects of the medical school and served as its first dean, a position he held for 11 years. During that time, from 1970 to 1981, applications increased ten-fold and key programs were created, including the Early Identification Program, a special route of admission for college students from Rhode Island as well as from Tougaloo College, a private, historically black college in Mississippi. A distinguished physician, Aronson also served as chair of the Department of Pathology and Laboratory Medicine and was named a University Professor.
Aronson's achievements are not limited to medicine. The Brooklyn native is a soldier (he is a U.S. Army Medical Corps veteran), a writer (he is a weekly columnist for the Providence Journal and a former editor-in-chief of the Rhode Island Medical Journal), and a public servant (he has served on numerous nonprofit boards and helped establish Rhode Island's first hospice program). A plaque marking a medical student lounge named for Aronson recognizes a man of "remarkable humanity and erudition."
Aronson, who will receive an honorary degree from Brown University at its 239th Commencement, will deliver an address titled "The Art of Worrying."
Dean of Medicine and Biological Sciences Eli Y. Adashi, M.D., will preside at the Commencement Ceremony and administer the Physician's Oath as adapted by the 1975 graduating class.
The Student Address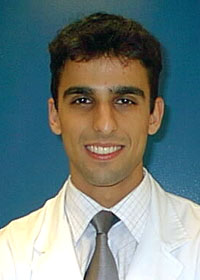 The 93 students in The Warren Alpert Medical School of Brown University's Class of 2007 will also hear from Surena Namdari, left, who will deliver the student address. Namdari will speak on "Sacrifice."
Born in Iran and raised in the United States, Namdari has long loved science. While still in high school, he co-authored an article on an eye-infecting bacteria that was published in the Journal of Clinical Microbiology. Namdari continued his research with an omnivore's appetite, with projects ranging from cancer biology to bone grafts. A public health investigation of heroin overdose won Namdari an outstanding service citation from the mayor of Baltimore. Namdari will also graduate with a master of medical science degree – his thesis topic was rotator cuff repair – and go on to an orthopaedic surgery residency at the Hospital of the University of Pennsylvania.
The Senior Citation
Luba Dumenco, M.D., will receive the Senior Citation, the most prestigious award a faculty member can receive from graduating medical students. Dumenco is board-certified in hematology and oncology and serves as an adjunct assistant professor in the Department of Pathology and Laboratory Medicine. Dumenco also directs the preclinical curriculum for the medical school.
Editors: Brown University has a fiber link television studio available for domestic and international live and taped interviews and maintains an ISDN line for radio interviews. For more information, call the Office of Media Relations at (401) 863-2476.
######