Brown University Home
Media Relations Home
2006-07 Release Index
e-Subscribe

PROVIDENCE, R.I. [Brown University] – The David Winton Bell Gallery at Brown University will present Natured Anew: reflections of the natural world from Saturday, June 9, though Sunday, July 8, 2007, featuring works by Doug Bosch, Brian Burkhardt, Bruce Chao, Neeta Madahar, and Barbara Takenaga. An opening reception will be held on Friday, June 8, from 5:30 to 7:30 p.m. All events are free and open to the public.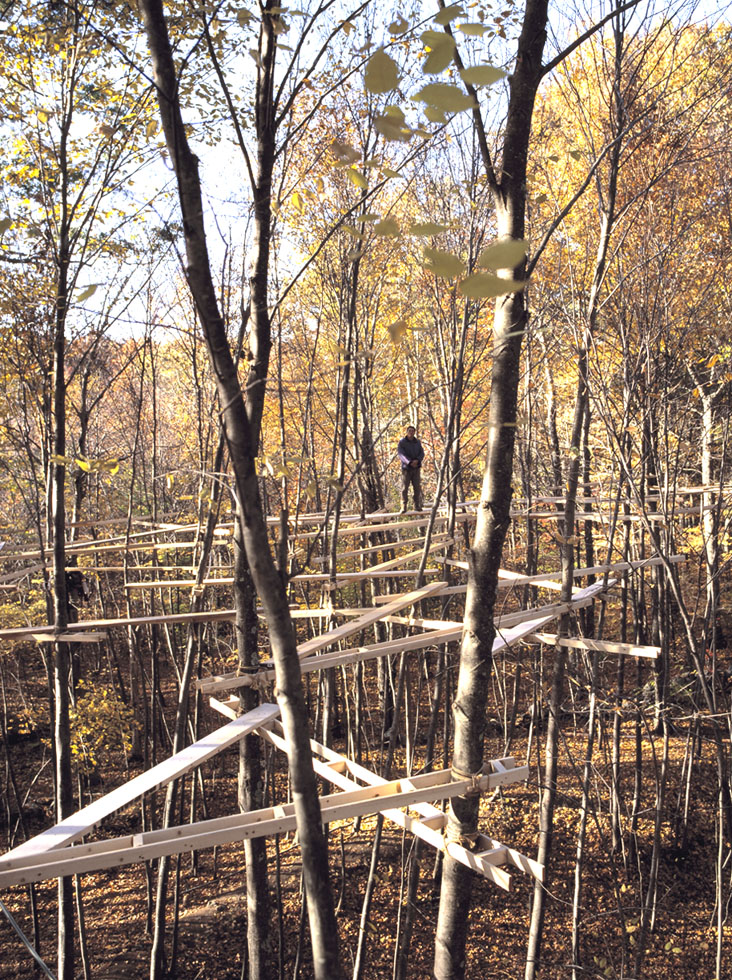 ---
---
"Employing painting, sculpture, photography, and video, these artists' works range from sublimely beautiful depictions of the cosmos to whimsical ballets of dancing seedpods and humorous hybrid creatures that fuse nature and technology," said Jo-Ann Conklin, director of the David Winton Bell Gallery. "The artists also share an interest in abstraction and emphasis on systems, repetition, and patterning."
Barbara Takenaga is known for creating opulent abstract paintings in which lush colors and pulsating rhythms are combined in depictions of swirling star systems (Blue Tremor, 2003) and deep voids in space. The illusion of space, most visible when viewed from a distance, is countered by a surface consisting of thousands of dots and spheres that have been "meticulously and obsessively" rendered in metallic pigment. Conklin explained, "This optical push and pull parallels the artist's interest in macro and micro worlds. Takenaga's paintings recall psychedelic 1960s posters, op art, geometric abstraction, and the works of Fred Tomaselli and Yayoi Kusama." Takenaga has said she wants her paintings to be "a little goofy but as beautiful as I can make them."
Like Takenaga, Neeta Madahar looks to the skies but focuses on a closer vista; spiraling star systems are replaced by spirals of falling sycamore seeds. In Falling (2005) – Madahar's series of five photographs and a video – seedpods drift through the air toward the viewer below. They fall against a clear blue sky, a clouded sky, a bright white sky, and a dark night sky, and finally land (in the fifth photograph) on a grassy bank next to a stream. "The series can be seen as both a metaphor for a journey or change – ultimately birth, life, and death – and a celebration of the common childhood memory of playing with 'helicopter' seeds," Conklin said.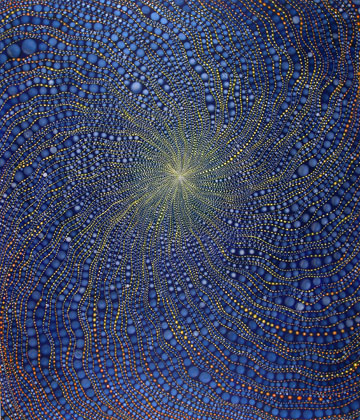 ---
---
Working in markedly different sculptural materials, Doug Bosch and Brian Burkhardt breathe life into new species of flora and fauna. Bosch works with natural materials such as pollen, graphite, and wax. After studying the physical properties of his chosen medium in nature – the way pollen accumulates in corners and crevices, the way it ripples when blown by the wind – he moves into the studio where he experiments with the materials, creating objects that, like newly discovered species, are at once familiar and foreign. Chandelier Swarm (2007) is the ultimate enactment of a form that the artist has been working with for several years. Consisting of hundreds of droplets of pollen, each at the end of a string, Chandelier Swarm was originally about 7 inches in diameter and has grown to span more than 5 feet.
Brian Burkhardt creates hybrid creatures that fuse nature and technology – strawberries are square to better fit in shipping containers, moth wings evolve into the shape of helicopter blades, butterfly wings bear the logos of high-end designers, and office plants and equipment mate. Burkhardt's humorous creations may draw attention to issues of consumer society and genetic engineering.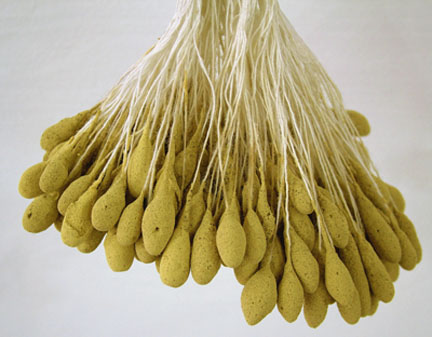 ---
---
Over the last six years, Bruce Chao has created a series he calls "sculpture in trees." His interventions with nature, located in an isolated forest in Seekonk, Mass., draw on boyhood memories of "forts in a forest primeval." Beechwalk (2002) consists of one acre of level, elevated wooden paths, hung in a grove of trees, 25 feet about the ground. Aether (2003) is a large cocoon-shaped enclosure of intertwining saplings, built in the crest of a 70-foot high oak tree. The series was inspired in part by a visit to the Japanese garden Ritsurin Koen, where Chao saw gardeners sculpting large trees like bonsai, removing "two needles here, one twig there." Natured Anew includes photographs, video, and sculpture pieces that document the series.
The Artists
Doug Bosch was born in Lancaster, Ohio, in 1966, and lives in Providence, where he teaches at Rhode Island College. He received an M.F.A. in sculpture from Yale School of Art in 1992 and a B.F.A. in photography from Columbus College of Art and Design. Bosch's work has been exhibited throughout the Midwest and New England and is held in the collections of the Columbus Museum of Art, Massachusetts Institute of Technology, Sloan School of Management, Fidelity Investments, Boston; and the DeCordova Museum and Sculpture Park.
Brian Burkhardt was born in 1971 in Huntington, N.Y., and lives in Boston. He studied at the School of the Museum of Fine Arts and has exhibited throughout the northeast, in Miami, and in Slovenia since 2001. In 2006, the Boston Globe named him among "10 Artists to Watch."
Bruce Chao's sculptures have been exhibited throughout the United States at spaces such as the Smithsonian Museum of Art, PS1 in New York, The Mississippi Museum of Art, and the Joslyn Art Museum in Omaha. Internationally, he has shown at the Hokkaido Museum of Modern Art, Sapporo, Japan, and the Fortress of Asperon in Leerdam, Holland, among others. His grants and fellowships include a George A. and Eliza Gardner Howard Foundation Fellowship, an NEA United States/Japan Creative Artist Fellowship, and several NEA Individual Artist Fellowships, as well as fellowships from the Ohio State Arts Council. He is a 2005 recipient of a Guggenheim award. Chao teaches at the Rhode Island School of Design, where he received his M.F.A. in 1975.
Neeta Madahar was born in London in 1966. She graduated with an M.F.A. from the School of the Museum of Fine Arts and Tufts University in 2003, and has since returned to live in her native England. She has exhibited widely in the United Kingdom. In 2004, Martin Parr selected her graduate work for inclusion in Arles Photo Festival. In the United States, she has shown at the DeCordova Museum of Sculpture Park; Tisch Gallery, Tufts University; the Carpenter Center for the Visual Arts, Harvard University; and the Danforth Museum of Art in Framingham. Her work is in the collections of the Victoria and Albert Museum, London; Hallmark Photographic Collection, Kansas City; and in the Boston area at the Fogg Art Museum, Harvard University; DeCordova Museum and Sculpture Park, Fidelity Investments, Simmons College, and Wellington Management.
Barbara Takenaga was born in North Platte, Neb., and currently lives in New York. She received an M.F.A. from the University of Colorado–Boulder in 1978, and has taught at Williams College, Williamstown, Mass., since 1985. Takenaga's work has been included in numerous exhibitions including those at Art in General, N/Y/; MASS MoCA; the Museum of Contemporary Art, Denver; Ackland Art Museum, Chapel Hill, N.C.; and DeCordova Museum and Sculpture Park. Her work is in the collections of Frederick R. Weisman Art Foundation, Los Angeles; Henry Art Museum, University of Washington–Seattle; Ackland Art Museum, University of North Carolina–Chapel Hill; DeCordova Museum and Sculpture Park; Citibank, N.Y.; Hallmark Fine Arts Program, Kansas City; and Progressive Corporation, among others.
The David Winton Bell Gallery, located on the first floor of List Art Center, 64 College St., is open from 11 a.m. to 4 p.m. Monday through Friday and 1 to 4 p.m. Saturday and Sunday. For more information, call (401) 863-2932.
Editors: Brown University has a fiber link television studio available for domestic and international live and taped interviews, and maintains an ISDN line for radio interviews. For more information, call (401) 863-2476.
######