May 27, 2007
Contact: Deborah Baum
(401) 863-2476
Rosenberger Medal
Chancellor Stephen Robert '62 Receives Faculty's Highest Honor
During Brown University's Commencement exercises Sunday, May 27, 2007, outgoing Chancellor Stephen Robert, a member of the Brown Class of 1962, received the Brown faculty's highest honor, the Susan Colver Rosenberger Medal.
---
Brown University Home
Media Relations Home
2006-07 Release Index
e-Subscribe

PROVIDENCE, R.I. [Brown University] — Stephen Robert, the 19th chancellor of Brown University, received the Susan Colver Rosenberger Medal during the University's Commencement exercises Sunday, May 27, 2007. The medal, which is the highest honor the Brown faculty can bestow, was presented by Ann Dill, associate professor of sociology and chair of the Faculty Executive Committee.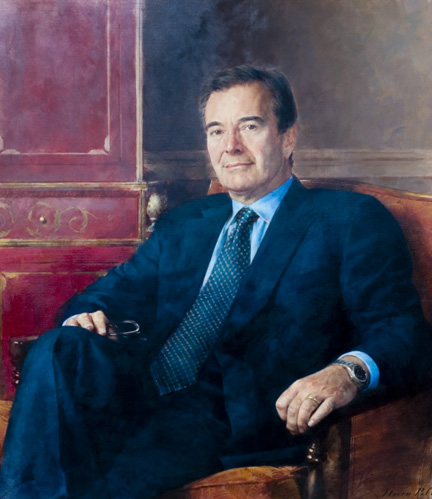 ---
---
"The Brown faculty is proud to honor the leadership of Stephen Robert," Dill said. "His stewardship has led this University through the many extraordinary accomplishments in pursuit of the Plan for Academic Enrichment, including its emphasis on recruiting the best minds, and recruiting the best scholars."
Stephen Robert
Robert has been Brown University's chancellor since 1998. As chancellor, he has been the Corporation's senior officer and has presided over the Board of Trustees. After nine years of service, he will step down on June 30, 2007, to be succeeded by Thomas J. Tisch.
A 1962 graduate of Brown, Robert has served the University in numerous capacities. He was elected a member of the Board of Trustees in 1997 after serving a three-year term on the Board of Fellows. He was elected vice chancellor and chancellor-elect of the University in February 1997. He previously served as a member of the Board of Trustees from 1984 to 1990 and from 1991 to 1994. Robert has served on numerous committees and was chairman of the Committee on Investment from 1986 to 1997. He also chaired the 2000 presidential selection committee that named Ruth J. Simmons Brown's 18th president. Robert recently provided the lead gift for the renovation of Faunce House, which will be named the Stephen Robert '62 Campus Center in honor of his leadership and achievements.
Robert, who also attended the Columbia University Business School and the London School of Economics, is chairman and CEO of Renaissance Institutional Management LLC and former chairman and chief executive officer of Oppenheimer Group Inc. He is a director of the New York Philharmonic and Thirteen/WNET. Robert is a member of the Council on Foreign Relations and serves on the corporate board of Blackstone Alternative Asset Management. He has served on the board of Xerox Corporation and was a founding member of NAC Reinsurance Corporation.
The Rosenberger Medal
The Rosenberger Medal is awarded through the Susan Colver Rosenberger Fund, established by Jesse L. Rosenberger in 1919 as a memorial to his wife, the daughter of Charles K. Colver, Class of 1842. His gift provided that from time to time a medal should be awarded for what was termed "specially notable or beneficial achievement." The award is voted by the Brown University faculty in executive session.
Previous recipients include Artemis A.W. Joukowsky, chancellor emeritus, and Martha Sharp Joukowsky, professor emerita; Charles Evans Hughes, former chief justice of the United States; John D. Rockefeller Jr.; Mary Emma Woolley, educator and Mt. Holyoke president; Theodore Francis Green, former governor and senator from Rhode Island; Alexander Meiklejohn, educator and Amherst College president; Thomas J. Watson Jr., former vice chancellor; Brown presidents Henry M. Wriston, Howard R. Swearer and Vartan Gregorian; Sheila Blumstein, the Albert D. Mead Professor of Cognitive and Linguistic Sciences and former interim president of Brown; and Sen. Claiborne Pell, the longest-serving U.S. senator in Rhode Island history.
Sayles Hall Portrait
In honor of Robert's service to the University, a newly commissioned portrait was unveiled at the May 24 dinner of the Brown Corporation. The work will hang in Sayles Hall among the portraits of historic Brown University leaders, between portraits of former Chancellor Richard Salomon and President Barnaby Keeney.
The artist for the Robert portrait is Steven Polson, who received his B.F.A. from Cooper Union, and also studied at the National Academy of Design and the Art Students League in New York City. An admirer of the Old Masters, Polson exhibits in his canvases a classical composition and palette. Notable portraits by the artist include Bill Richardson (former secretary of energy and U.N. ambassador), Ron Brown (former secretary of commerce), Mickey Kantor (former U.S. trade representative), Christine Todd Whitman (former U.S. Environmental Protection Agency administrator), and businessmen Ernest and Julio Gallo.
######