PERICARDIAL DISEASES
Pericardium
Anatomy (Table 1):The normal pericardium is a fibroserous sac, which surrounds the heart and adjoining portions of the great vessels. It has two layers. The inner visceral layer, also known as the epicardium, consists of a thin layer of mesothelial cells is closely adherent to the surface of the heart. It is reflected onto the surface of the outer fibrous layer with which it forms the parietal pericardium, which consists of collagenous fibrous tissue and elastic fibrils. Between the two layers lies the pericardial space, which contains approximately 10-50ml of fluid, which is an ultrafiltrate of plasma. Drainage of pericardial fluid is via right lymphatic duct and thoracic duct.
Functions of the Pericardium (Table 2)
Although surgical removal of the pericardium (pericardiectomy) and congenital absence of the pericardium are well tolerated conditions, the pericardium is known to serve several functions. The three major functions of the pericardium are:
1. Stabilization of the heart within the thoracic cavity by virtue of its ligamentous attachments.

2. Protection of the heart from mechanical trauma and infection from adjoining structures. The pericardial fluid functions as a lubricant and decreases friction of cardiac surface during systole and diastole.

3. Prevention of excessive dilation of heart especially during sudden rise in intracardiac volume e.g. acute aortic or mitral regurgitation.
Intrapericardial pressure (IPP) tracks intrathoracic pressure. Normally, with inspiration, the negative intrathoracic pressure is transmitted to pericardial space and IPP drops. This results in an increase in blood flow to the right ventricle. As a result of the latter, jugular venous and right atrial pressures drop. The increase in right ventricular volume causes the interventricular septum to shift towards the left ventricle (LV) reducing left ventricular volume. This results in a drop in LV stroke volume and therefore blood pressure. This drop in systolic blood pressure during inspiration amounts to <10mmHg and is referred to as pulsus paradoxus. A pulsus paradoxus in excess of 10mmHg is encountered in cardiac tamponade (see Tamponade).

ETIOLOGY -- ACUTE PERICARDITIS

I. INFECTIVE
1. VIRAL - Coxsackie A and B, Influenza, adenovirus, HIV, etc.

2. BACTERIAL - Staphylococcus, pneumococcus, tuberculosis, etc.

3. FUNGAL - Candida

4. PARASITIC - Amoeba, candida, etc.


II. AUTOIMMUNE DISORDERS

1. Systemic lupus erythematosus (SLE), rheumatoid arthritis, etc.

2. Drug-Induced lupus (e.g. Hydralazine, Procainamide)

3. Rheumatoid Arthritis

4. Post Cardiac Injury Syndromes i.e. postmyocardial (Dressler's) Syndrome, postcardiotomy syndrome, etc.


III. NEOPLASM

1. Primary mesothelioma

2. Secondary, metastatic

3. Direct extension from adjoining tumor


IV. RADIATION PERICARDITIS

V. RENAL FAILURE (uremia)

VI. TRAUMATIC CARDIAC INJURY

1. Penetrating - stab wound, bullet wound

2. Blunt non-penetrating - automobile steering wheel accident


VII. IDIOPATHIC
ETIOLOGY OF PERICARDITIS
Viral Pericarditis
Cardiotropic viruses - Coxsackie B, ECHO Type 8, mumps, influenza, and infectious mono - may produce acute pericarditis. These viruses may also be responsible for at least some of the cases of "idiopathic" pericarditis. While HIV may cause pericarditis, most often pericarditis in patients with AIDS is due to opportunistic infections e.g. tuberculous, fungal or bacterial infection.
Pericarditis Due to Other Infective Agents
Pericarditis due to bacteria, fungi, or rickettsiae is usually encountered in debilitated or immunocompromised patients or as a complication of infection following thoracic surgery, pneumonia, abuse of intravenous drugs, etc. Common bacterial agents include staphylococcus aureus, pneumococcus, hemophilus influenza and, less commonly, gram-negative rods.
Pericarditis Due to Immunologic/Connective Tissue Diseases
(e.g. Lupus erythematosus)
Pericarditis often with effusion is encountered in patients with systemic lupus erythematosus (SLE) and is more common in young women. Drugs such as procainamide and hydralazine may cause a lupus-like syndrome when used for a prolonged period.
Pericarditis of Myocardial Infarction
Q wave ("transmural") myocardial infarction may cause acute pericarditis characterized by chest pain and pericardial rub within 24-48 hours of an infarction. The late-form, of pericarditis known as post myocardial infarction syndrome or Dressler's syndrome occurs 2-4 weeks to several months after an infarction. It is characterized by chest pain, pericardial rub, fever, high sedimentation rate, pleuritis, pulmonary infiltrates, pericardial effusion and pleural effusion. The etiology of this entity is unclear but is probably related to an autoimmune response directed against antigens released by damaged myocardial cells. A related condition, post-cardiotomy syndrome, is seen in some patients after cardiac surgery. The term postcardiac injury syndrome is used to describe both entities.
Neoplastic Pericarditis
Primary malignant pericardial disease (mesothelioma, sarcoma) is very rare. More frequently, malignancy is secondary to a local spread from an adjoining structure e.g. bronchogenic carcinoma or metastatic spread via lymphatics or blood, e.g. breast cancer. Effusions are hemorrhagic and tamponade in common. In some cases tumor encasement of the pericardium leads to constrictive pericarditis.
Uremic Pericarditis
Uremia associated with chronic renal failure is a common cause of pericarditis and pericardial effusion. The etiology of pericardial effusion in these patients is unclear but may be related to metabolic factors, infection, bleeding in the pericardial space from thrombocytopenia or autoimmune disorder. The condition may progress to constrictive pericarditis after months or years.

PATHOLOGY (Table 3)
Inflammation of the pericardium or pericarditis causes deposition of fibrinous material over the inner lining of the pericardial surfaces producing a shaggy or "bread and butter" appearance. The rubbing of these surfaces during the cardiac cycle produces one of the classic features of pericarditis i.e. pericardial rub. Inflammation also results in the production of pericardial effusion with a high leukocyte count and, depending on the etiology, one may detect the presence of tumor cells, LE cells, bacteria, etc.

SIGNS AND SYMPTOMS OF ACUTE PERICARDITIS (Table 4)
Clinical features would depend upon the presence or absence of effusion and upon the etiology of pericarditis. Features most commonly encountered include chest pain, fever, and pericardial rub.
Chest pain. Pain is usually intense, located anteriorly over the precordium or the retrosternal area. It is described as pleuritic and is aggravated by deep breathing, lying supine, or coughing. Pain most often radiates to the cervical area and the trapezius ridge and less often to the abdomen and the interscapular area posteriorly. The pleuritic pain causes the patients to breath in a shallow and rapid manner i.e. tachypnea. It should not be confused with dyspnea, which results from poor oxygenation, e.g. pulmonary congestion.
Physical examination. Detection of pericardial rub confirms the diagnosis of pericarditis. Pericardial rubs are more commonly triphasic. The three components of the rub are a) atrial or presystolic component, b) ventricular systolic component, c) ventricular diastolic component; ventricular systolic component being the most prominent.
Electrocardiogram. Electrocardiogram typically shows ST segment elevation in most leads followed, within days, with return to baseline. This is then followed by T wave inversion and finally within weeks, it returns to normal baseline. Occasionally PR segment depression representing atrial injury may be noted.
Laboratory Tests & Other Tests. Other tests are performed based on clinical suspicion of a specific etiology or to exclude certain etiologies. These include LE, ANA (SLE), PPD skin test (tuberculosis), chest x-ray, CT scan (malignancy), mammogram (breast cancer), rheumatoid factor (rheumatoid arthritis). Serum viral titers are obtained in acute phase and convalescent phase. An increase in titers is highly suggestive of viral etiology. Pericardial effusion is tested for cells, culture etc. as discussed later in this section.
TREATMENT OF PERICARDITIS (Table 5)
The majority of cases of viral pericarditis and post-infarction pericarditis resolve in 1-3 weeks. Analgesics i.e. non-steroidal agents such as aspirin are used for relief of pain. Steroids are avoided and are employed only in refractory cases. Other specific measures include drainage of purulent pericardial effusion and antibiotics for bacterial pericarditis, antituberculous therapy for tuberculous pericarditis, hemodialysis for uremic pericarditis, drainage of effusion followed by local infiltration of steroids in pericardial space for uremic pericarditis, radiation and chemotherapy for pericarditis of malignancy, pericardiectomy for recurrent pericarditis with effusion, tamponade due to malignancy, etc.
PERICARDIAL EFFUSION
It is common to note a small amount of effusion in most patients with pericarditis. However, the amount of effusion may be large under certain situations. Thus conditions that may lead to large effusions include:
ETIOLOGY
1. Inflammation from infection, immunologic process.

2. Trauma causing bleeding in pericardial space.

3. Noninfectious conditions such as:

a. increase in pulmonary hydrostatic pressure e.g. congestive heart failure.

b. increase in capillary permeability e.g. hypothyroidism

c. decrease in plasma oncotic pressure e.g. cirrhosis.


4. Decrease drainage of pericardial fluid due to obstruction of thoracic duct as a result of malignancy or damage during surgery.
Effusion may be serous, serofibrinous, suppurative, chylous, or hemorrhagic depending on the etiology. Viral effusions are usually serous or serofibrinous; malignant effusions are usually hemorrhagic.

CLINICAL FEATURES

Although patients may be symptomatic from pericarditis, a small amount of effusion does not produce hemodynamic abnormalities. A large amount of effusion may lead to compression of adjoining structures and produce symptoms of dysphagia, hoarseness, and hiccups. Compression of lung leading to an area of consolidation (detected as percussion dullness and bronchial breathing) in the left infrascapular region is known as - Ewalt's sign.


CARDIAC TAMPONADE

The term cardiac tamponade is used to describe compression of the heart by high intrapericardial pressure resulting from accumulation of pericardial effusion. Factors that determine tamponade include 1) rate of accumulation of pericardial fluid 2) amount of fluid 3) pericardial compliance (Table 6).

A sudden increase in intrapericardial volume e.g. 100ml to 200ml of blood in pericardial space due, for example, to puncture wound of the heart will cause a significant rise in the intrapericardial pressure leading to tamponade. On the other hand a patient with tuberculous pericarditis may accumulate as much as 1-2 liters of fluid before there is evidence of tamponade. Similarly less fluid would be needed to cause tamponade if the pericardium was thick and therefore noncompliant compared to a compliant pericardium (refer to figure 1). Tamponade is associated with decrease in cardiac filling, which leads to a decrease in cardiac output. As a result of a decrease in cardiac output several compensatory mechanisms are activated (see table 9), notable amongst which is an increase in sympathetic activity. High circulatory catecholamines serve several useful purposes, but at the expense of several potentially deleterious effects which are indicated in parenthesis:
a) Venous tone is augmented which increases venous pressure and facilitates cardiac filling. Increase in preload augments stroke volume through the Frank-Starling mechanism. (High venous pressure may lead to hepatomegaly, ascites, edema).

b) Arteriolar resistance is increased which helps to support blood pressure.
(Increase in afterload increases myocardial work, also decreases stroke volume).

c) Adrenergic mediated tachycardia helps to maintain adequate cardiac output in the face of low stroke volume (increase in myocardial oxygen consumption (MVO2).

d) Adrenergic mediated increase in contractility improves stroke volume and ejection fraction (increase in MVO2).
With further increase in intrapericardial pressure, these compensatory mechanisms fail resulting in severe hypotension and subsequently to shock.


Hemodynamics of Tamponade (Table 8)

As discussed earlier, there is augmentation of blood flow to the right ventricle during inspiration which results in two important hemodynamic changes i.e. a decline in jugular venous pressure and a drop in systolic blood pressure with inspiration (relative to expiration) i.e. pulsus paradoxus (normal < 10mmHg).

In cardiac tamponade, although intrapericardial pressure (IPP) is elevated, negative thoracic pressure is transmitted to fluid-filled pericardial space and therefore, is a directional drop of IPP during inspiration e.g. IPP of 25mmHg drops during inspiration to 10mmHg (producing a pulsus paradoxus). It is exaggerated i.e. > 10mmHg by the combined effects of the septal bulge and by the effect of high IPP on the left ventricle. Thus the increase in RV (and decrease in LV) volume is maintained (and exaggerated) during inspiration.


CLINICAL FEATURES OF TAMPONADE (Table 7)

Clinical features may vary depending on the stage of tamponade. In advanced stages of tamponade clinical features include hypotension, tachycardia, distended jugular veins and a pulsus paradoxus of > 10mmhg. With progressive increase in intrapericardial pressure, there is further elevation of venous pressure and a drop in cardiac output, which, if untreated, leads to cardiogenic shock.

DIAGNOSIS

Pericardial effusion (and tamponade) should be suspected in any patient with above clinical features who have had a prior history of pericarditis or who have an illness that potentially leads to pericarditis e.g. breast cancer, tuberculosis, hemodialysis, patients with AIDS. The most useful test is echocardiography. This test helps to quantify the amount of effusion and in establishing the presence or absence of tamponade. Tamponade is indicated by diastolic collapse of the right atrium and sometimes the right ventricle and is indicative of high intrapericardial pressure.

ELECTROCARDIOGRAM (see Table 10) may show low voltage and electrical alternans.

ECHOCARDIOGRAM: See Table 10

TREATMENT (Table 11)

Definitive therapy for tamponade is drainage of the effusion by pericardiocentesis or by surgery. Pericardial fluid obtained by pericardiocentesis or surgical drainage may be analyzed looking for specific diagnosis and the myocardial biopsy specimen is examined histologically. Volume expansion and inotropic therapy are used as temporary emergency measures while preparing for pericardial drainage. Diuretics are contraindicated (why?).



CONSTRICTIVE PERICARDITIS (Table C1)

The hallmark of constrictive pericarditis is a thickened adherent pericardial sac that restricts filling of the heart. The condition is important since early recognition is surgically treatable. In addition the condition can be confused with liver cirrhosis and with restrictive cardiomyopathy with which it bears a close clinical resemblance.

ETIOLOGY (Table C1)

Almost any condition that causes acute pericarditis can potentially lead to constrictive pericarditis. Recent studies indicate surgery as a common cause constrictive pericarditis although it occurs in a small percentage of patients. Other causes include viral, neoplastic diseases such as lymphoma, infectious diseases such as tuberculosis and bacterial infectious, chronic renal failure, radiation therapy, and rheumatoid arthritis.

PATHOLOGY (Table C2)

Pericardial effusion that develops in the course of acute pericarditis resolves in most instances. In some, the resolution is followed by thickening and fibrosis or calcification of the pericardium over a period of weeks, months or even years. These changes also involve adhesion of the two pericardial layers, and the pericardial space in most cases becomes obliterated.

PATHOPHYSIOLOGY

Noncompliant pericardium interferes with diastolic filling of all cardiac chambers. Systolic function is normal. As the ventricles begin to relax and fill from end systole, filling in the early (1/3) diastolic phase is normal. Continued filling expands the ventricles until they abruptly encounters the rigid pericardium and filling stops in later (2/3) part of diastole (table C5). This filling pattern produces the typical dip-plateau on the ventricular pressure tracings. In addition since all chambers are equally affected by the rigid pericardium, all end diastolic pressures are elevated to the same level i.e. equalization of diastolic pressures. Although systolic function is normal, decrease in ventricular filling reduces cardiac output. Elevation of right heart diastolic pressure raises systemic venous pressure, which leads to jugular venous distention, hepatomegaly, and edema.

In constrictive pericarditis the increase in venous return to the thoracic region during inspiration cannot be accommodated by the right ventricle, which is surrounded by noncompliant pericardium. As a result the extra volume of blood distends the neck veins i.e. Kussmaul's sign (table C4). At the same time failure of the right ventricle to expand, does not affect the interventricular septum and therefore left ventricular volume is not decreased and pulsus paradoxus is therefore absent.

CLINICAL FEATURES (Table C3)

Decrease in cardiac output leads to poor perfusion of exercising muscles and causes fatigue and dyspnea and sometimes syncope. Jugular veins are prominent, hepatomegaly, ascites and edema are noted. Auscultation of the heart may reveal a loud diastolic sound - pericardial "knock", produced by abrupt cessation of ventricular filling by the stiff pericardium. Kussmaul's sign is present and pulsus paradoxus is unknown.

DIAGNOSIS

Echocardiogram is useful in providing key hemodynamic findings. The presence of pericardial effusion indicates effusive constrictive pericarditis and may reveal thick pericardium. Electrocardiogram is abnormal but nonspecific atrial fibrillation is common. Chest x-ray may show evidence of pericardial calcification. CT and MRI are most helpful in differentiating constrictive pericarditis from restrictive cardiomyopathy with which it resembles so closely both hemodynamically and clinically. Cardiac catheterization shows the typical dip-plateau pattern and equalization of diastolic pressures. The difference between left atrial mean and right atrial mean pressure, if present, amounts to less than 5mmHg.

TREATMENT

The most definitive therapy consists of pericardiotomy. Results are best when the procedure is done in the early stage of the disease and hence the importance of early recognition. Supportive measures include diuretics, high protein diet, etc. Specific therapy is guided by diagnosis e.g. tuberculosis.


COMPARISON OF HEMODYNAMIC FINDINGS OF TAMPONADE VERSUS CONSTRICTION

Several subtle clinical and hemodynamic differences can help to distinguish between cardiac tamponade and pericardial constriction. These findings are summarized in table C6, and include several features already described above.

Characteristic jugular venous pressure tracings can be seen in these two syndromes which can also be helpful in distinguishing between the two:
In cardiac tamponade, right ventricular filling is impaired throughout diastole, and therefore the y-descent (which represents the fall in right atrial pressure immediately after tricuspid valve opening as blood rushes into the right ventricle) is blunted (less steeply downsloping).

In pericardial constriction, the earliest phase of diastolic right ventricular filling is not impaired and the y-descent is not blunted -- in fact, because it is descending from a higher-than-normal right atrial pressure, the y-descent may be accentuated, commonly called a "rapid y-descent".

Schematic diagrams of right atrial (or jugular venous) pressure recordings.

A. Normal. The initial "a" wave represents atrial contraction. The "v" wave reflects passive filling of the atria during systole, when the tricuspid and mitral valves are closed. After the tricuspid valve opens, the right atrial pressure falls ("y" descent) as blood empties into the right ventricle.
B. Cardiac tamponade. High-pressure pericardial fluid compresses the heart, impairing right ventricular filling, so that the y descent is blunted.
C. Constrictive pericarditis. The earliest phase of diastolic filling is not impaired so that the y descent is not blunted. The y descent appears accentuated because it descends from a higher than normal right atrial pressure. The right atrial 'c' wave is not shown.

COMPARISON OF HEMODYNAMIC FINDINGS OF RESTRICTIVE CARDIOMYOPATHY VERSUS CONSTRICTIVE PERICARDITIS:
The hemodynamic findings of restrictive cardiomyopathy and those of constrictive pericarditis may be very similar. Often, clinical characteristics are not enough to differentiate between the two diagnoses, and information from echocardiography, CT scanning, nuclear magnetic resonance imaging (MRI), or hemodynamic findings from right and left heart catheterization must be employed. Characteristic findings seen during cardiac catheterization are summarized in table C7, below.

Many of these hemodynamic findings can be explained by the fact that, in restrictive cardiomyopathy there tends to be systolic impairment of both ventricles, while in constrictive pericarditis there is normal left ventricular systolic muscle function -- hence there tends to be normal PCW pressure. In addition, with constriction there tends to be more equalization of diastolic pressures due to the rigid "shell' around the heart -- and hence the left atrial (i.e. PCW) pressure is almost identical to the right atrial pressure. Conversely, in restriction there is usually a small difference in RA and LA pressures, which can be accentuated by increasing preload.
---
NORMAL ANATOMY OF THE PERICARDIUM

1. INNER VISCERAL LAYER

2. OUTER PARIETAL LAYER

3. PERICARDIAL SPACE

4. PERICARDIAL FLUID
FUNCTIONS OF THE PERICARDIUM

ANCHORING
PROTECTION
PREVENT EXCESSIVE DILATION
PATHOLOGY OF ACUTE PERICARDITIS
FIBRIN DEPOSITION

("BREAD & BUTTER" APPEARANCE)

LEUKOCYTE PRODUCTION

PERICARDIAL EFFUSION
---
CLINICAL FEATURES OF ACUTE PERICARDITIS


CHEST PAIN
FEVER +
TACHYPNEA
PERICARDIAL RUB
ELECTROCARDIOGRAM
ECHOCARDIOGRAM
LABORATORY STUDIES
TREATMENT OF ACUTE PERICARDITIS

· NONSTEROIDALS

· STEROIDALS

· SPECIFIC

· D/C SUSPECT DRUGS

---
Cardiac Tamponade
FACTORS CONTRIBUTING TO CARDIAC TAMPONADE

RATE OF ACCUMULATION

SIZE OF EFFUSION

PERICARDIAL DISTENSIBILITY

VENTRICULAR DIASTOLIC COMPLIANCE


---
HEMODYNAMICS OF PERICARDIAL EFFUSION
RELATIONSHIP OF CHRONICITY TO HEMODYNAMICS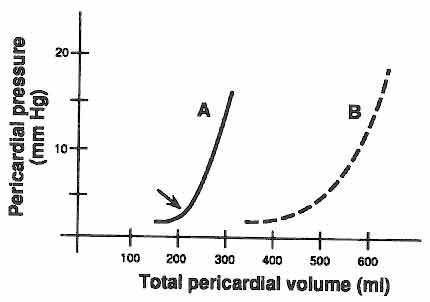 A - Acute Effusion, e.g. traumatic injury of the heart
B - Chronic Effusion, e.g., viral pericarditis, tuberculosis
The normal pericardium is rigid but does possess the capacity to stretch in response to increase in pericardial effusion. However this ability to stretch is influenced by time and volume. In the example above, if the pericardial volume is increased suddenly (Graph A), the ability to stretch is limited and the IPP rises. On the other hand if the volume is increased gradually, the pericardium has time to stretch and the IPP does not rise until a large volume has accumulated in the pericardial space (Graph B).
---
CLINICAL FEATURES OF CARDIAC TAMPONADE

VARIABLE
WEAKNESS
DIAPHORESIS
TACHYPNEA
DYSPNEA
NEAR SYNCOPE
­ JVP
KUSSMAUL SIGN ABSENT
PULSUS PARADOXUS (>10mmHg)
HEMODYNAMICS OF CARDIAC COMPRESSION


| | |
| --- | --- |
| DECREASED LV FILLING | DECREASED RV FILLING |
| ¯¯ | ¯¯ |
| DECREASED LV STROKE VOLUME & CO | DECREASED RV STROKE VOLUME & CO |
| ¯¯ | ¯¯ |
| HYPOTENSION | ­ VENOUS PRESSURE |
| ¯¯ | ¯¯ |
| ¯ PERIPHERAL PERFUSION | JUGULAR VENOUS DISTENTION |
| ¯¯ | ¯¯ |
| FATIGUE, DYSPNEA, TACHYCARDIA, MENTAL OBTUNDATION, OLIGURIA | HEPATOMEGALY, ASCITES, EDEMA |
N.B.:
NO PULMONARY CONGESTION
DESPITE ­ PULM VENOUS PRESSURE
COMPENSATORY CHANGES IN CARDIAC TAMPONADE


INCREASED CATECHOLAMINES:
BENEFIT: ­ CONTRACTILITY ® ­ EF

­ HR ® ­ CO

­VENOUS TONE ®­ PRELOAD ®­ SV

­ PERIPH ART RESIST ®­ BP

HARM: ­ MVO2

­ AFTERLOAD

­ ARRHYTHMIAS



ACTIVATION OF RENIN ANGIOTENSIN ALDOSTERONE SYSTEM:



BENEFIT: ­ Na + H20 ®­ PRELOAD ® ­ SV

­ ANGIO II ® ­ ART RESISTANCE ® ­ BP

HARM: EDEMA

­ AFTERLOAD
---


ELECTROCARDIOGRAPHIC FINDINGS IN TAMPONADE
ELECTRICAL ALTERNANS

LOW VOLTAGE
ECHOCARDIOGRAPHIC FINDINGS IN TAMPONADE
EVIDENCE OF EFFUSION

RA, RV DIASTOLIC COLLAPSE

"SWINGING" OF HEART

TREATMENT OF CARDIAC TAMPONADE
GENERAL


VOLUME EXPANSION

INOTROPIC SUPPORT

AVOID DIURETICS


DEFINITIVE


PERICARDIAL FLUID DRAINAGE


PERICARDIOCENTESIS
PERICARDIAL "WINDOW"
SURGICAL RESECTION
---
Constrictive Pericarditis
CONSTRICTION OF THE HEART BY THICKENED, FIBROSED OR CALCIFIC PERICARDIUM

RESTRICTION TO FILLING OF THE HEART
The hallmark of CP is a thickened, fibrosed and often calcific pericardium that is adherent to the epicardial surface and causes a variable degree of cardiac compression. There is impediment to ventricular filling due to the restraining effect of the noncompliant pericardium. Systolic function is normal. Therefore CP is a form of diastolic heart failure (as is also restrictive cardiomyopathy).
ETIOLOGIES OF CONSTRICTIVE PERICARDITIS
INFECTIOUS:

POST-VIRAL PERICARDITIS

POST-BACTERIAL PERICARDITIS

TUBERCULOSIS

FUNGUS (HISTOPLASMOSIS)


INFLAMMATORY:

POST-MI (DRESSLER SYNDROME)

POST-PERICARDIOTOMY SYNDROME

POST-TRAUMA

RHEUMATOID ARTHRITIS


COLLAGEN VASCULAR:

SYSTEMIC LUPUS ERYTHEMATOSUS

MALIGNANT:

METASTATIC MALIGNANCY

MISCELLANEOUS:

POST-RADIATION

UREMIA
PATHOLOGY OF CONSTRICTIVE PERICARDITIS


FIBROSIS

CALCIFICATION

ADHESION
SIGNS AND SYMPTOMS OF CONSTRICTIVE PERICARDITIS


1. ELEVATED VENOUS PRESSURE:


• JUGULAR VENOUS DISTENTION

• HEPATOMEGALY

• ASCITES

• EDEMA
2. LOW CARDIAC OUTPUT


• DYSPNEA

• FATIGUE

• TACHYCARDIA

3. CARDIAC EXAM:


• DISTANT HEART SOUNDS

• PERICARDIAL "KNOCK"
CHARACTERISTIC HEMODYNAMIC CHANGES WITH RESPIRATION
INSPIRATION

­ VENOUS RETURN TO THORAX

FAILURE OF RV FILLING TO ­ (Due to non-compliant pericardium)

JVP RISES (i.e. + Kussmaul's Sign )

N.B.: PULSUS PARADOXUS ABSENT
---
CHANGES DURING CARDIAC CYCLE WITH CONSTRICTIVE PERICARDITIS

HEMODYNAMICS


SYSTOLE

NORMAL SYSTOLIC FUNCTION

DIASTOLE


FIRST PART: NORMAL FILLING

LATER PART: FILLING STOPPED BY THICK PERICARDIUM

RESULT: DIP & PLATEAU PRESSURE TRACING ("SQUARE ROOT SIGN")
---
CARDIAC COMPRESSION: CLINICAL COMPARISON OF TAMPONADE VERSUS CONSTRICTION


| | | |
| --- | --- | --- |
| | Tamponade | Constriction |
| Pericardial calcification | Absent | Common |
| Kussmaul's sign | Absent | Common |
| Jugular pulse tracing | Xy or XY | XY or xY |
| Paradoxic pulse (>10mmHg) | Present | Rare |
| Abnormal S3 ("knock") | Absent | Common |
| Cardiac Cath Square Root Sign | Absent | Present |
| Atrial Fibrillation | Rare | Common |
---
HEMODYNAMIC DIFFERENCES BETWEEN RESTRICTIVE CARDIOMYOPATHY
AND CHRONIC CONSTRICTIVE PERICARDITIS
RESTRICTIVE CARDIOMYOPATHY

CONSTRICTIVE PERICARDITIS

CARDIAC OUTPUT

Usually Decreased

Normal or Decreased

PCW

Increased

Normal

LA - RA
(DIFFERENCE IN MEAN LEFT AND RIGHT ATRIAL PRESSURES)

> 6mmHg

< 6mmHg

RV DIASTOLIC PRESSURE

Diastolic Plateau elevated to > 1/3 systolic pressure

Diastolic plateau rarely 1/3 systolic pressure

PA SYSTOLIC / RA
(RATIO OF SYSTOLIC PULMONARY ARTERY PRESSURE TO MEAN RIGHT ATRIAL PRESSURE)

> 3.5 : 1

< 3.5 : 1

RESPIRATORY VARIATION IN PRESSURES

Usually present

Often absent

Change in LVEDP (or PCW) with exercise

Rises markedly

Minimal rise
Legend
PCW = PULMONARY CAPILLARY WEDGE PRESSURE; LA = Left atrium; RA = Right Atrium; PA = Pulmonary Artery