Carcinoid of the appendix
Clincal History
A 60 year old male presented with bright red bleeding per rectum three days after a surveillance colonoscopy which removed 3 colonic polyps. On repeat scoping, the bleeding could not be controlled and the patient had a right hemicolectomy.

Gross Exam
On gross examination of the specimen, there was a large polypoid mass seen in the cecum, with attached snares. There were no other lesions in the colon and the appendix was sampled routinely. A residual adenomatous polyp was identified. However, an incidental lesion was found in the tip of the appendix.
Microscopic Exam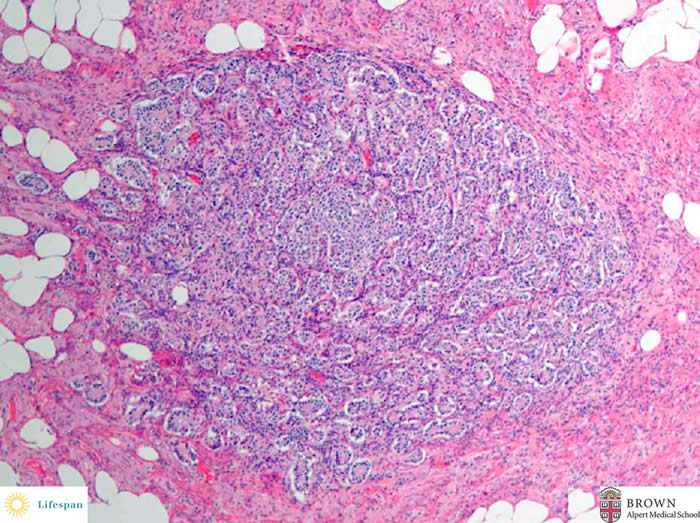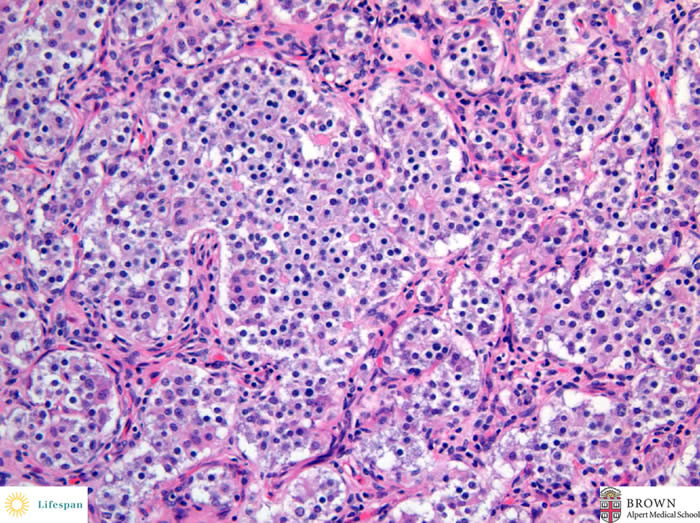 This lesion was submucosal, nodular with a characteristic nested pattern. The cells were small and uniform, with round nuclei, central prominent nucleoli and speckled chromatin pattern (salt and pepper nuclei).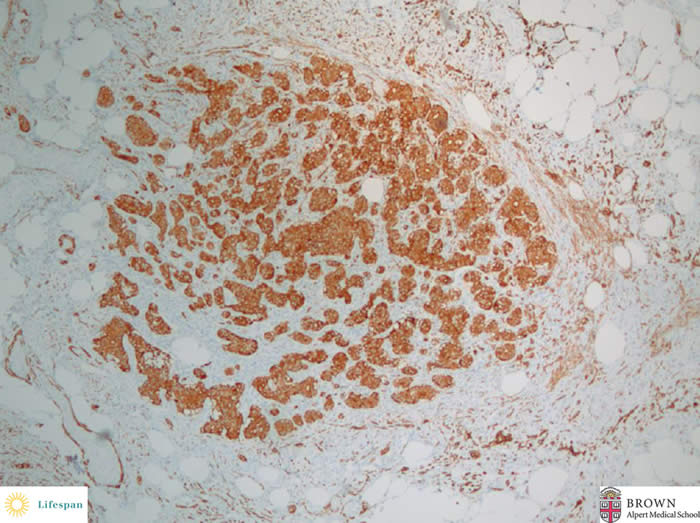 The lesional cells were also positive for synaptophysin.
Diagnosis
The lesion was signed out as an incidental well differentiated neuroendocrine tumor (carcinoid tumor).
Discussion
Carcinoid tumors are one of the most common tumors of the appendix and can be seen in 1 out of every 300 appendectomies. They generally occur in the third to fourth decade of life, but can affect all age groups.
Carcinoid syndrome secondary to appendiceal carcinoids is exceedingly rare and their behavior is usually very indolent. Metastatic spread is uncommon, often limited to the regional lymph nodes and usually occurs in tumors greater than 2 cm in diameter.
Appendectomy is usually adequate therapy for carcinoid tumors measuring less than 1 cm, and right hemicolectomy is indicated for the rare tumors measuring more than 2 cm. Treatment of carcinoid tumors measuring 1–2 cm and/or accompanied by mesoappendiceal invasion remains controversial, with a more radical approach used in younger patients. (Rosai, J. Rosai and Ackerman's surgical pathology. 10th Ed. 2011)
Contributed by Sonja Chen MD and Ross Taliano MD