---
Posted at Feb 12/2010 11:07AM:
Andrew_Mathis: From the various readings we've done, it seems like the identities of Narmer's predecessors are fairly fuzzy. Hornung talks about Narmer being preceded by "Scorpion" and Irihor, with no mention of the name Ka. Hamblin, on the other hand, presents Ka as a king of Abydos who faces off and wins against Scorpion of Hierakonpolis, and is later succeeded by Narmer. How much of either of these narratives is based in evidence, and how much is simply imagination?
---
Posted at Feb 17/2010 09:32AM:
Prof. B: I think Hamlin is out to lunch with the level of specificity he's willing to see in historical terms from this early and very clearly ceremonial stuff. More particular to this case, and possibly too much to get in to in this context, I actually have some problems with identifying Scorpion of the macehead as a separate king. I think he's probably Narmer, and that what we're looking at is a different name of the king, not the Horus name (I'm in the minority on that but far from alone). So I don't actually have any problem seeing an orderly progression of Dynasty 0 kings from Iry-Hor to Ka to Narmer, all of whom were based out of Abydos but paid attention to the importance of Hierakonpolis as an incubator of some of the ideas of kingship, especially of Horus as a titular god. I suspect the adoption of Horus by the Abydene kings was a specific strategy to co-opt the power of Hierakonpolis, basically staking a claim for the legitimacy of Abydos rulers in terms that were more broadly Upper Egyptian than just Abydos. If we want to see warfare between the two cities it seems more likely to me to be at this stage, in very early Dynasty 0 or just before, when Abydos is first laying some sort of claim to a Horus connection. I can't prove any of this, though, so in terms of what I'm comfortable asserting it is only that we have a confused situation with two major centers of elite/royal power in Upper Egypt in Naqada III. We do not understand the processes by which political power was consolidated in this area and expanded to the North, but given the prevalence of militaristic iconography for the very basic project of defining the role of kingship, it is reasonable to assume that fighting was PART of the picture. I think Kemp is probably one of the most subtle and complicated thinkers on this front, but I haven't found anyone yet who deals with all the evidence in a way I find totally convincing. I think I should post a list of things in Hamlin of which I want you to be somewhat skeptical (and fortunately I'm in the middle of writing an article about this very thing, so in future I can point people to something to read that is, if not better, at least more in line with what I'm teaching in class!) But Hornung's strength is also not the early stuff - I would rely on neither of them and bring your own critical eye to the evidence.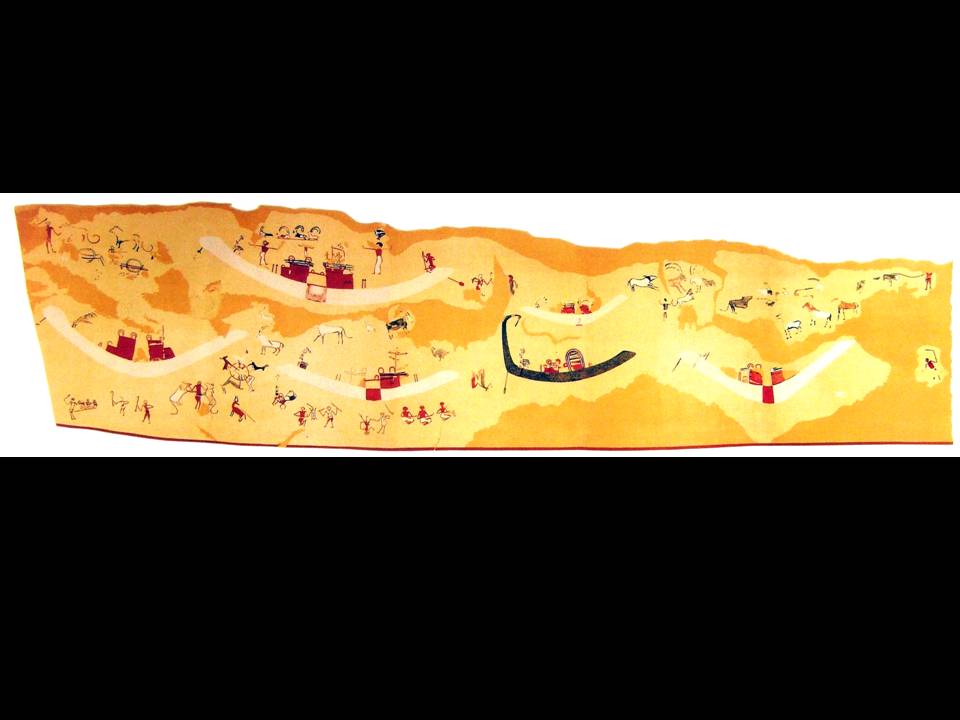 First painting discovered in an Egyptian tomb, at Hierakonpolis (Upper Egypt) -- Predynastic/Naqada II period (Commonly known as Hierakonpolis Tomb 100)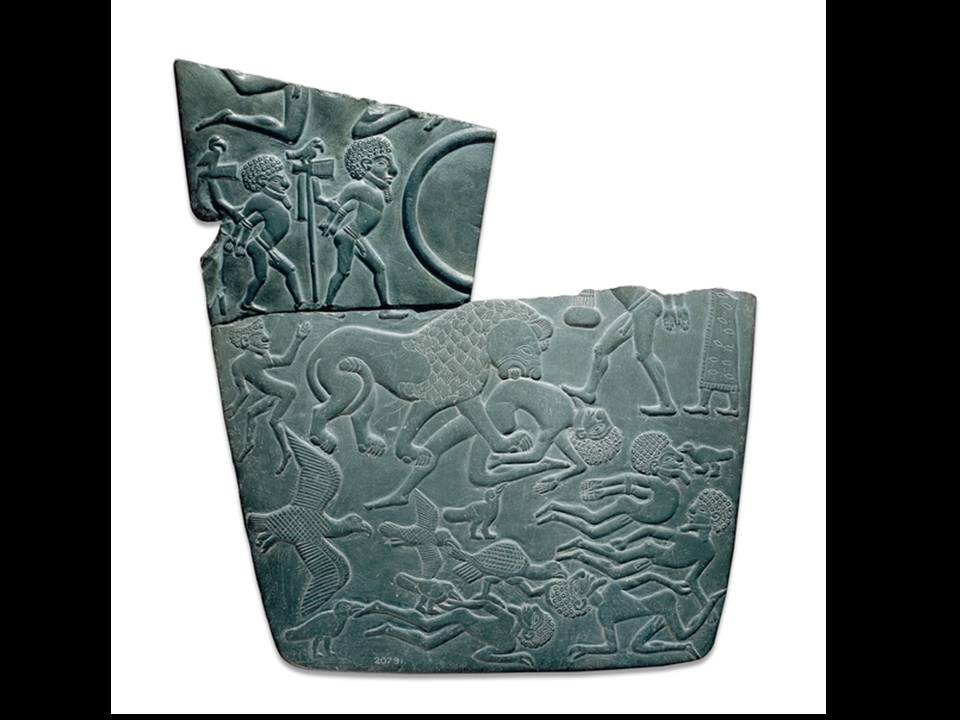 So-called "Battlefield Palette," said to be from Abydos -- Naqada III (terminal Predynastic possible into First Dynasty)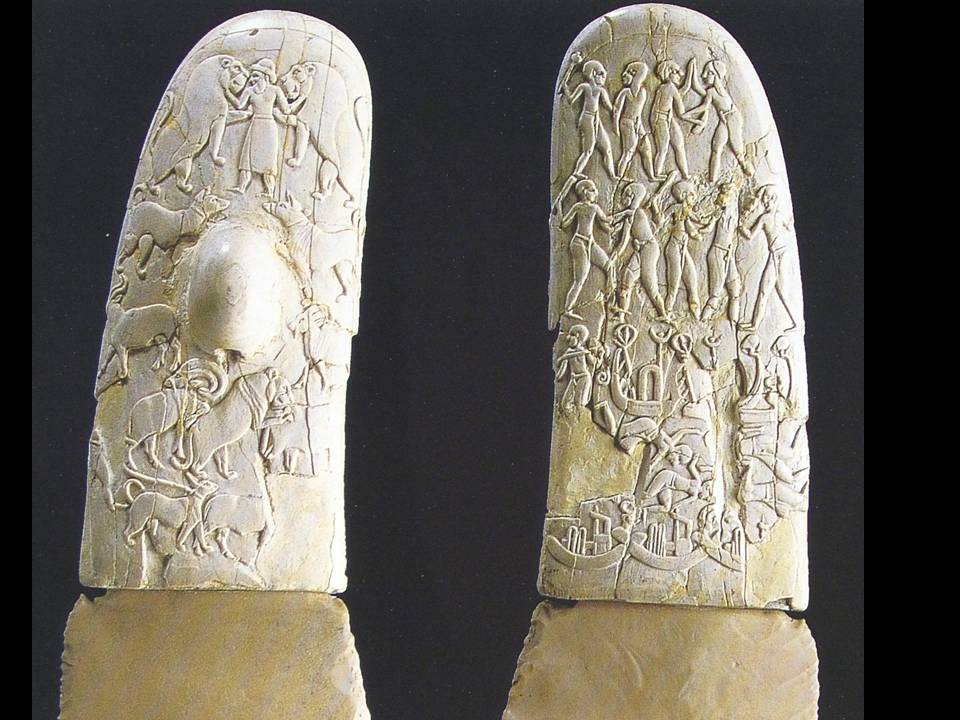 Ivory knife handle, from Gebel el-Araq -- Naqada III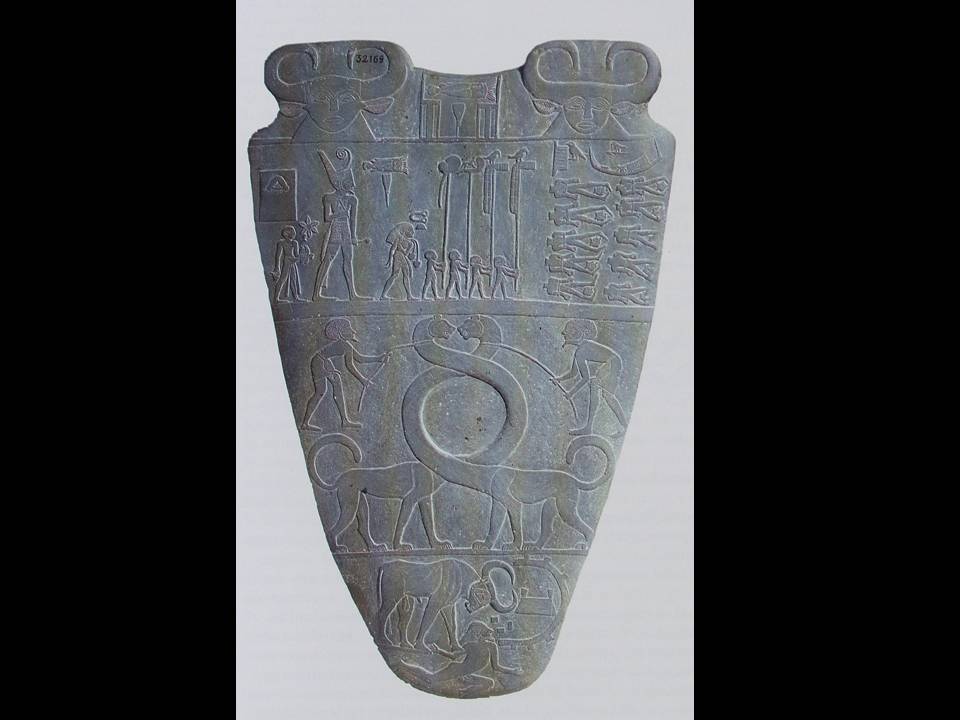 Narmer Palette (found at Hierakonpolis - it was apparently dedicated in a temple of Horus)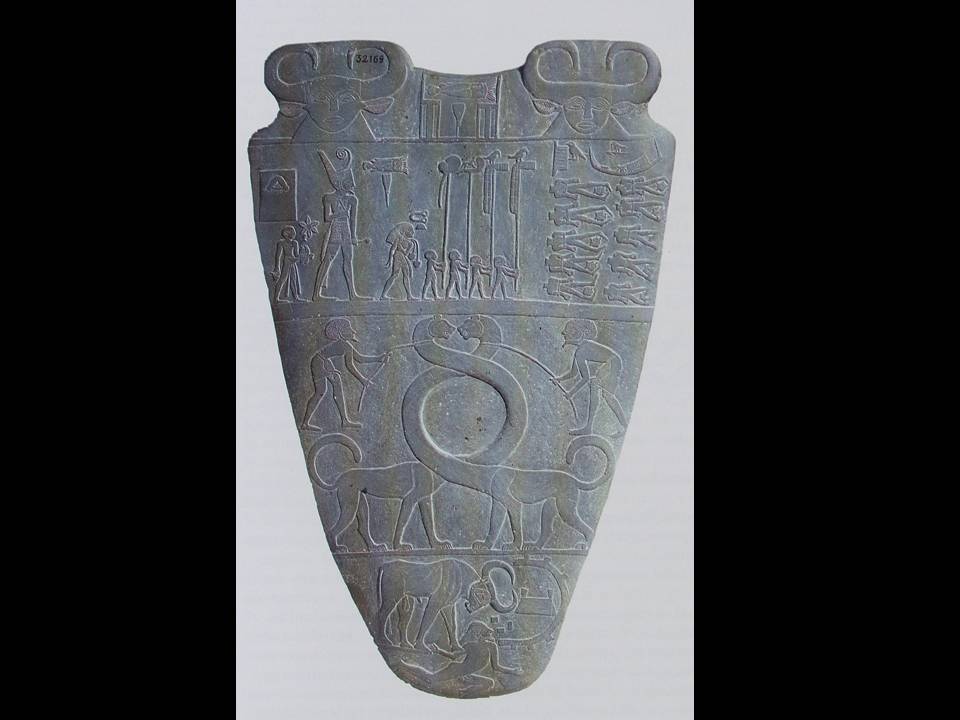 Narmer Palette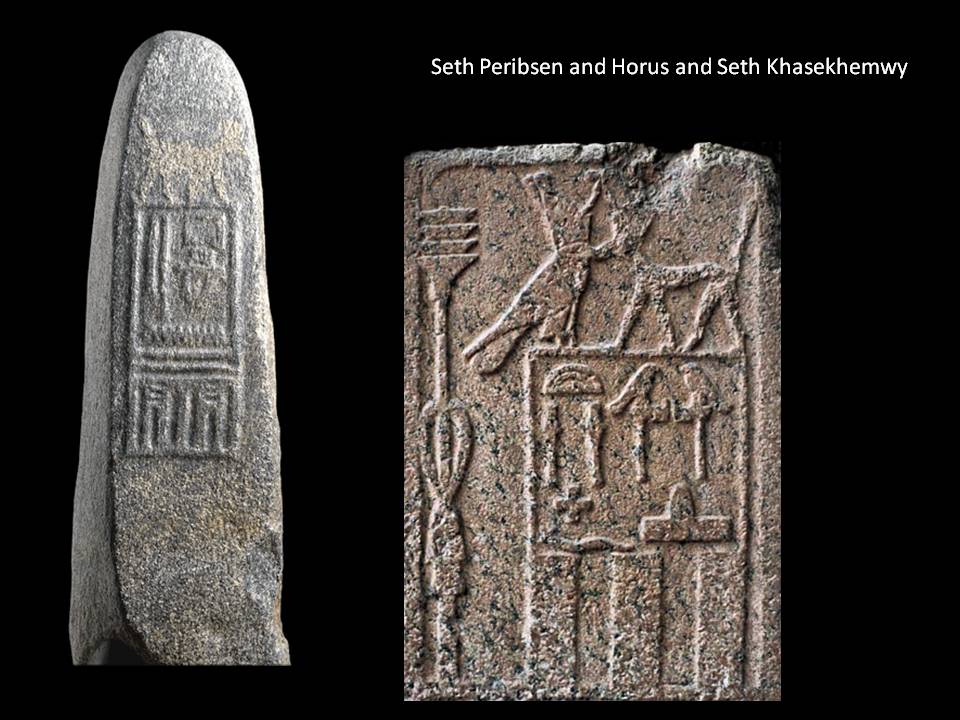 Stone reliefs showing serekh of Seth Peribsen and Horus and Seth Khasekhemwy; both buried in the south (previous kings buried in the north) and ill-attested in the north -- suggests they only ruled in the south and Khasekhemwy reunified country?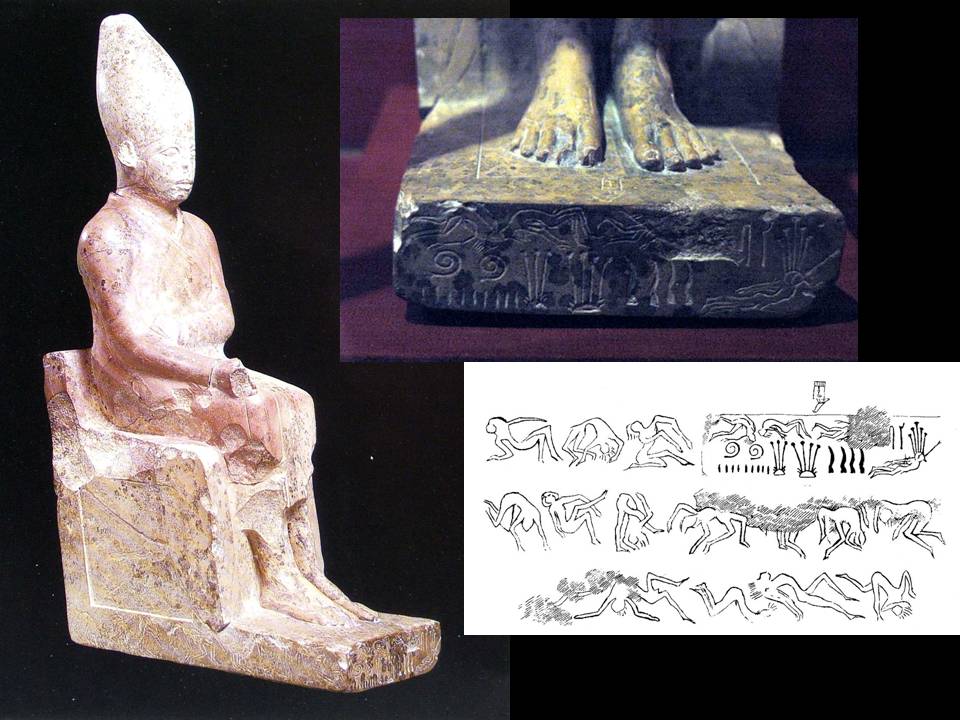 Records 47,209 northern enemies killed (very specific for what is certainly a massive exaggeration!) A small statue of Khasekhemwy found at Hierakonpolis (like the Narmer palette this was probably a temple donation to Horus). It looks like two different statues because of the different colors but that's just a trick of bad photography; there were two statues dedicated here by Khasekhemwy, but this is just one of them.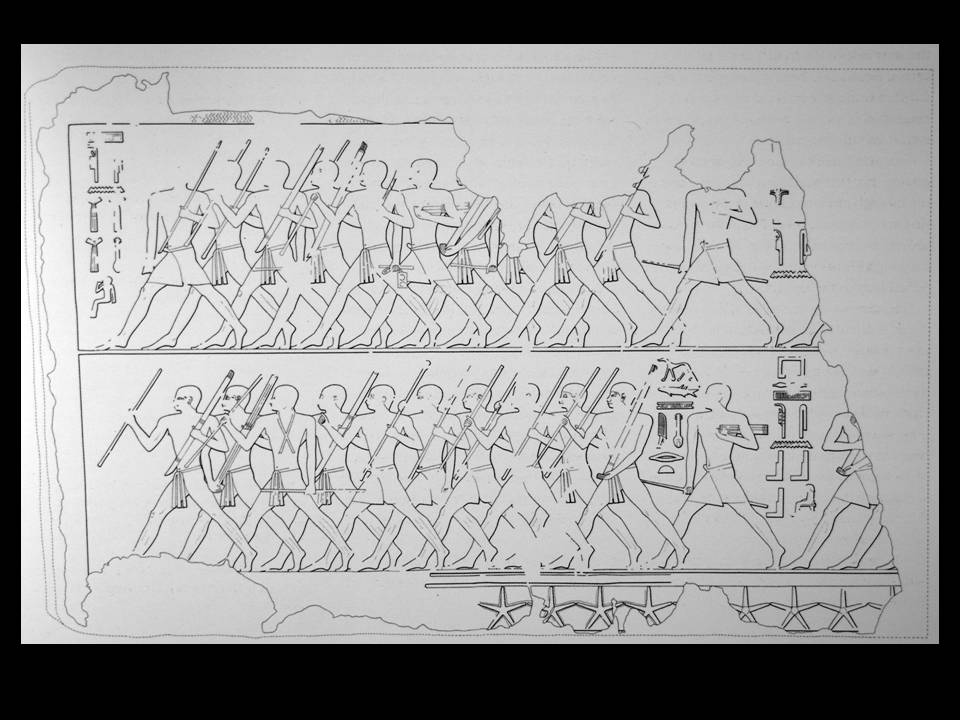 Running troops from a 5th Dynasty royal mortuary temple.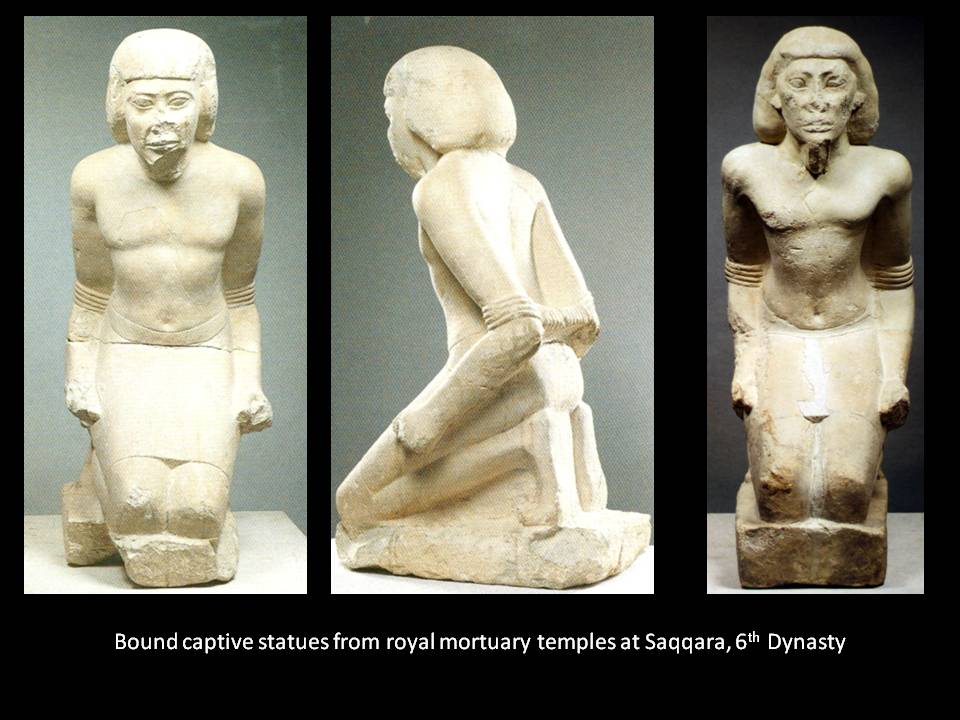 Different physical types but not yet the stereotypes of the New Kingdom -- it's hard to read where these men come from. They all have heads and usually torsos broken, indicating they were ritually slain in a temple complex, presumably as part of the statement about kings and cosmic order and projecting that into death.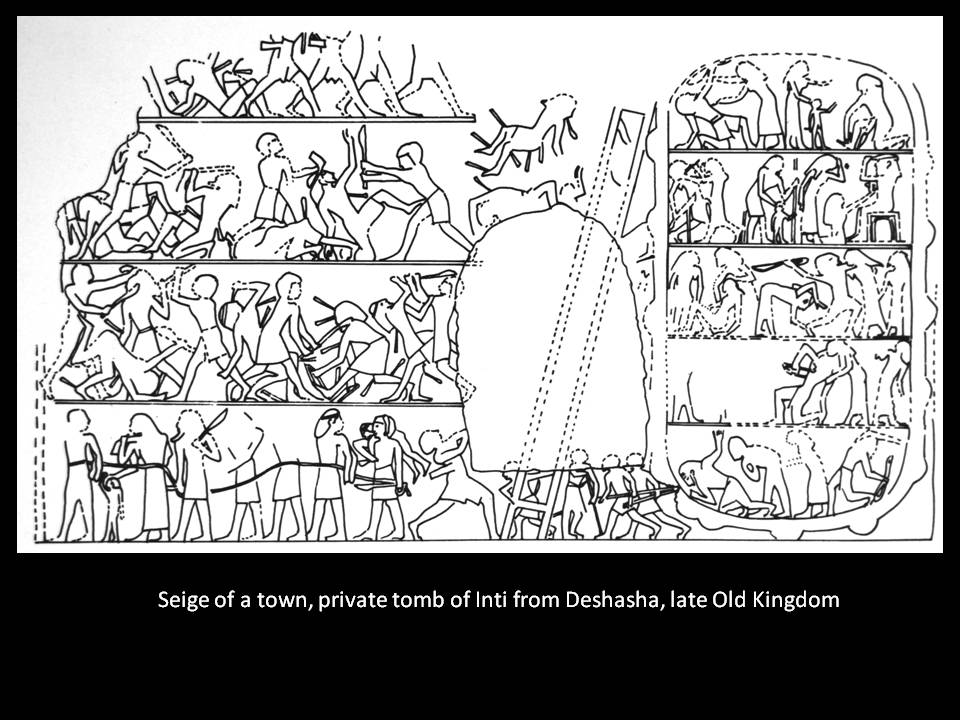 120km south of Cairo on the west bank; little known from OK; text accompanying this is very poorly preserved but parts of a standard autobiography about making the tomb are preserved. There are only two known Old Kingdom depictions of warfare from private tombs, and both are late (6th Dynasty). This will get more developed in the Middle Kingdom when we have a still small but much greater number of tomb scenes showing war.