MaybeÖ1910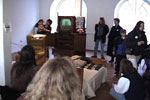 An Interactive Documentary Installation Featuring Interviews with
Rhode Island Seniors (2000)
Maybe...1910 is an interactive sound and video installation that explores concepts of memory, based on interviews conducted with Rhode Island seniors discussing experiences from childhood and major life events. Video processing simulates the quality of memory, which may be lucid,ďblurry, fragmented, or incomplete. Additional video clips illustrate the stories with historical footage.
The production process for MaybeÖ1910 included ongoing participation by the interview subjects, through discussions and preview showings. It was important to make the work accessible to this group of people. Many of the interviews were conducted at the Westminster Senior Center in Providence, and with members
of the Rhode Island Gray Panthers. The installation was previewed for comments by the participants. The final version opened on First Night Providence, 2000, with a special show open for the elderly participants and their families on New Yearís Day.
Traditional cultures show a respect and reverence for the elderly and the wisdom passed down through their stories which creates the collective memory of a people. This project is much more than simply documenting these stories since the viewers have a participatory role in selecting the order and pacing of
the video and audio material. The computer interaction invites viewers to become active participants in the creative process, encouraging them to reflect on their own life. My hope is that Maybe...1910 will be a different experience for each viewer, but all will come to appreciate these stories of lives lived to their
fullest. For the octogenarian, it may seem like reminiscing with old friends; for the middle-aged parent, it may be a chance to reflect on the preciousness of their remaining years; and for children it presents the views of the elderly in a form that is interactive and immediately engaging.